The oxidative demethylase ALKBH3 marks hyperactive gene promoters in human cancer cells
Received: 8 December 2014
Accepted: 5 June 2015
Published: 30 June 2015
Abstract
Background
The oxidative DNA demethylase ALKBH3 targets single-stranded DNA (ssDNA) in order to perform DNA alkylation damage repair. ALKBH3 becomes upregulated during tumorigenesis and is necessary for proliferation. However, the underlying molecular mechanism remains to be understood.
Methods
To further elucidate the function of ALKBH3 in cancer, we performed ChIP-seq to investigate the genomic binding pattern of endogenous ALKBH3 in PC3 prostate cancer cells coupled with microarray experiments to examine the expression effects of ALKBH3 depletion.
Results
We demonstrate that ALKBH3 binds to transcription associated locations, such as places of promoter-proximal paused RNA polymerase II and enhancers. Strikingly, ALKBH3 strongly binds to the transcription initiation sites of a small number of highly active gene promoters. These promoters are characterized by high levels of transcriptional regulators, including transcription factors, the Mediator complex, cohesin, histone modifiers, and active histone marks. Gene expression analysis showed that ALKBH3 does not directly influence the transcription of its target genes, but its depletion induces an upregulation of ALKBH3 non-bound inflammatory genes.
Conclusions
The genomic binding pattern of ALKBH3 revealed a putative novel hyperactive promoter type. Further, we propose that ALKBH3 is an intrinsic DNA repair protein that suppresses transcription associated DNA damage at highly expressed genes and thereby plays a role to maintain genomic integrity in ALKBH3-overexpressing cancer cells. These results raise the possibility that ALKBH3 may be a potential target for inhibiting cancer progression.
Keywords
Transcription Factor Binding Site
Active Histone Mark
Transcription Bubble
Cluster Transcription Factor Binding Site
ALKB Family
Background
Genomic DNA is continuously subjected to various harmful insults, such as UV light, ionizing radiation, or nucleic-acid modifying compounds, resulting in thousands of DNA alterations in each cell every day [1]. Such lesions can lead to DNA damage, which in turn favors mutagenesis, carcinogenesis, inflammation, and aging [2–5]. Accordingly, cells have multiple mechanisms to reverse damaging DNA modifications. In particular, DNA alkylation, a process of methylating specific nucleic acids, often requires repair to maintain genomic integrity. Alkylating agents are found ubiquitously in the environment, but DNA can also be alkylated as a natural by-product of cellular metabolism [6, 7]. For example, the universal methyl donor S-adenosylmethionine non-enzymatically methylates DNA [8, 9]. Alkylating agents preferentially attack single-stranded DNA (ssDNA) in the genome due to its higher accessibility [10–13], and some DNA modifications such as 1-methyladenine (1-meA) and 3-methylcytosine (3-meC) are primarily generated in ssDNA, because these positions are shielded in double-stranded DNA (dsDNA) [6].
DNA alkylation can be removed by base-excision repair (BER), direct reversal by methylguanine methyltransferase (MGMT), and dealkylation via the AlkB family [6, 7]. The AlkB enzymes belong to a large family of non-heme Fe(II) and 2-oxoglutarate-dependent dioxygenases, which catalyze numerous biological reactions, such as proline hydroxylation and histone demethylation [14]. AlkB was original discovered in E. coli, where it demethylates 1-methyladenine (1meA) and 3-methylcytosine (3meC) by oxidation of the N-linked methyl moiety. This reaction creates an unstable methyl-iminium intermediate that spontaneously hydrolyzes into formaldehyde and the non-alkylated base [15–17]. In mammalians, at least nine ALKB family members are known (ALKBH1-8 and FTO). DNA damage dealkylation reactions are mainly catalyzed by ALKBH2 and ALKBH3 [16]. Notably, ALKBH2 preferentially demethylates dsDNA while ALKBH3 demethylates ssDNA and RNA substrates, modified by 3-meC or 1-meA [16, 18, 19]. Since these modifications are predominantly generated in ssDNA and RNA, it has been proposed that the ALKBH3 repair function could be linked to transcription [6, 20]. Incomplete removal of DNA alkylation leads to DNA damage, resulting in cell cycle arrest, inflammation and apoptosis [3–5, 21]. Induction of DNA alkylation by chemotherapeutic agents is a common strategy in cancer treatment to prevent cancer cells from dividing and proliferating [22]. Enzymes that facilitate DNA alkylation damage repair, such as ALKBH2 and ALKBH3, can contribute to resistance to this treatment and insights into their molecular function could provide the basis for developing more efficient cancer therapies [23].
Recently, we described the cooperativity of ALKBH3 and the ASCC3 DNA helicase complex to promote DNA alkylation damage repair in various cancer cells. ALKBH3 knockdown causes elevated levels of 3-meC accompanied by increased DNA damage response (DDR) and reduced cell proliferation [24]. However, the mechanisms of in vivo genomic targeting of ALKBH3 are not yet fully understood.
Herein, using chromatin immunoprecipitation experiments followed by massively parallel sequencing analysis (ChIP-seq) we find that in PC3 prostate cancer cells ALKBH3 binding is enriched at transcription associated genomic loci, where ssDNA is accessible. Specifically, we find ALKBH3 bound at active gene promoters, enhancers, and regions with putative quadruplex DNA. Unexpectedly, ALKBH3 binds strongly to the initiation sites of some particularly highly expressed gene promoters. Interestingly, these promoters are bound by an unusually large number of transcriptional regulators, indicating a highly regulated 'hyperactive' promoter class. However, we find that loss of ALKBH3 does not directly affect expression of ALKBH3 occupied genes, suggesting a transcription unrelated function of ALKBH3. Instead, upon ALKBH3 knockdown we observe an increased expression of genes involved in inflammatory pathways, which could be a downstream effect of elevated DNA damage after ALKBH3 depletion [24, 25]. The genomic localization of ALKBH3 at transcription-related loci raises the possibility that ALKBH3 could have a role in suppressing transcription-associated DNA damage to preserve the genomic integrity.
Methods
Cell culture and viral transduction
U2OS, 293 T, NCI-H23, and PC3 cells were obtained from the American Type Culture Collection (ATCC) and maintained as previously described [24]. ShRNAs constructs, preparation of viruses and cell transduction have been described previously [24]. Cells infected with lentiviral shRNAs were selected after infection with puromycin (1 μg/mL) for at least 48 h.
Antibodies
Rabbit anti-ALKBH3 antibodies were obtained from Millipore (Catalog #09-882).
Immunofluorescence (IF)
U2OS and PC3 cells were used for IF and were maintained as described previously [24]. The cells were infected with the indicated lentiviral shRNAs and plated onto coverslips. Cells were then fixed with PBS (ph 7.4) containing 3.2 % paraform for 20 min, washed extensively with IF wash buffer (1X PBS containing 0.5 % NP-40 and 0.02 % NaN3), then incubated with blocking buffer (IF wash buffer with 10 % fetal bovine serum), and finally stained with anti-rabbit-ALKBH3 (Millipore) diluted in blocking buffer. Secondary antibodies (goat anti-rabbit Alexa Fluor 488) were from Millipore.
RNAi experiments, microarray analysis, and qRT-PCR
Lentiviral shRNA against ALKBH3, ALKBH2, and GFP as control were used as described before [24]. Briefly, lentiviral production was carried out in 293 T cells and target cells were infected for 48 h followed by selection with puromycin for 48 h or 96 h. RNA extracted from ALKBH3 knockdown and control cells were sent to Transcriptome Analysis Laboratory (TAL, University Medical Center, Göttingen) for expression analysis. Microarrays were done using the 'Low RNA Input linear Amplification Kit Plus, One Color' protocol (Agilent Technologies, Cat. No.: 5188–5339) and the Agilent RNA Spike-In Kit for One color (Agilent Technologies, Cat. No.: 5188–5282) following the manufacturer's standard protocol. Global gene expression analysis was applied using the Human Gene Expression 4x44K v2 Microarray Kit (Agilent Technologies, Cat. No.: G4845A). 200 ng of total RNA from each sample from PC3 cells were used as a starting material to prepare cDNA. The hybridizations were performed for 17 h at 10 rpm and 65 °C in the Hybridization Oven (Agilent). Washing and staining of the arrays were done according to the manufacturer's recommendation. Cy3 intensities were detected by one-color scanning using an Agilent DNA microarray scanner (G2505B). Intensity data were extracted using Agilent's Feature Extraction (FE) software (version 10.5.3.1) including a quality control based on internal controls using Agilent's protocol GE1_107_Sep09. A subset of genes from microarray results was verified by qRT-PCR (Fig. 3d). For RT-PCR, cells were infected with lentivirus shRNA against ALKBH3 or GFP and selected with puromycin. qRT-PCR was performed using the One-Step Sybr No Rox Kit from Bioline on a CFX384 Real-Time System (Bio-Rad). Primers are shown in Table S1 (Additional file 1).
ChIP and ChIP-Seq
Chromatin was prepared from PC3 cells as previously described [26], except that it was sonicated to 200 base pairs (bp). Chromatin was incubated with total of 6 μg specific antibodies against ALKBH3 (Millipore) or IgG (Abcam) overnight at 4 °C and then mixed with 50 % slurry protein A beads (Millipore) for 1 h at 4 °C. The beads were washed extensively, de-cross-linked at 65 °C, and treated with RNase A and proteinase K. Samples were next subjected to phenol-chloroform extraction and precipitated with ice-cold ethanol. Libraries were constructed of 50 ng of ChIP'd DNA following Illumina's® protocol and sequenced using an Illumina Genome Analyzer before being further analyzed bioinformatically. Analysis of DNA via qRT-PCR was performed as described above, with gene-specific primers (Additional file 1: Table S2).
Bioinformatic analysis
Microarrays were normalized and analyzed using the limma package for Bioconductor [27, 28]. ChIP-Seq data (Additional file 1: Table S3) were mapped to human genome hg19 using bowtie version 1.0 [29], allowing one mismatch (n = 1) and maximal three possible alignments (m = 3). All subsequent analyses of ChIP-Seq data were performed using the Cistrome platform [30, 31] (Galaxy Code 2014.5.5). If possible, data were also directly uploaded into Cistrome from the GEO database. For Promoter definition, RefSeq genes were downloaded from the UCSC Genome Browser. After removal of duplicates with identical transcription start site, 31,296 promoters, including genes with alternative transcription start sites, were used for analysis. Promoters with weakly bound ALKBH3 were identified using the k-means clustering function within the heatmap feature in Cistrome. Enhancers were defined as overlapping peaks (called by MACS with P value 1e-05) of H3K4me1 and H3K27ac (from LNCaP cells), which do not overlap with promoters (−1,000/+1,000). ETS transcription factor bindings sites were called using MACS with a cutoff P value of 1e-05. Promoters overlapping with an ETS binding site were considered as ETS factor bound promoters. Predicted G4 DNA sites were downloaded from [32] and converted to hg19. Only sites that are not at promoter or enhancers sites were used for analysis. CpG islands and Transcription factor binding sites (TfbsClusteredV3) were downloaded from the UCSC table browser. A promoter transcription factor binding event has been defined as an overlap of a clustered transcription factor binding site with a promoter site. For TATA-box analysis, conserved transcription factor binding sites (tfbsConsSites) were downloaded from UCSC browser. Conserved TBP bindings sites (V$TBP_01) overlapping with promoter sites were considered as TATA-Box. The counting of the ChIP-Seq tags at each promoter was done using a custom R script for Bioconductor.
Accession numbers
ChIP-Seq and Microarray data are available at the GEO repository with the accession numbers GSE57568 and GSE57591.
Statistical analyses
The significance of the data was either calculated by Cistrome, via unpaired Student's t-tests, or has been evaluated using hypergeometric probability tests.
Discussion
Previous work suggested a pivotal role of ALKBH3 in multiple cancer types, such as prostate [24, 51], pancreatic [52], urothelial [53], non-small-cell lung [54], papillary thyroid [55], and brain [56] cancer. However, the cellular role of ALKBH3 is not yet fully understood. In order to gain further insights into the function of ALKBH3 particular in cancer, we applied genome wide approaches using PC3 prostate cancer cells as a model.
We initially performed genome localization studies to identify genomic regions bound by ALKBH3. We found that ALKBH3 preferentially occupies locations where ssDNA is occurring, such as promoters, enhancers, and G4 DNA (Fig. 4). This finding suggests that ALKBH3 is directed to ssDNA regions. In the future it will be exciting to determine whether this correlation is reflective of a regulated process and what the precise mechanism for ALKBH3 recruitment could be. Does this recruitment depend on ssDNA formation?
ALKBH3 was most enriched at the initiation site of a small number of highly expressed genes (Fig. 4a). Further investigation of these promoters led to the hypothesis that they are a putative novel 'hyperactive' subgroup of ubiquitously expressed gene promoters (Fig. 5).
Characterization of the ALKBH3 bound promoters was carried out using publicly available data from different research groups and different cell types. Despite use of this relatively heterogeneous dataset, we were still able to detect a correlation between strong ALKBH3 binding at group I promoters and enrichment of factors involved in gene activation. This study highlights how publicly available datasets can be utilized to develop novel hypotheses, while creating these data ab initio would neither be timely nor financially feasible.
Since we see this correlation of highest ALKBH3 binding with enriched binding of other factors across multiple cancer cell types we conclude that these hyperactive promoters exist in a relatively cell type independent manner. However, we cannot exclude that a transition between group I and group II promoters can occur and that a group II promoter might get promoted to a hyperactive promoter, and vice versa, once the level of activating factors at the promoter exceeds or falls below a certain threshold, respectively. Since we hardly see promoters where the ALKBH3 binding is in an intermediate state between group I and group II promoters, we hypothesize that these transitions – if they take place – are rare. It also remains to be determined whether these hyperactive promoters are restricted to highly proliferative cancer cells or if they occur in all cell types.
ALKBH3 binding to group I promoters is about eight-fold stronger than to group II promoters. We hypothesize that an elevated formation or an increased accessibility of ssDNA at the initiation site of group I promoters is the source for the increased ALKBH3 binding (Fig. 4d, left panel). We speculate that an enhanced presence of DNA helicases, such as the TFIIH helicases XPB and XPD, CHD7, or the ALKBH3 interacting ASCC3 helicase could lead to increased exposed ssDNA and therefore facilitate ALKBH3 recruitment [24, 57, 58]. The formation of ssDNA could also rely on bending of DNA upon binding of transcription factors, such as ETS factors and YY1 [59, 60]. It is also possible that group I promoters do not have increased accessible ssDNA and that the recruitment of ALKBH3 is facilitated by some unknown mechanism that does not depend on ssDNA.
We performed microarray analysis to elucidate whether ALKBH3 affects transcription of its target genes (Fig. 3). We observed no significant changes of the transcription of the ALKBH3 bound genes, suggesting that ALKBH3 binding does not directly regulate transcription. However, since ALKBH3 bound genes are highly expressed, subtle changes caused by ALKBH3 depletion might not be detected via microarray. Thus, our results do not explicitly exclude the possibility that ALKBH3 plays a similar expression regulating role as described for ALKBH1 and ALKBH2 [38, 39].
Knockdown of ALKBH3 in PC3 cells leads to an induction of inflammatory response gene expression (Fig.
3
), which might be a consequence of elevated 3-meC levels and DNA damage after ALKBH3 depletion [
3
,
4
,
24
,
25
,
61
]. Most cancer cells, including PC3 cells, have rapid proliferation and accordingly elevated transcriptional activity [
62
]. One consequence of elevated transcription is increased sensitivity of DNA for DNA alkylation damage, including 3-meC [
6
,
63
–
65
]. The ALKBH3 genomic binding profile suggests that ALKBH3 is an intrinsic DNA repair protein that removes DNA alkylation that might occur naturally during transcription [
63
,
66
]. ALKBH3 upregulation in cancer could be an important step during cancerogenesis to achieve an increased proliferation rate while maintaining genomic integrity (Fig.
6
). If true, this would suggest that ALKBH3 inhibition could potentially slow cancer progression [
67
].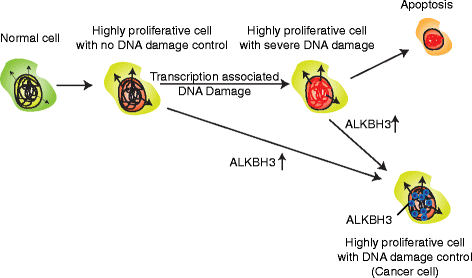 Since ALKBH3 demethylates RNA in addition to ssDNA [16, 18], it is possible that ALKBH3 could also have a role in the demethylation of primary RNA transcripts at its genomic targets [6]. Whether this could be of physiological relevance will be of interest to be determined in the future.
Conclusions
Alkylating agents that methylate DNA and disrupt genomic integrity of fast proliferating cells are widely used in cancer treatment [22]. Due to its localization at transcription-associated loci, we suggest that ALKBH3 is an intrinsic DNA repair protein that suppresses transcription associated DNA alkylation damage at highly expressed genes. The over-expression of ALKBH3 in cancer cells might facilitate alkylation damage resistance during cancer treatment and therefore raises the possibility of ALKBH3 as a potential anticancer target in the future [23, 67].
The genome-wide binding pattern of ALKBH3 revealed a strong binding to the initiation sites of a small number of highly active promoters. We hypothesize that these promoters are a new class of ubiquitously expressed promoters, which may have a specific initiation process, allowing ALKBH3 to 'mark' these promoters. Follow-up investigation of those hyperactive promoters in vitro, in vivo, and via bioinformatics will help to better understand their mechanisms as well as their role in transcription regulation and during cancer progression.
Declarations
Acknowledgements
We thank Drs. Andres Blanco, Tilman Borggrefe, Eric L. Greer, and Yang Shi for critical reading the manuscript. The authors would like to thank all peer reviewers for their constructive comments that helped improve the manuscript. This work has been supported from German Research Foundation (DFG, DA 1213/4-1 to SD, LI 2057/1-1 to RL) and by the Open Access Publication Funds of the Göttingen University.
Authors' Affiliations
(1)
University Medical Center, Department of General-, and Visceral Surgery, Göttingen, Germany
(2)
Division of Newborn Medicine and Program in Epigenetics, Department of Medicine, Boston Children's Hospital, Boston, USA
(3)
Department of Cell Biology, Harvard Medical School, Boston, USA
(4)
University Medical Center, Transcription Analysis Laboratory, Göttingen, Germany
(5)
Epigenetics Laboratory, Institute of Biomedical Sciences, Fudan University, Shanghai, China
Copyright
© Liefke et al. 2015
This is an Open Access article distributed under the terms of the Creative Commons Attribution License (http://creativecommons.org/licenses/by/4.0), which permits unrestricted use, distribution, and reproduction in any medium, provided the original work is properly credited. The Creative Commons Public Domain Dedication waiver (http://creativecommons.org/publicdomain/zero/1.0/) applies to the data made available in this article, unless otherwise stated.