Integrative epigenomic analysis of differential DNA methylation in urothelial carcinoma
Received: 29 October 2014
Accepted: 17 February 2015
Published: 10 March 2015
Abstract
Background
Urothelial carcinoma of the bladder (UC) is a common malignancy. Although extensive transcriptome analysis has provided insights into the gene expression patterns of this tumor type, the mechanistic underpinnings of differential methylation remain poorly understood. Multi-level genomic data may be used to profile the regulatory potential and landscape of differential methylation in cancer and gain understanding of the processes underlying epigenetic and phenotypic characteristics of tumors.
Methods
We perform genome-wide DNA methylation profiling of 98 gene-expression subtyped tumors to identify between-tumor differentially methylated regions (DMRs). We integrate multi-level publically available genomic data generated by the ENCODE consortium to characterize the regulatory potential of UC DMRs.
Results
We identify 5,453 between-tumor DMRs and derive four DNA methylation subgroups of UC with distinct associations to clinicopathological features and gene expression subtypes. We characterize three distinct patterns of differential methylation and use ENCODE data to show that tumor subgroup-defining DMRs display differential chromatin state, and regulatory factor binding preferences. Finally, we characterize an epigenetic switch involving the HOXA-genes with associations to tumor differentiation states and patient prognosis.
Conclusions
Genome-wide DMR methylation patterns are reflected in the gene expression subtypes of UC. UC DMRs display three distinct methylation patterns, each associated with intrinsic features of the genome and differential regulatory factor binding preferences. Epigenetic inactivation of HOX-genes correlates with tumor differentiation states and may present an actionable epigenetic alteration in UC.
Keywords
Methylation Pattern
Urothelial Carcinoma
Chromatin State
Differential Methylation
Epigenetic Switch
Background
Urothelial carcinoma of the bladder (UC) is one of the most common epithelial malignancies in the industrialized world and is characterized by heterogeneity in terms of the underlying molecular mechanisms. With respect to histopathology, UC can broadly be subdivided into non-muscle-invasive (NMI, stages Ta and T1) and muscle-invasive (MI, stage ≥ T2) disease. NMI disease is generally associated with a good prognosis despite frequent recurrences while MI disease has a decidedly worse prognosis [1]. Pioneering studies on phenotypic characterization of tumors using gene expression profiling have provided valuable insight into tumor biology and allowed for clinically relevant patient stratification with respect to targeted therapies [2,3]. We have previously established a molecular classification system for UC based on global gene expression patterns (Lund subtypes), and defined five major biologically distinct classes of tumors [4]. The Lund gene expression subtypes of UC include: (1) the low stage and grade Urobasal A tumors characterized by frequent FGFR3 mutations and a good prognosis; (2) high stage and grade Urobasal B tumors that are likely progressed Urobasal A tumors; (3) Genomically Unstable tumors characterized by high tumor grade and genomic instability; (4) the poor prognosis squamous cell carcinoma-like (SCC-like) tumors characterized by expression of basal cell markers; and (5) Infiltrated tumors in which the intrinsic gene expression subtype is partially confounded by infiltrating immune and stromal cells [4,5].
Alterations in DNA methylation and chromatin modification patterns are linked features that underlie many of the phenotypic changes observed in cancer cells [6]. In recent years, the interrelations between the gene expression phenotype, the genome, as well as the DNA methylation landscape has been extensively investigated across different malignancies [7,8]. Few studies have investigated the epigenomic landscape of UC. These have highlighted aberrant expression of epigenetic writers, silencing of developmental genes, as well as topological effects on the level of histone modifications as prominent features of aggressive UC [9-11]. Importantly, a broad range of epigenetic modifiers are frequently inactivated by somatic mutations in UC, further highlighting the role of epigenetic perturbations in UC development and disease progression [12-14]. In a recent landmark publication on MI UC by The Cancer Genome Atlas project (TCGA), 34% of tumors were found to exhibit a CpG Island methylator phenotype [15], consistent with previous reports by us and others [11,16]. The TCGA study confirmed many of our findings on the gene expression subtypes of UC and validated their subtypes using our data. Although this study used mRNA expression data to stratify the tumors, it did not report on the interrelations between the gene expression phenotype and the underlying DNA methylation subtypes of UC, but instead focused on the mutation and genomic landscapes.
To address this gap and investigate the interrelations between gene expression and DNA methylation profiles, we identified differentially methylated regions (DMRs) from methylated DNA immunoprecipitation on chip (MeDIP-chip) data generated for 98 UC tumors. We show that DMR methylation patterns stratify UC tumors into clinically and biologically coherent subgroups, and provide a detailed description of associations to gene expression subtypes of UC. Our main findings were validated using TCGA data. To characterize the underlying regulatory potential of UC DMRs and show that differential methylation occurs in distinct sequence contexts, we leverage ENCODE data on chromatin states across nine cell lines [17]. Furthermore, by integrating multi-level genomic data, we are able to assign genomic context regarding chromosomal distribution, chromatin state preference, and regulatory factor (RF) binding potential to the methylation subgroup defining DMRs. These intrinsic features of the genome may have the potential to dictate the observed DNA methylation changes [18], and provide a description of the genomic processes underlying differential DNA methylation in cancer. Finally, we characterize an epigenetic switch involving the HOXA/HOXB loci, previously described in the context of stem-cell differentiation [19], and show that the state of the epigenetic switch correlates with the level of tumor differentiation and aggressiveness.
Methods
Tumor samples
In total 98 tumor and four macroscopically normal urothelium samples were included in the study. Detailed sample selection criteria and collected sample annotations are described in Additional file 1. Informed consent was obtained from all patients in accordance with national statutes and use of the patient material is approved by the ethical review board at Lund University. The study conformed to the Declaration of Helsinki. Gene expression data generated on Illumina HT-12 expression arrays (Illumina, San Diego, CA, USA) was available for all samples included in the study and normalized for technical biases as previously described [4]. Gene expression data processing steps as well as DMR matching procedures are described in Additional file 1.
Methylated DNA immunoprecipitation and array hybridization
Methylated DNA immunoprecipitation [20], quality control, and purification steps, as well as PCR amplifications were performed as described in Additional file 1. Sample labeling and hybridizations to NimbleGen Human DNA Methylation 3 × 720 K CpG Island Plus RefSeq Promoter Arrays (Roche Nimblegen, Madison, WI, USA) were performed by the NimbleGen genomics facility on Iceland.
Data filtering, normalization, and variance-based detection of DMRs
The raw probe signal intensities of the full array (Cy5 and Cy3) were extracted for each sample. Probes mapping to the 22 autosomes were kept and the remaining probes discarded from further processing. A five-step normalization scheme was applied to the data and a permutation based approach that controls for local CpG density was used to define between-tumor differentially methylated regions (Additional file 1).
Clustering of tumor samples and DMRs
As the individual DMRs contained varying numbers of probes, we calculated the mean value of the probe scores for each DMR and tumor. We applied a bootstrap hierarchical clustering method [21] to derive stable methylation subgroups of UC tumors (Additional file 1). All calculations of sample and class enrichment and depletion with respect to clinicopathological and molecular annotations were performed using a one-versus-rest Fisher's exact test. Survival analysis with respect to HOX-cluster subtypes was performed using the logrank test on the entire cohort with disease specific survival as endpoint and was not corrected for clinicopathological variables or treatment.
Annotation of genomic features to DMRs
RefSeq tracks for genes, CpG-islands, chromatin tracks for nine ENCODE cell lines [17], as well as the RepeatMasker track for hg18 were downloaded from the UCSC genome browser. Evolutionarily constrained elements throughout the genome, defined using the GERP algorithm [22], were obtained from the Sidow-lab web page. The MSigDB v3.1 database was downloaded from the GSEA web page. All processing steps related to genomic feature annotation of UC DMRs are described in Additional file 1.
TCGA data validation
For all samples included in the study (N = 234), data on DNA methylation (Illumina Infinium HM450 arrays), somatic variants (exome sequencing), and gene-level RNA sequencing were downloaded from the TCGA ftp server. We also obtained methylation data for 21 adjacent normal samples from TCGA. All raw file names are listed in Additional file 2: Table S1. The normalized gene-level expression estimates were processed by adding the constant 1 to all expression estimates followed by log2 transformation and median centering. The methylation data matrix was filtered for all probes with a SNP-annotation or a missing value in any tumor sample (final N = 322,425 probes). For the somatic mutation data, silent variants were filtered out and the mutation status of each gene was dichotomized on the sample level. For details on data processing steps, see Additional file 1.
Processing and analysis of ENCODE data
For compatibility reasons the UC DMRs were mapped to the hg19 build of the human genome using the UCSC liftover tool and resulted in a successful conversion for all but three DMRs (N = 5,450). Data on regulatory factor ChIP-seq peak calls as well as DNaseI-sites generated by the ENCODE consortium were obtained through the UCSC genome browser and processed as described in Additional file 1.
Statistical analyses and data visualization
All data manipulation, normalization, and calculation steps were carried out in the R statistical programing environment. All data visualization was produced using base graphics in R, and the UCSC genome browser.
Data access
The data generated through this study have been deposited into the Gene Expression Omnibus (GEO) under the accession number GSE58256. The previously published gene expression data are available under the accession number GSE32894. The data generated by TCGA are available through the project ftp site and ENCODE data through the UCSC genome browser.
Discussion
DNA methylation is a multifaceted process with context dependent functions in genome regulation and wide-ranging clinical implications [40,41]. Previous studies of epigenetic alterations in UC have been conducted on low-coverage platforms and have been focused on markers of aggressive disease [10,16,42-44]. Studies that have explored the interrelation of global changes on the epigenetic and gene expression levels have often restricted their analyses to the individual CpG-gene level instead of addressing the associations between global phenotypes [9,11,43,44]. The current study aims at describing the links between gene expression and DNA methylation subtypes of UC as well as investigating the RF binding and chromatin state associations of UC DMRs.
We conducted a comprehensive analysis of differential methylation using MeDIP-chip on 98 UC tumor samples subtyped according to the Lund molecular taxonomy for UC [4]. Bootstrap hierarchical clustering analysis stratified the samples into four subgroups with distinct associations to histopathological groups (stage and grade), mutations (FGFR3 and TP53 mutations), as well as Lund gene expression subtypes (Urobasal A, Urobasal B, Genomically Unstable, or SCC-like). The present cluster analysis highlights a clear split between the low grade, non-invasive Urobasal A tumors and the high grade, invasive tumors characterized by genomic instability or a keratinized phenotype (Genomically Unstable and SCC-like tumors, respectively). However, the analysis also revealed that differences in DNA methylation patterns can exist within a group of tumors of the same gene expression phenotype, for example, the presence of Genomically Unstable tumors in methylation subgroups 3 and 4. Importantly we were able to validate our findings in a platform (Nimblegen vs. Illumina) and cohort (Lund vs. TCGA) independent dataset.
Our previous characterization of DNA methylation patterns on low-coverage Illumina 27 K methylation arrays revealed three main methylation subgroups, termed epitypes (A to C) [11]. In the present investigation, subgroup 1 and 2 corresponded to epitype A and exhibited similar histopathological (low pathological stage and grade) and mutational (frequent FGFR3 and infrequent TP53 mutations) associations. Subgroup 3 tumors were highly enriched for epitype C tumors, linking this methylation phenotype to the Genomically Unstable gene expression subtype of UC. Finally, subgroup 4 was enriched for epitype B, characterized by extensive demethylation of low CpG density promoter, as well as tumors of the SCC-like gene expression subtype [4,11].
Previous studies into epigenetic changes in UC have mainly been focused on characterizing differential methylation [
11
,
16
,
42
-
44
]. However, the functional genomic context of differential methylation remains less well studied. We used multi-level genomic data generated through the ENCODE consortium to characterize the regulatory potential of UC DMRs and show that the identified regions exhibit biologically coherent chromatin state and RF-binding preferences in ENCODE cell-lines. We found that subgroup-defining DMRs exhibit three distinct patterns of methylation across tumors (summarized in Figure
8
A). Pattern 1 DMRs are located in low CpG-density, repeat-rich, subtelomeric regions of the genome and are depleted of functional chromatin states and RF-binding across ENCODE cell lines. Methylation of pattern 1 DMRs is inversely correlated with pathological grade and may represent stochastic demethylation of heterochromatic DNA through a loss of a maintenance-like process, or may be a product of the formation of partially methylated domains (PMDs) [
45
] in a subset of tumors. The implications of subtelomeric and repetitive sequence demethylation for genome stability are not well understood but may contribute to UC pathogenesis and disease progression.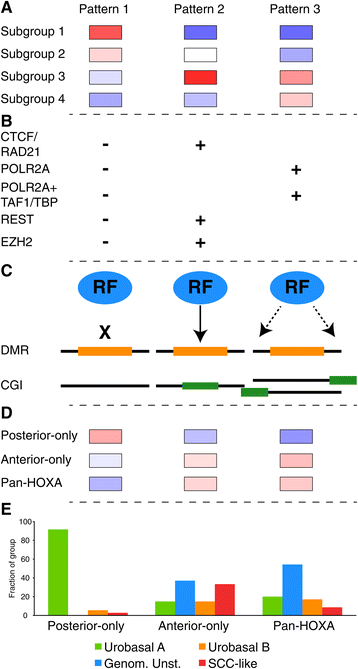 De novo methylation of high CpG-density positions is a common feature of an aggressive subset of UC tumors [11,16]. Pattern 2 DMRs are enriched for conserved, high CpG-density (CGI), repeat-depleted, regions marked by bivalent domains in embryonic stem cells. This pattern of DMR methylation does not correlate with gene expression, is present in a subset of high grade tumors and is tightly linked to the Genomically Unstable gene expression subtype of UC. We identified pattern 2 DMRs as sites of EZH2 and REST binding, as well as CTCF/RAD21 binding, in H1ESC (summarized in Figure 8B). EZH2 is a core component of PRC2 that mediates polycomb silencing of developmental genes [23,24,27,46]. REST is involved in repression of differentiation associated genes in the neural lineage, is essential for embryonic development [47] and has been implicated in the process of carcinogenesis [48,49]. Evidence for a direct role for DNA methylation in NRSF/REST mediated gene suppression has also been reported [50] and a connection between REST binding and polycomb mediated gene repression has been established [51]. The CTCF/RAD21 binding patterns may implicate disruption of cohesin function as either the cause or consequence of cluster 2 methylation at a subset of UC DMRs. Whereas a large proportion of CTCF/RAD21 marked sites were devoid of additional RF binding, a subset displayed near ubiquitous POLR2A and RF binding with accompanying active marks in the four cell lines for which chromatin tracks were available. The observed patterns may reflect different modes of cohesin involvement in gene regulation [52]. In support of a functional role for differential methylation at sites of CTCF and cohesin co-localization, Parelho et al. have shown that differential DNA methylation of CTCF motifs at cell type specific cohesin sites can abrogate CTCF mediated cohesin binding [31]. As we found specific enrichment of CTCF/RAD21 colocalization across pattern 2 DMRs, this methylation pattern may identify a subset of tumors with actionable defects in cohesin function [53]. Our findings link pattern 2 methylation to developmental gene silencing as well as disruption of factors mediating higher-order chromatin structure.
Pattern 3 DMRs were enriched for CGI shore overlaps and captured the dynamic regulatory nature of DNA methylation in terms of identifying sequences associated with active and gene-regulatory chromatin states as well as transcription and enhancer function related RF-binding. These findings are in line with observations on tissue-specific CpG island shore methylation in colorectal cancer [54]. With respect to H1ESC polycomb marks, pattern 3 DMRs displayed a wider range of active chromatin marks across eight cell lines with a more differentiated phenotype than did pattern 2 DMRs. Methylation at pattern 3 DMRs was also frequently correlated with gene expression. These findings are consistent with the notion of pattern 3 methylation being involved in active gene regulation. Pattern 2 and pattern 3 DMRs differed with respect to the spatial binding of regulatory factors in five ENCODE cell lines. Whereas ChIP-seq binding peaks were centered on pattern 2 DMRs, pattern 3 DMRs exhibited a marked depletion of RF-binding. This points towards differential regulatory function or modular organization at sites of pattern 2 and 3 DMRs (Figure 8C). An interpretation of RF binding at pattern 3 DMRs with respect to CpG-density is that RF binding occurs in regions of elevated CpG-density, with coordinated methylation changes in adjacent lower CpG-density regions. Consistent with this notion, tissue-specific DMRs associated with developmental processes tend to overlap CGI shores [55]. Pattern 2 DMRs exhibit high CpG densities and display lower regional DNaseI hypersensitivity and RF occupancy in non-ES cell lines. Whereas methylation at pattern 2 DMRs may represent a more permanent inactivation with subsequent heterochromatinization of developmental gene loci, pattern 3 DMR methylation may serve as a dynamic readout of local transcriptional activity.
We characterize a switch-like pattern, previously unreported in the context of UC, involving the anterior and posterior HOXA as well as the entire HOXB locus. The switch-like pattern is likely a consequence of differential activation of conserved topologically associating domains (TADs) that divide the HOXA-locus into separate regulatory units [56]. TAD boundaries are frequently marked by CTCF binding, and the HOXA5 promoter DMR that demarcates the switching-point overlaps ENCODE CTCF ChIP-seq binding peaks. The epigenetic states of HOX-gene promoter DMRs are reflected in the mRNA expression patterns and are associated with tumor grade. We therefore hypothesize that HOX-gene expression patterns in UC may reflect the differentiation competency or state of the tumor cells. In support of this conclusion, a similar epigenetic switch has been described in the context of RA-induced differentiation in the non-malignant setting [19]. Multiple RA-responsive genes exhibited coordinated changes in promoter methylation and mRNA expression with respect to the different patterns of HOX-gene expression, consistent with RA being a crucial mediator of urothelial differentiation [57,58]. Anterior HOXA-gene silencing has previously been observed in the context of multiple regional epigenetic silencing and was shown to identify a poor-prognosis subgroup of UC [10]. The study did not however report on the switch-like behavior of anterior and posterior HOXA-genes present in a subset of high grade tumors allowing further stratification of the poor-prognosis group. The mechanisms of differential activation of the posterior and anterior HOXA TADs in UC have not been explored, but may provide insight into the processes underlying tumor differentiation states. In this context, a differential response to all-trans retinoic acid (ATRA) or demethylating agents in tumors with 'anterior-only' or 'pan-HOXA' methylation patterns could be clinically significant.
With respect to tumor stratification the two schemes based on HOX-gene and global DMR methylation respectively exhibited broad commonalities. While the low stage and grade subgroup 1 and 2 tumors corresponded to the 'posterior-only' group, subgroup 3 tumors only exhibited a slight bias towards the 'pan-HOXA' group. Subgroup 4 included the majority of SCC-like tumors as did the 'anterior-only' group. Global DNA methylation patterns were however only moderately captured by the HOX-based stratification arguing in favor of separate mechanisms underlying global- and HOX-locus methylation patterns (Figure 8D). The finding that tumors of a given gene expression subtype can express different sets of HOX-genes was particularly evident for the Genomically Unstable subtype (Figure 8E) and could indicate that the same aggregate gene-expression phenotype can be reached through different paths. Alternatively, expression of different sets of HOX-genes may reflect a positional identity as differential HOX-gene expression within the genitourinary system has been described previously [59,60], or be a readout of the local balance of developmental morphogen signaling.
We were also able to provide independent validation of HOX-gene silencing patterns in TCGA data and highlight a potential connection between the absence of KDM6A mutations and posterior HOXA methylation patterns. The most prominent driver of the three cluster split in the validation set was the HOXA9-promoter-associated DMR. Methylation of the HOXA9 DMR was incompatible with HOXA9 expression, although an unmethylated state did not strictly translate into expression. KDM6A modulates HOX-gene expression through removal of H3K27Me3-marks [61,62] and exhibits differential HOX-gene occupancy patterns with respect to cellular origin as well as differentiation states [62]. Although KDM6A mutations were not mutually exclusive with any of the posterior HOXA expression patterns, further investigations into differential HOX-gene expression patterns are warranted in light of confounding factors such as tumor heterogeneity and gene functional redundancy. Inactivation of polycomb-related epigenetic modifiers through gene mutations are likely early events in UC formation [13,14]. The selection pressures and processes leading to differential mutation and epigenetic landscapes across tumor subgroups are however unknown. Inquiries connecting the developmental biology of the bladder with the tumor biology of UC are beginning to provide insight into these basic questions [57,63-65] and future investigations should be directed at understanding epigenetic changes in the context of molecular subgroups and underlying biological processes.
Conclusions
In summary, we leverage multi-level genomic data to characterize regions of the genome associated with differential methylation in UC. We provide insight into the functional genomic context underlying differential methylation, validate our findings with independent data, and describe novel connections between the epigenetic, genetic, and phenotypic levels in UC. Our current work integrates ENCODE data and connects distinct features of the genome to three broad methylation patterns with strong phenotypic associations. Finally, we characterize a putative actionable epigenetic switch involving HOX-genes with strong correlations to tumor differentiation states and propose that a link exits between KDM6A mutations and HOXA9 gene expression patterns.
Abbreviations
Bp:

Basepair
CGI:

CpG island
ChIP:

Chromatin immunoprecipitation
DHS:

DNaseI hypersensitive site
DMR:

Differentially methylated region
kb:

Kilo basepair
MeDIP:

Methylated DNA immunoprecipitation
MI:

Muscle invasive
MS:

Molecular subtype
NCEC:

Non-coding evolutionarily conserved
NMI:

Non muscle-invasive
PRC2:

Polycomb repressive complex 2
RA:

Retinoic Acid
RF:

Regulatory factor
SCC-like:

Squamous cell carcinoma-like
TCGA:

The cancer genome atlas project
UC:

Urothelial carcinoma
Declarations
Acknowledgements
The work was supported by grants from The Swedish Cancer Society, The Swedish Research Council, The Nilsson Cancer Foundation, The Berta Kamprad Cancer Foundation, and BioCARE. We thank David Bryder for equipment support and the editors at Elevate Scientific for helpful comments on the manuscript. We acknowledge the efforts of TCGA and ENCODE consortia in generating and making available the data utilized in this study.
Authors' Affiliations
(1)
Division of Oncology and Pathology, Department of Clinical Sciences Lund, Lund University, Lund, Sweden
(2)
Division of Urologic Research, Department of Clinical Sciences Malmö, Lund University, Malmö, Sweden
(3)
Division of Translational Cancer Research, Department of Laboratory Medicine Lund, Lund University, Lund, Sweden
Copyright
© Aine et al.; licensee BioMed Central. 2015
This is an Open Access article distributed under the terms of the Creative Commons Attribution License (http://creativecommons.org/licenses/by/4.0), which permits unrestricted use, distribution, and reproduction in any medium, provided the original work is properly credited. The Creative Commons Public Domain Dedication waiver (http://creativecommons.org/publicdomain/zero/1.0/) applies to the data made available in this article, unless otherwise stated.