Pharmacogenomics of hepatitis C infections: personalizing therapy
Published: 26 December 2012
Abstract
It is a widely held view that drug response genes have not proved as useful in clinical practice as anticipated at the start of the genomic era. An exception is in the treatment for chronic hepatitis C virus (HCV) genotype 1 infection with pegylated interferon α and ribavirin. In 2009, four independent genome-wide analyses identified IL28B polymorphisms that predict drug response in chronic hepatitis C (CHC). This discovery had immediate clinical impact. First, the IL28B genotype could be used to personalize therapy. In the 2 years since discovery, most of the more than 100,000 CHC patients commencing therapy for CHC in the West will have considered IL28B genotype testing. Second, the discovery has supported clinical trials for the use of the protein encoded by the gene known as interferon lambda. Third, it is expected that new insights into HCV pathogenesis will follow from studies of how IL28B affects HCV viral clearance and, ultimately, this will lead to new therapeutic strategies for CHC. This review discusses how IL28B genotyping is now used in personalizing therapy and, with the dramatically changing clinical landscape in CHC, with the advent of direct-acting antivirals, the prospects ahead.
Keywords
Positive Predictive Value
West Nile Virus
Telaprevir
Sustained Viral Response
Rapid Virological Response
IL28B and hepatitis C
The recent rapid increase in knowledge of genetic variability and the decrease in the cost of genotyping were expected to lead to an explosion in the number of new diagnostic tests to predict drug response [1]. This has not happened, largely because drug response phenotypes, like many other phenotypes, are probably the net effects of numerous common genetic variants of small effect, and uncommon interacting variants of unknown effect size. A striking exception is the prediction of response to pegylated interferon α and ribavirin (PegIFN/R) for the treatment for chronic hepatitis C (CHC). Four independent genome-wide analysis studies published at the end of 2009 and in early 2010 identified variants of the same single gene as predicting drug response [2–5]. This gene, IL28B, encodes a recently discovered interferon: interferon λ3. The discovery was particularly exciting because the closely related interferon λ1 had just been shown to have promise as an alternative to interferon α in phase 1 clinical trials for CHC [6].
CHC affects more than 180 million people or about 3% of the world's population [
7
]. The majority of these are in Asia, the Middle East, Brazil and Indonesia; but there are also more than 10 million in the USA, Europe and Australia (Figure
1
). Of those exposed to the virus, about a quarter spontaneously clear infection [
8
], while the majority develop chronic disease [
9
,
10
]. Disease progression in CHC is typically insidious, but a proportion will develop end-stage liver disease resulting in morbidity and mortality from liver failure and hepatocellular cancer.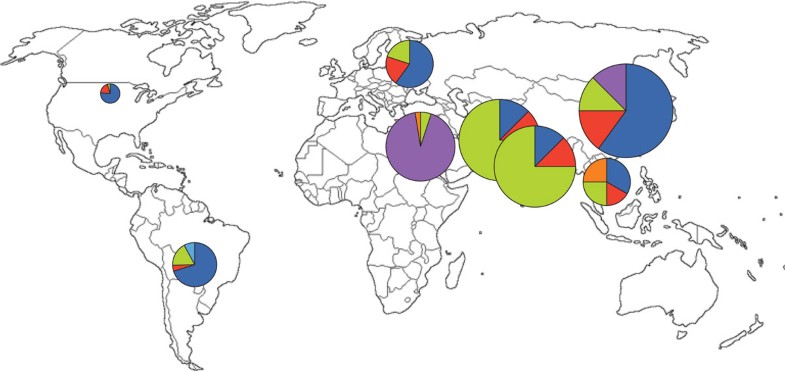 The genome-wide analysis studies were performed in different geographic locales (Australia, Japan, Europe, USA) and in different ethnic populations (European, Japanese, African Americans, Hispanics), but all identified only the SNPs around IL28B as associated with drug response, providing independent replication, and confirming that the data are robust and valid. In slightly over 2 years since these reports, several hundred studies have been published on IL28B and hepatitis C, underlying the impact of this discovery on investigations of hepatitis C virus (HCV) pathobiology.
The importance of IL28B for hepatitis C infection and the practice of hepatology is fourfold. First and foremost, it marks host genetic variation as an important player in the outcome of infection, bringing to the fore the era of personalized medicine. From a clinical perspective, genotyping for polymorphisms near the IL28B gene have impacted on decision making with regard to who to treat and when to treat with PegIFN/R, but also for the new direct-acting antiviral (DAA)-based therapies and interferon-free regimens [11, 12]. From the perspective of pathogenesis, the discovery has led to important new knowledge, with type III interferons recognized as the predominant interferon produced by HCV infection in humans and chimpanzees and that best correlates with induction of interferon-sensitive genes (ISGs) [13]. Finally, from a therapeutic perspective, the type III interferons might have a specific role in therapy, with the downstream signaling pathways and their modulation an attractive target for drug development.
Given that humans and HCV, and their ancestors, have co-evolved over millennia in different ethnogeographic contexts and have been subject to divergent selection pressures, it is to be expected that both organisms will develop genetic variations that improve survival. For humans, the fact that some individuals but not others spontaneously clear virus suggests that innate and adaptive immune response variations determine the outcome of infection. Viral genomic variation allows for evasion of the host immune response and in this context, suboptimal host responses predispose to the development of chronic infection. Interferons play a major role in the response to viral infections, including to HCV specifically, in both humans and chimpanzees [14–17]. Type I interferons, IFNα and IFNβ, are produced in response to signaling through viral recognition receptors, and utilize the same receptor. The type II interferon (IFNγ) is pro-inflammatory, regulating the direct T-cell and other responses. The three type III interferons (IFNλ 1 to 3) are transcribed from a gene cluster on chromosome 19, are highly homologous, and upregulate the same set of genes as type I interferons, but through a different receptor [18]. It follows that host genetic variation, particularly in innate response pathways, will likely contribute to predicting outcome to treatment with interferon-based regimes. Likewise, viral genomic variation may explain treatment failure in some individuals.
This review will focus on the pharmacogenetic applications of IL28B genotyping, the only genetic variant currently used diagnostically to predict drug response. The effectiveness of this genotyping for prediction of therapeutic response and clinical management for dual therapy (PegIFN/R) and triple therapy (PEGIFN/R and DAA) for the different viral subtypes will be discussed. Also discussed are the other genes that have been implicated in prediction for HCV treatment, and other diseases and therapies that might be affected by the IL28B genotype.
Prediction of response to PegIFN/R therapy
Prediction of response with DAAs
Therapy for HCV infection is currently undergoing a radical transformation with the advent of oral medications: the DAAs. The first two to receive US Food and Drug Administration (FDA) approval are the NS3 protease inhibitors boceprevir and telaprevir. These have cure rates substantially higher (about 70 to 80%) than dual therapy with PegIFN/R (<50%), and may allow reduction in treatment duration [
49
,
50
] (Table
4
). To minimize the risk of viral resistance, both are used with a PegIFN/R pre-treatment. For both,
IL28B
genotype predicts SVR. For telaprevir, cure rates (SVR) vary from 90% for rs12979860 CCs, to 73% for TTs. Clearance at 8 weeks for boceprevir/PegIFN/R was achieved for 89% of CCs and 52% of CT/TTs; and at 4 and 12 weeks (no HCV detected at both time points) for 72% of CCs and 52% of CT/TTs. Many more DAAs are in late-stage clinical trials and producing very promising results [
51
]. They have been so rapidly taken up, especially in the USA, that triple therapy is now considered the new standard of care treatment for genotype 1 HCV there [
12
]. Dual therapy remains the standard of care treatment for other viral genotypes.
Table 4
Effect of rs12979860 genotype on percentage sustained viral response for boceprevir and telaprevir treatment regimes
Treatment

Genotype (%SVR)

CC

CT

TT

SPRINT-2 (n = 653)

PegIFN/R

78

28

27

BOC/RGT

82

65

55

BOC/PR48

80

71

59

No HCV at 8 weeks

89

52

ADVANCE (n = 454)

PegIFN/R

64

25

23

T8 24/48

84

57

59

T12 24/48

90

71

73

No HCV at 4 and 12 weeks

72

52
However, enthusiasm for these regimens is tempered by the substantially lower cure rates (about 30%) in previous PegIFN/R null responders. In all those failing single DAA-based therapy, future treatment with multiple DAA-based combinations with or without PegIFN/R may be compromised by the development of drug resistance. Further, HCV eradication using single DAA-based strategies, particularly in previous treatment failures, appears to be IL28B genotype dependent. In this context, predicting non-response rather than success is paramount since the former should perhaps have therapy deferred until multiple DAA-based combinations become available. The present results therefore provide a strong rationale for the use of IL28B SNPs such as rs4803221 in combination with the HLA-C genotype, such that those with non-response genotypes are considered for future regimens rather than single DAA-based therapy.
Conclusion
Internationally, in the next few years, hundreds of thousands to millions of people with HCV are likely to consider therapy to clear virus, and consideration of IL28B genotype may aid in pre-treatment choice of therapy. As discussed above, such testing can predict the difference between a 15% chance of clearance (for example, for those with HCV genotype 1a and HIV co-infection, or those with rs8099917 GG and HLA-C C2C2 genotypes) to 100% chance of clearance (rs12979860 CC on DAA), depending on the treatment chosen, HCV genotype and HIV co-infection status. This decision will also be greatly affected by the cost of therapeutic options, with vastly different parameters in western countries, Asia, the Middle East and Africa. To the armory of information already obtained will come a need to gather more for the new therapeutic options and for the vastly different clinical settings in the different parts of the world. Specifically, new genetic variants (SNPs, insertions, deletions, gene copy number variants, even RNA isoforms) may identify the few who fail to respond to the triple therapies. Next-generation sequencing studies to identify viral variants that resist particular therapies will be needed. Clinical management may need to be guided by monitoring of the emergence of such viral variants and the rebound of viral load.
Abbreviations
CHC:

chronic hepatitis C
DAA:

direct-acting antiviral
HCV:

hepatitis C virus
HLA-C:

human leukocyte antigen C
ISDR:

interferon sensitivity determining region
ISG:

interferon sensitive gene
kb:

kilobase
OR:

odds ratio
PegIFN/R:

pegylated interferon and ribavirin
PPV:

positive predictive value
RVR:

rapid viral response
SNP:

single nucleotide polymorphism
SVR:

sustained viral response.
Declarations
Acknowledgements
This work was funded by an Australian National Health and Medical Research Council Project Grant, a MS Senior Research Fellowship to DB, and the Robert W Storr Bequest to the Sydney Medical Foundation.
Authors' Affiliations
(1)
Institute for Immunology and Allergy Research, Westmead Millennium Institute, University of Sydney, Australia
(2)
Storr Liver Unit, Westmead Millennium Institute, University of Sydney, Australia
Copyright
© BioMed Central Ltd 2012