Strength of functional signature correlates with effect size in autism
Received: 20 February 2017
Accepted: 23 June 2017
Published: 7 July 2017
Abstract
Background
Disagreements over genetic signatures associated with disease have been particularly prominent in the field of psychiatric genetics, creating a sharp divide between disease burdens attributed to common and rare variation, with study designs independently targeting each. Meta-analysis within each of these study designs is routine, whether using raw data or summary statistics, but combining results across study designs is atypical. However, tests of functional convergence are used across all study designs, where candidate gene sets are assessed for overlaps with previously known properties. This suggests one possible avenue for combining not study data, but the functional conclusions that they reach.
Method
In this work, we test for functional convergence in autism spectrum disorder (ASD) across different study types, and specifically whether the degree to which a gene is implicated in autism is correlated with the degree to which it drives functional convergence. Because different study designs are distinguishable by their differences in effect size, this also provides a unified means of incorporating the impact of study design into the analysis of convergence.
Results
We detected remarkably significant positive trends in aggregate (p < 2.2e-16) with 14 individually significant properties (false discovery rate <0.01), many in areas researchers have targeted based on different reasoning, such as the fragile X mental retardation protein (FMRP) interactor enrichment (false discovery rate 0.003).
We are also able to detect novel technical effects and we see that network enrichment from protein–protein interaction data is heavily confounded with study design, arising readily in control data.
Conclusions
We see a convergent functional signal for a subset of known and novel functions in ASD from all sources of genetic variation. Meta-analytic approaches explicitly accounting for different study designs can be adapted to other diseases to discover novel functional associations and increase statistical power.
Keywords
Autism spectrum disorder
Rare variation
Common variation
Loss-of-function
Recurrence
Effect sizes
Functional enrichment
Gene candidate score
Meta-analysis
Background
Over the past decade, enormous progress has been made in characterizing sources of DNA variation contributing to disease. Most of this progress has been enabled by study designs which are carefully tailored to exploit technologies targeting particular classes of variation. Researchers have used chromosomal analysis arrays [1–4], genotyping arrays [5–8], whole-exome sequencing (WES) [9–13], and whole genome sequencing (WGS) [14, 15] to identify risk loci and alleles. The results from these studies cannot be naively compared; common variants are limited to regions of the genome with known variation (a SNP is known) but only reach significance with large numbers, while rare or ultra-rare variants are conditioned on not being in this list of common variants. Trio and quad studies are used mainly in WES and WGS study designs, while large case and control cohorts are required for signals in genome-wide association studies (GWAS). Thus, for each study design, we are asking distinct questions that relate to the population prevalence, disease mechanism, burden, and risk.
Within each study, however, it is commonplace to look to overlapping functional properties of candidate disease genes to find the biologically meaningful signal among the positive results. Candidate genes are prioritized based on enrichment analyses in pathways related to the phenotype (e.g., neuronal activity regulation) or some other disease feature shared by the genes (e.g., expression in the brain). If these methods return no significant results, more complex methods are performed to extract common features from the disease gene set [16], such as co-regulatory module detection from co-expression networks [17] or binding from protein–protein interaction (PPI) networks [18]. Regardless of the study design, the analysis with respect to functional convergence follows a similar (and largely separable) design: genes selected as hits are tested for the presence of some joint signature with the null provided by genes which are not hits. By the same logic that suggests testing hits for functional convergence relative to the background, we hypothesize that sets of genes which are "strong" hits will show more functional convergence than those which are "weak" hits.
We suggest that the degree of functional convergence may by hypothesized to vary (monotonically) with the degree to which genes are causal for the disease. Genes only weakly causal, whether due to high false positive rates in the study design or low effect sizes, are not strongly implicated as sharing a joint role by their co-occurrence as disease-related. For instance, disease candidates from GWAS have low relative risks (and therefore low effect sizes) as they are inherited common variation in the population. On the other hand, de novo mutations are a form of genetic variation which evolutionary forces have had little time to act upon [19] (e.g., unless embryonically lethal) and are of high risk (and high effect sizes). Studies also suffer from type I errors (false positives), and this too should be reflected in an aggregate disease signal of the candidate genes, as quantified by their common functional properties. A set of genes with de novo mutations will show a strong aggregate disease signal, while we might expect a weaker signal from the gene candidates from GWAS [20]. Measuring their "functional convergence", as determined by a gene set enrichment test or network analysis, we can thus exploit our knowledge of gene candidates' effect sizes and false positive rates. For a true disease property, we expect the correlation between gene set effect size and functional convergence to be strong, and for a weak or artifactual property, we expect no significant correlation.
We propose to test this hypothesis by running a meta-analytic study on autism spectrum disorder (ASD [MIM 209850]) candidates across numerous genetic studies and over a wide range of gene properties and functions. ASD is a neurodevelopmental disease commonly characterized by behavioral traits such as poor social and communication skills [21]. In more severe cases, ASD is comorbid with mild to severe intellectual disability, facial and cranial dysmorphology, and gastrointestinal disorders. Perhaps because of grouping these multiple and sometimes distinct phenotypes into one disorder, and the complexity of behavior as a trait, understanding the genetic architecture of this cognitive disease has been non-trivial [22]. The genetic component of ASD is estimated to be 50–60% [23]; however, in a substantial number of cases the underlying genetic factors of the disease are still unknown. Due to these levels of heterogeneity, multiple studies and study designs have been used to determine the underlying genetics which we make use of here. Taking these different studies, we construct several disease gene candidate collections, each containing genes of similar levels of risk, as determined by their odds ratios and relative risks. On every gene collection, we run a number of analyses, calculating the functional convergence using standard enrichment methods, and more complex network analysis enrichments. By exploiting trends in targeted genetic variation and their known effect sizes, we demonstrate it is possible to discriminate biologically convergent signals from likely technical artifacts at a very fine resolution. The disease properties with strong trend signals are largely consistent with the known literature on ASD (e.g., FMRP interactor enrichment), but we also see a few otherwise interesting properties as unlikely to be disease-specific. Particularly protein–protein interaction networks and some co-expression networks, which extract artifactual signals from the study design, show signals in control data using that study design. Our focus here is on autism due to our interest in the disorder, its well-powered data, and also its phenotypic and genetic heterogeneity.
Methods
Study design
An overview of our study design and method is shown in Fig.
1
. Briefly, we start by characterizing the ASD gene sets collected for this analysis. Each study's results were collapsed individually into a set of genes, with an estimated average effect size for that candidate set (Fig.
1a
). We calculate a functional effect (e.g., statistical overlaps with known functions; Fig.
1b
) for disease-specific and more general gene functional properties. We then calculate the correlation of these functional convergences with the estimated effect size of that variant class (Fig.
1c
). More specifically, we test to see if the set of genes with high effect sizes have strong relative functional convergences as measured by a functional enrichment of some disease property across them, and if those with low effect sizes have weaker functional signals. We apply this test to numerous functional properties on candidate gene sets from a variety of study designs. Functions with positive correlations (positive trends) we believe will show signatures that are likely associated with autism and can be used for further functional characterization of the disease. Throughout our work we refer to the "effect size" as the disease burden or risk of a gene candidate (or the average of such values within a gene set), and the "functional convergence" as the significance of a functional test for a disease gene set after controlling for the set size.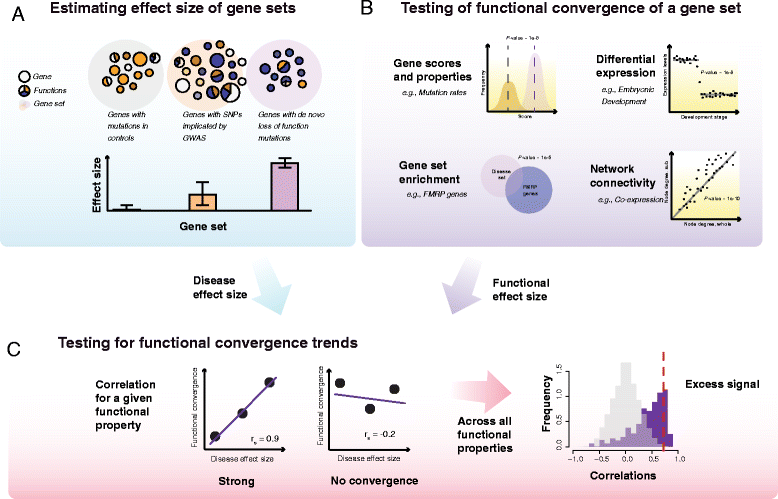 Study data
Disease gene candidate sets
We first collected candidate disease gene sets from available autism studies. We selected the largest study of WES of families from the Simons Simplex Collection (SSC) [24]. We defined different sets of genes from over 2000 gene candidates, splitting into recurrent (at least two probands having the mutation) and non-recurrent mutations, according to mutation type (loss-of-function, missense, and silent mutations). We selected copy number variant (CNV) data also from the individuals in the SSC [25] and parsed it into similar sets. We then used the CNVs as parsed by Gilman et al. [26], which prioritized genes with their NETBAG algorithm. For GWAS gene sets, we generated two lists from the Psychiatric Genomics Consortium (PGC) study on autism and related psychiatric disorders [22]: one from the reported gene list and a second list of all adjacent genes as listed in the GWAS NHGRI-EBI catalog [6]. Our negative control sets included using the genes with mutations in the unaffected siblings of the probands from the SSC studies. This yielded 11 candidate gene lists, categorized by average effect size.
As an additional test, we perform a control experiment to test the ability of our method to discern psychiatric GWAS from other traits and diseases. To assess this, we will swap out the autism GWAS candidate lists for other candidate lists from other GWAS and rerun our analyses. We took all the GWAS data in the GWAS catalog [6], totaling over 1396 traits across 2066 studies. For each trait, we created gene lists with the reported genes. We conditioned on traits with at least 27 genes, which left us with approximately 148 traits. Each of those gene sets was then substituted for the autism GWAS, allowing us to test which GWAS data shows most convergence with the other autism data.
Gene functional annotation data
Calculating average disease effect sizes
For the 11 candidate disease and control gene sets (Table
1
, Fig.
2a
), we ranked the set according to the overall or average "effect size" of the genes within it. For the de novo mutation candidates, we took the ratio of observed counts of mutations to silent mutations within the study for that class of mutations, and then the ratio of those odds between siblings to probands (as calculated in Sanders et al. [
10
]). To calculate this effect size for the GWAS results, we took the average odds ratios from the individual studies of each SNP, which ranged between 1.01 and 1.1. For the control sets (siblings and the silent mutations), we took the effect size to be null. We then ranked the sets based on these overall effect sizes. After these calculations, we ended up with three general classes: null effects (as controls), weak effects (missense and common variants), and strong effects (rarer loss-of-function and copy number variants).
Table 1
Disease gene sets used in the study
Gene set

Set size (genes)

Odds ratios/effect sizes

Rank

WES resultsa

 De novo loss-of-function, recurrent

27

4.1

11

 De novo CNVs

72

3.95

10

 De novo missense, recurrent

153

1.6

9

 De novo loss-of-function

341

1.5

8

 De novo missense

1339

1.06

5

GWASb

 GWAS, reported genes

49

1.08

7

 GWAS, adjacent genes to SNP

116

1.08

6

Control sets, no effect

 De novo silent

590

NA

2.5

Control groups, no disease

 De novo loss-of-function (sibling controls)

174

NA

2.5

 De novo missense (sibling controls)

1066

NA

2.5

 De novo silent (sibling controls)

468

NA

2.5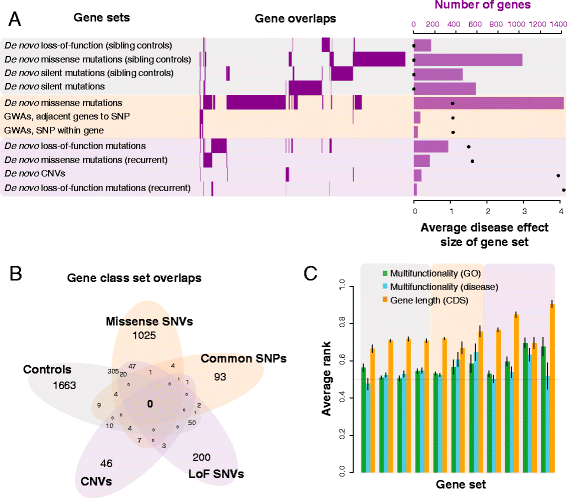 Calculating functional convergences
Our functional tests, described below, return p values which are dependent on the size of the gene set being considered. The statistical tests differ depending on the mode of analysis (e.g., enrichment or network), but by "functional convergence" we simply mean significance (p value) after correcting for the set size, typically by downsampling. For the downsampling, we took a subset of genes, recalculated the p value 1000 times, and then took geometric means of the adjusted p values. Throughout, where we write "functional convergence" it is possible to read "p value after correcting for set size".
Network connectivity
We measure the clustering of sets of genes within networks through the use of a network modularity calculation. We compare the degree of connections a gene has to all the genes in the network (global node degree), and to those of interest within the sub-network they form (local node degree). The null expectation is that genes will be connected equally well to genes within the sub-network as to those outside. Genes with large positive residuals have more weighted internal connections than external connections, implying a well inter-connected module. We test the significance of this distribution of residuals to a null set (random similarly sized set of genes, Mann–Whitney-Wilcoxon test, wilcox.test in R) to determine our test statistic.
Gene set enrichment testing
As a way to determine the level of enrichment of the candidate gene sets within other functional sets, we used a hypergeometric test with multiple test correction (phyper in R). The downsampled p value was used as the functional convergence measure.
Disease gene property testing
For the disease gene scoring properties, we tested the significance of the scores of the candidate genes using the Mann–Whitney-Wilcoxon test (wilcox.test in R). The functional convergence was the p value of this test.
Measuring functional convergence trends
For each gene property tested, we then measured the "trend" by calculating the correlation of the ranked functional effect sizes of our gene sets, whereby the gene sets are ordered according to their effect size ranks. A positive correlation is one where the function tested is correlated with our ordering. We computed this using Spearman's rank coefficient to capture the degree of variation, but the significant subsets identified are generally robust to choice of measurement metric such as the Pearson's coefficient. We limited our functional convergence tests to the subset of functions where at least one gene set of the 11 showed a significant functional convergence signal (p < 0.05). In essence this filtering removes gene sets where there are, for example, no overlaps with any disease sets and should not affect our analysis. For our main analysis, we tested 4210 functional properties, the majority being GO and KEGG groups. The additional functional properties we included such as MSigDB and all co-expression networks increased this number to a total of 18,116 tests.
Determining significance of the functional convergence trends
To calculate a null, we permute the labels of the gene sets and calculate the functional convergence trends. Note that in the ranked case, this is simply the null distribution of a Spearman correlation, with similarly associated significances. We first filter for functional tests where any one of the disease and control gene sets have a functional convergence of 0.05, but report both pre- and post-filtering results. Because our hypothesis (and test) are concerned with the ordering of functional effect sizes, filtering so that the data have at least one significant value changes the null distribution only slightly (e.g., probability of ties). We calculate the number of significant correlations based on the false discovery rate (FDR) at 0.01 and 0.05. Known confounds of disease gene sets are gene length [61] and gene multifunctionality, and to test this we generated matched gene set controls by sampling genes with similar gene lengths, GO multifunctionality and disease multifunctionality measures. Using the ranked CDS (coding DNA sequence) region of the genes, we generated sets of genes of similar ranked length distributions to the 11 real gene sets in the analysis. Downsampled, we then ran the analyses on these gene sets that are specifically not involved in the phenotype. This was repeated for multifunctionality as calculated using GO and then disease (using Phenocarta [62]).
Discussion
Advances in sequencing technologies, classifications, and diagnoses of autism and improved genetic analyses have vastly expanded the potential candidate list for autism-linked genes and our overall understanding of the disorder. Different study designs target different genetic mechanisms and thus potentially quite distinct molecular or biochemical signals at the gene-level. The most prominent result from our analysis is that the functional signal is actually shared, so long as the different effect sizes of the genes are taken into account. Our meta-analytic approach is robust, stringent, and partially independent of most conventional analyses as it exploits trends varying strictly across studies to find plausible biological signals. We expect that continued research parsing and defining different classes of autism will be able to build substantially from this base, toward integrated models of all genomic variation to determine aggregate autism risk. One such possibility follows naturally from our own work, by using the functional properties our analysis suggests are convergent across study designs to prioritize genes; i.e., we could score genes as autism-associated based on how many convergent functions they appear in. While this is comparatively straightforward, we suspect that the major thrust of future research will be toward similar models, but occurring at the level of candidate variants within those genes. As such detailed models are constructed, our analyses highlight a number of points that will be particularly important. First, differences in the prevalence of different classes of variants will be a major property to control for. Many of our analytic choices are centered on not allowing common variant signals with particular technical properties to "swamp" rare, but important, signals. A second major contribution of our work is to highlight which properties are likely useful ones to validate future models. As this work establishes and previous analyses have also suggested [30], PPI data are particularly confounded with selection biases that can create apparent signals. The functional properties we highlight as most significant within our analysis, and which other detailed research has supported (e.g., FMRP [67, 68]), are already targets of intense research interest and also likely to be valuable for validation of any disease burden models, where they should continue to show a signal.
Our specific experimental design for assessing a relationship between functional convergence and effect size may well be open to elaboration and emendation. Potential weaknesses in our design are our use of non-parametric tests and downsampling to control for set size. These are, we think, natural choices for robustness but more finely tuned alternatives are likely to exist and could easily be a target of research since our results suggests the observation of key functional convergence trends is highly robust and salient within the data. As the number of disease gene sets expands, and further refinement of risk assessment is achieved, the resolution of functional convergence trends should grow. Indeed, incorporating effect size as a meta-analytic constraint offers a diverse range of novel applications. That integration may be across study designs and classes of variation, as we have done, or may involve phenotype or other properties. So, for example, one could determine functional convergence trends that grow or shrink depending on how patients are classified, or even broken down in a sex-specific manner for interpreting protective effects. More broadly, as data and the means for obtaining it grow, techniques to statistically assess its structured dependencies will grow more useful and important. Our robustness analysis speaks to this in that while we are robust to modest losses of data, it is clear that more data will only improve the signals of the individual classes. More finely tuned effect size estimates and better separations of the gene sets and variant classifications will also help refine the distinction between biological and artifactual signals, ideally allowing us conduct yet more focused study designs in a productive feedback loop.
Conclusions
In this work we have found that the stronger the effect size of autism candidate genes, the more likely they are to exhibit a joint functional signal. The functional properties identified exhibit some specificity to autism and neuropsychiatric disease (e.g., FMRP interactors), but also some more general links to disease (e.g., RVIS). While there remains substantial heterogeneity between study designs and the genetic architectures of disease which they may uncover, we have shown that there is some commonality across study designs. The commonality across study designs is not a literal overlap in risk genes, or even functional effect, but that functions weakly identified in GWA studies are likely to be more strongly identified in rare variation studies. As evidence for autism and other disorders continues to develop and continues to be heterogeneous with respect to ascertainment biases and study designs, we suspect approaches related to the one we describe will be of increasing importance.
Abbreviations
ASD:

Autism spectrum disorder
CNV:

Copy number variant
FDR:

False discovery rate
FMRP:

Fragile X mental retardation protein
GO:

Gene Ontology
GWAS:

Genome-wide association study
HI:

Happloinsufficiency
PPI:

Protein–protein interaction
RVIS:

Residual Variation Intolerance Score
SNP:

Single nucleotide polymorphism
SNV:

single nucleotide variant
SSC:

Simons Simplex Collection
WES:

Whole exome sequencing
WGS:

Whole genome sequencing
Declarations
Acknowledgments
We would like to thank members of the CSHL Wigler lab for access to their data. We thank Paul Pavlidis for helpful comments on a draft of the manuscript.
Funding
This work was supported by a grant from T. and V. Stanley.
Availability of data and materials
The datasets supporting the conclusions of this article are included within the article and in the additional files.
The datasets generated and analyzed during the current study are also available in the Github repository (https://github.com/sarbal/EffectSize).
Authors' contributions
SB wrote the manuscript and conducted the experiments. JG wrote the manuscript and designed the experiments. All authors read and approved the final manuscript.
Ethics approval and consent to participate
Not applicable.
Consent for publication
Not applicable.
Competing interests
The authors declare that they have no competing interests.
Publisher's Note
Springer Nature remains neutral with regard to jurisdictional claims in published maps and institutional affiliations.
Open AccessThis article is distributed under the terms of the Creative Commons Attribution 4.0 International License (http://creativecommons.org/licenses/by/4.0/), which permits unrestricted use, distribution, and reproduction in any medium, provided you give appropriate credit to the original author(s) and the source, provide a link to the Creative Commons license, and indicate if changes were made. The Creative Commons Public Domain Dedication waiver (http://creativecommons.org/publicdomain/zero/1.0/) applies to the data made available in this article, unless otherwise stated.
Authors' Affiliations
(1)
The Stanley Institute for Cognitive Genomics, Cold Spring Harbor Laboratory, Cold Spring Harbor, USA