Omic personality: implications of stable transcript and methylation profiles for personalized medicine
Received: 12 February 2015
Accepted: 22 July 2015
Published: 13 August 2015
Abstract
Background
Personalized medicine is predicated on the notion that individual biochemical and genomic profiles are relatively constant in times of good health and to some extent predictive of disease or therapeutic response. We report a pilot study quantifying gene expression and methylation profile consistency over time, addressing the reasons for individual uniqueness, and its relation to N = 1 phenotypes.
Methods
Whole blood samples from four African American women, four Caucasian women, and four Caucasian men drawn from the Atlanta Center for Health Discovery and Well Being study at three successive 6-month intervals were profiled by RNA-Seq, miRNA-Seq, and Illumina Methylation 450 K arrays. Standard regression approaches were used to evaluate the proportion of variance for each type of omic measure among individuals, and to quantify correlations among measures and with clinical attributes related to wellness.
Results
Longitudinal omic profiles were in general highly consistent over time, with an average of 67 % variance in transcript abundance, 42 % in CpG methylation level (but 88 % for the most differentiated CpG per gene), and 50 % in miRNA abundance among individuals, which are all comparable to 74 % variance among individuals for 74 clinical traits. One third of the variance could be attributed to differential blood cell type abundance, which was also fairly stable over time, and a lesser amount to expression quantitative trait loci (eQTL) effects. Seven conserved axes of covariance that capture diverse aspects of immune function explained over half of the variance. These axes also explained a considerable proportion of individually extreme transcript abundance, namely approximately 100 genes that were significantly up-regulated or down-regulated in each person and were in some cases enriched for relevant gene activities that plausibly associate with clinical attributes. A similar fraction of genes had individually divergent methylation levels, but these did not overlap with the transcripts, and fewer than 20 % of genes had significantly correlated methylation and gene expression.
Conclusions
People express an "omic personality" consisting of peripheral blood transcriptional and epigenetic profiles that are constant over the course of a year and reflect various types of immune activity. Baseline genomic profiles can provide a window into the molecular basis of traits that might be useful for explaining medical conditions or guiding personalized health decisions.
Keywords
Methylation Level
Transcript Abundance
African American Woman
Single Nucleotide Polymorphism
Methylation Profile
Background
This study is an enquiry into the stability of omic "personalities", namely, the degree to which functional genomic profiles such as the transcriptome and methylome retain individual-specific features over time. Just as humans are able to recognize one another through facial and other morphological (and behavioral) attributes that remain person-specific for decades, we ask whether omic profiles have a similar capacity to define personalities at the molecular level. If functional genomic data types are to be incorporated alongside genome sequences as a component of clinical medicine [1, 2], it is essential that we have a baseline understanding of whether diagnostic and transcriptional, protein, metabolite, and epigenetic biomarkers remain stable over time [3–5], whether perturbation in the context of disease is transient or permanent [6], or if behavioral interventions can push profiles to a more healthy state.
The dataset we describe allowed us to assess the stability of omic profiles in healthy volunteers who were part of a wellness intervention study at Georgia Tech and Emory Universities, the Center for Health Discovery and Well Being (CHDWB) [7, 8]. It consists of RNA sequencing (RNA-Seq), micro-RNA sequencing (miRNA-Seq), and DNA methylation (Illumina Methylation 450 K array) data from whole blood sampled three times at 6-month intervals from each of 12 participants. Whole genome sequences and clinical values for 74 traits, also measured at the three time points, were also available and have been previously described for the eight European Americans (four men and four women) in the study [9]. We added data for four African American women. All individuals were chosen to represent a diversity of physical and mental health phenotypes. For the most part, the clinical attributes did not change appreciably over the course of the study [10] and three quarters of the variance in each trait tended to be among individuals.
Two "straw man" alternative a priori models for the extent of omic personality may be postulated. The first is that gene expression and methylation are sufficiently labile that multiple measures from any individual are unlikely to be identifiable as belonging to one person. This may be because blood cell type abundance fluctuates, environmental exposures change, and people experience different health states from month to month and week to week. For example, considerable lability of the methylome has been observed in the first two years of life [11, 12], as well as with advancing age [13–18]. The opposite model would be that our omic profiles are just as stable as our visible phenotypes, and that clustering of any individual samples for any of the three data types would lead to side-by-side alignment for the three samples for each person. Our analyses unambiguously favor this latter model, at least over a 12-month period, consistent with the notion that people have strong omic personalities. Within this model, three further sub-models may be considered. One is that the individual-biased expression is restricted to a limited number of genes that have relatively strong deviations, perhaps due to cis-acting regulatory effects that are known to explain up to 30 % (and in some cases more) of the variance of individual transcripts among people [19–22]. Alternatively, it could be distributed over the majority of transcripts. The third possibility is that the individual-biased expression is highly structured such that covariance of hundreds or thousands of transcripts along a limited number of axes of variation explains much of the individual specificity, rather than each gene being independently regulated [23, 24]. This would imply that trans-acting factors are more important than cis-regulatory ones in defining a person's omic personality.
A number of early microarray studies explored the individuality of gene expression and its relationship to blood cell counts. In 2003, Whitney et al. [3] noted suites of genes associated with lymphocyte, neutrophil, and reticulocyte abundance (which essentially correspond to Axes 1, 5, and 2 in our study defining conserved axes of covariance in blood [21]), but only documented 340 genes with high "intrinsic scores" in peripheral blood monocytes, implying that they were differentially expressed among 16 individuals. By contrast, Eady et al. [5] took a more standard statistical approach and argued for individualized expression of over 3,300 genes (39 % of those represented on their microarrays) in a study of 18 adult volunteers sampled weekly over a month. Studies of methylation in peripheral blood have documented much stronger correlations than transcripts with age [13, 14], as well as with gender and body mass index at many loci, but it appears that the modular structure of methylation is generally not correlated with that of the transcriptome [13, 25]. Here, we quantify the correspondence between gene expression and DNA methylation profiles in 12 adults over a year, also relating the observations to clinical attributes of the study participants. The data lead us to argue that steady-state omic profiles may well prove to be useful in personalized medicine as markers of individual health status.
Discussion
The data presented in this study support the notion that at the functional genomic level people have strongly persistent peripheral blood profiles. The temporal conservation is on a par with that observed for anthropometric and biochemical traits, so we refer to the profiles as a person's "omic personality", implying that we are each as molecularly individualized as we are morphologically and behaviorally. Despite considerable fluctuation in blood cell counts, technical measurement error, and well-documented influences of the environment [43], more than three quarters of the variation in the abundance of individual transcript was among people. Consequently, while not unique, our overall transcriptome profiles are recognizable from month to month, over the course of at least a year in healthy people.
This notion extends to the epigenome. Overall methylation profiles were almost as stable as transcriptional ones over the course of a year, though it is well documented that they change more over decades [11–18]. The proportion of variance in individual CpG methylation that was among individuals was lower than for transcripts, but most genes had at least one site that was more or less methylated in a subset of individuals, and collectively these generated an epigenomic personality. Intriguingly, there was little correspondence between the transcriptome and methylome in the sense that different pairs of individuals were more similar to one another for the two data types, and in the majority of cases where both transcript abundance and methylation of a single gene were strongly individualized, the two measures were not correlated. There were, however, several hundred loci where the correspondence was strong. Recent cross-sectional profiling across different classes of chromatin motifs support the inference that differential methylation often follows, and presumably stabilizes, activation of gene expression, though the relationship seems to be complex and context-dependent across tissues [35, 44–47]. Our results are consistent with this model, but emphasize that the relationship is restricted to a minority of genes, and that other mechanisms must be responsible for the long-term stability of most gene expression levels.
One such mechanism may be miRNA profiles. These were surprisingly less stable in this study than the other two omic measures, and it would not be possible to identify a person from their miRNA personality. This suggests miRNAs must work collectively to modulate gene expression; otherwise, the broader fluctuations in abundance would feed forward to the mRNA levels. A recent study [48] of mouse embryonic stem cells found that genes regulated by multiple miRNA tend to have lower noise at the protein expression level, but suggest that the effect is also a function of overall expression level, being stronger for lowly expressed genes. Several miRNAs did appear to correlate with the more extreme abundance levels of multiple individuals, consistent with a regulatory role, but one that involves a complex mix of positive and negative regulation as observed in many cancer genome anatomy studies. Mathematical modeling will be required to evaluate whether and how strongly miRNA can contribute to the temporal stability of mRNA and protein levels. There are surprisingly few studies of the global relationship between miRNA and RNA abundance in human population samples [26, 27], so we were unable to contrast our observations with an external dataset.
What are the consequences of omic personality for an individual's health? Two aspects of personal transcriptomes are particularly noteworthy: the coordinate regulation along conserved axes of covariance, and the nature of expression at the extremes.
We have recently noticed that in cross-sectional peripheral blood gene expression profiling datasets, between one half and two thirds of the variance in transcript abundance is explained by correlation with seven major axes, each defined by the covariance of ten blood informative transcripts [
24
]. The relationship held in this relatively small study of 12 people, such that each person had an individualized axis profile as shown in Fig.
6
based on data in Additional file
1
: Table S13. The radar plots provide a summary peripheral blood profile for each person, which we believe can be used to as a baseline to evaluate a person's overall immune status. Four of the axes are enriched for functions related to T-lymphocyte activity, B-lymphocyte activity, inflammation, and the interferon response (Axes 1, 3, 5, and 7 respectively), another (Axis 2) is consistently associated with obesity [
49
], as well as anxiety [
50
], while the roles of Axes 4 and 6 are yet to be clarified. As first observed by Chaussabel and colleagues [
23
,
51
], covariance contained within these axes is perturbed in a variety of immune diseases, and similarly Cole and colleagues have defined a conserved transcriptional response to adversity that is also related to the axes and associates with multiple aspects of mental health [
52
,
53
]. It has also been shown that baseline gene expression variation may predict vaccine response [
54
,
55
], and we have identified a subset of Axis 1 that seems to be predictive of cardiovascular death in a cohort with extant coronary disease [
56
]. In unpublished work on the full CHDWB cohort, we observe many correlations of Axis scores with clinical measures. It is consequently hard to argue that the individualized profiles, reflecting regulation along gene expression axes, does not influence each person's immune health to some degree—whether this is clinically useful remains to be clarified.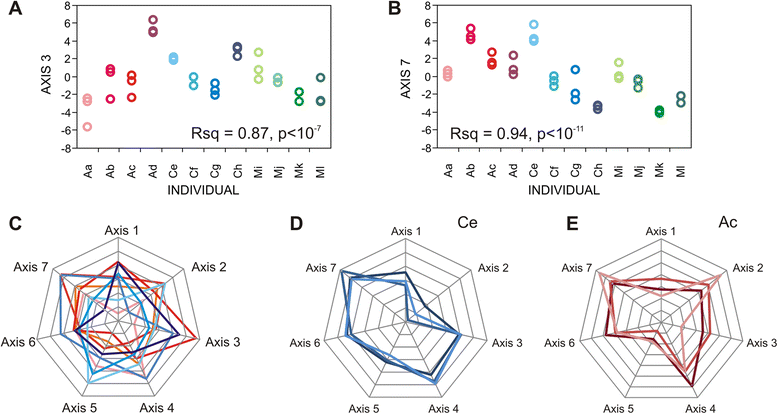 Eleven of the 12 participants described here displayed several dozen to several hundred individual gene expression measures that can be considered extreme, because they were more than two standard deviation units divergent from the expression levels observed in the other participants. Up to half of these instances of deviant expression can be explained in part by the covariance along one or more of the axes, some can be attributed to cis-eQTL and epigenetic factors, and it is likely that cumulative trans-eQTL effects are also contributing. In several cases, multiple genes with related immune or blood functions were indicated, and correspondingly the individual was the most extreme for the relevant trait, as documented in Table 1. A caveat to this analysis is that evaluation of any one individual was necessarily performed by comparison with a panel of others who may have been profiled at a different time, and that other experimental design issues could lead to technical confounding which may exacerbate differences. Nevertheless, results such as these suggest that individualized longitudinal gene expression profiling has considerable potential to contribute to personalized medicine assessments.
Assessments at N = 1 cannot, by definition, be supported by statistical evaluation. The observation of one or a handful of observations that make sense, picked from thousands of possible such evaluations, does not constitute a robust argument that the elevation or loss of a particular gene explains a phenomenon such as low blood pressure or elevation of a serum analyte. However, it is also the case that genetic risk scores based on rigorously established genome-wide association study evidence rarely have convincing positive predictive value, even where their sensitivity is high [57–59]. This is partly because those associations are based on population averages, and ultimately the effects of polymorphisms and mutations need to be assessed within the context of an individual. Our contention is that gene expression and, where possible, proteomic, metabolomic, immune, and other types of profile will add substantially to our understanding of why each person has disease susceptibilities, or,as importantly, is protected from disease [60, 61].
As an illustration of the latter, consider the profile of participant Ad. This individual was in her mid-60s and had a very high percentage of body fat with a body mass index in the overweight to obese range, yet her blood glucose and triglycerides were perfectly normal. A possible contributing factor was that she had aberrantly low expression of two genes involved in the breakdown of fucose to glucose. By contrast, her aberrantly high expression of the transcript encoding the myeloid-secreted adipocytokine resistin [62] was not prima facie consistent with her mid-range low-density lipoprotein cholesterol or the absence of any signs of diabetes [63]. This peptide is also pro inflammatory, but participant Ad actually had the lowest Axis 5 score in the study, consistent with generally low inflammatory activity including normal IL-6 and TNFα levels. Nevertheless, the transcriptome profiling might be clinically relevant if consideration were given to placing her on statins to treat her high blood pressure, given evidence that serum resistin opposes statin-mediated reduction of cholesterol production in the liver in overweight people [64]. A major challenge for integrative genomic profiling will be to be able to move beyond association of lists of genotypes or transcripts that associate with traits, to predictive models that explain how personal profiles relate to individuals' unusual conditions. While not definitive, such models may be regarded as hypothetical causal relationships for further investigation, much as predicted deleterious rare alleles need additional validation before they can be assumed to be pathogenic.
An important aspect of this endeavor will be recognizing that functional genomic measures are characterized by strong patterns of co-regulation. This is in contrast to genotype-oriented studies that assume explicitly that genes are regulated independently of one another. This follows from the fact that disease-associated SNPs in different genes are overwhelmingly in linkage equilibrium with one another (disregarding population structure). That is patently not the case for transcripts. For reasons we dimly understand, the transcriptome, and presumably proteome, is designed to produce stable patterns of gene activity uniting hundreds and, in some cases, thousands of gene products. These patterns are sometimes correlated with phenotypes, including disease susceptibility, in cross-sectional studies, but their utility for personalized medicine will be a function of their stability over time. Methylation profiles seem to change more as people age than do transcriptome profiles, partially in response to changes in cell type abundance, so this must be accounted for, and they may be more difficult to interpret in the context of assessing changes in health status. On the other hand, once we accumulate more knowledge of how tightly modules and axes of genes are co-regulated, deviations of individual transcripts and methylation states may be assessed relative to those genes that remain stable. More extensive longitudinal profiling will indicate which genes have high coefficients of variation, and which are the most stable and hence most informative with respect to an individual's health and disease.
Conclusions
Although this study only considers healthy people over the course of a single year, it is clear that people express an "omic personality" consisting of peripheral blood transcriptional and epigenetic profiles that are relatively constant and reflect various types of immune activity. Some of these people are likely to go on to develop chronic conditions in the next 10 to 20 years. Ongoing profiling may allow us not just to ask how these profiles associate with clinical features, but also to address the major issue of whether baseline profiles predispose individuals to disease, or more commonly provide a level of homeostasis that protects them from perturbations that might otherwise push them into a state of ill health.
Declarations
Acknowledgements
We are particularly grateful for the participation of the 12 anonymous donors in the CHDWB study, and for the assistance of the staff of the Center and health partners in gathering samples and data. Genome sequencing was performed in the laboratories directed by Travis Clark (Vanderbilt), and Zach Johnson and Steve Bossinger (Yerkes). This research was supported by start-up funds from the Georgia Tech Research Institute to GG, and salary support for RT, AS, DA, and GG was provided by Project 3 (GG, PI) of the NIH program project "Statistical and Quantitative Genetics" grant P01-GM0996568 (Bruce Weir, University of Washington, Director).
Open AccessThis article is distributed under the terms of the Creative Commons Attribution 4.0 International License (http://creativecommons.org/licenses/by/4.0/), which permits unrestricted use, distribution, and reproduction in any medium, provided you give appropriate credit to the original author(s) and the source, provide a link to the Creative Commons license, and indicate if changes were made. The Creative Commons Public Domain Dedication waiver (http://creativecommons.org/publicdomain/zero/1.0/) applies to the data made available in this article, unless otherwise stated.
Authors' Affiliations
(1)
Center for Integrative Genomics, School of Biology, Georgia Institute of Technology, Atlanta, USA
(2)
Institute for Molecular Medicine Finland, Helsinki, Finland
(3)
CSIR-Institute of Genomics and Integrative Biology, Delhi, India
(4)
Philips Health Care, Briarcliff Manor, USA