ENVE: a novel computational framework characterizes copy-number mutational landscapes in colorectal cancers from African American patients
Received: 26 February 2015
Accepted: 30 June 2015
Published: 20 July 2015
Abstract
Reliable detection of somatic copy-number alterations (sCNAs) in tumors using whole-exome sequencing (WES) remains challenging owing to technical (inherent noise) and sample-associated variability in WES data. We present a novel computational framework, ENVE, which models inherent noise in any WES dataset, enabling robust detection of sCNAs across WES platforms. ENVE achieved high concordance with orthogonal sCNA assessments across two colorectal cancer (CRC) WES datasets, and consistently outperformed a best-in-class algorithm, Control-FREEC. We subsequently used ENVE to characterize global sCNA landscapes in African American CRCs, identifying genomic aberrations potentially associated with CRC pathogenesis in this population. ENVE is downloadable at https://github.com/ENVE-Tools/ENVE.
Keywords
Generalize Extreme Value
African American
Single Nucleotide Polymorphism Array
Generalize Extreme Value Distribution
Inherent Noise
Background
Human cancer is caused in part by structural changes resulting in DNA copy-number alterations at distinct locations in the tumor genome. Identification of such somatic copy-number alterations (sCNA) in tumor tissues has contributed significantly to our understanding of the pathogenesis and to the expansion of therapeutic avenues across multiple cancers [1–4]. Traditionally, sCNAs have been detected using cytogenetic techniques such as fluorescent in situ hybridization, array comparative genomic hybridization [5], and representational oligonucleotide microarrays [6] as well as single nucleotide polymorphism (SNP) arrays [7]. However, each of the above techniques has limitations with regard to the number, resolution, and platform-specific assessability of regions that can be interrogated in the genome.
More recently, massively parallel sequencing technologies have provided the unique opportunity to comprehensively characterize genome-scale DNA alterations in tumor tissues. In particular, whole-exome sequencing (WES) offers a cost-effective way of interrogating mutation and copy-number profiles within protein-coding regions in the tumor genome. This has resulted in the increasing use of WES in both the research [8, 9] and clinical settings [10, 11]. However, variability in tumor content among clinical samples in addition to the random technical variability in DNA library enrichment steps during WES can potentially introduce systematic biases across the genome, thus making sCNA detection relatively challenging. Although quite a few algorithmic approaches have been developed to address these issues [12–18], a recent comprehensive review [19] of these published methodologies, primarily using simulated data, showed substantial variability in sensitivity and specificity across algorithms, with algorithm-specific parameter choice a key confounder of algorithm performance. This poses a significant challenge in reliably detecting sCNAs in WES data because choosing the right parameter for a given application is non-trivial. There is therefore a pressing need to develop relatively parameter-free and robust methodologies for detecting these sCNAs across diverse tumor types and sequencing platforms.
Here we present a novel computational methodology, ENVE (Extreme Value Distribution Based Somatic Copy-Number Variation Estimation), which robustly detects tumor-specific copy-number alterations in massively parallel DNA sequencing data without the need for complex parameter choices or user intervention. We demonstrate the robustness of ENVE's performance in two independent matched tumor/normal WES datasets (total N = 107), derived from Caucasian and African American (AA) colorectal cancers (CRC), by comparing ENVE-based sCNA calls in WES data against SNP arrays and quantitative real-time PCR (qPCR)-based sCNA assessments performed on the same sample sets. We further show ENVE as significantly and consistently outperforming the best-in-class sCNA detection algorithm, Control-FREEC [12, 19], in these analyses. We additionally demonstrate the reproducibility of ENVE's key noise-modeling feature using an independent WES dataset derived from 54 normal diploid samples. Finally, using the ENVE framework, we characterize, for the first time, global sCNA landscapes in colon cancers arising in AA patients, identifying genomic aberrations potentially associated with colon carcinogenesis in this population.
Results
We describe the key computational steps in the ENVE methodology and evaluate its performance using two matched tumor/normal WES datasets, an in-house WES dataset of predominantly late-stage, MSS AA CRCs (N = 30) [20], and a Caucasian MSS CRC WES dataset obtained from TCGA (TCGA CRC, N = 77) (See "Methods" and Additional file 1: Table S1). A subset of these TCGA cases consisting of predominantly late-stage cancers (N = 30) was used to further assess differences in sCNAs in CRCs arising in AA versus Caucasian ethnicities.
ENVE methodology overview
The ENVE methodology consists of two major modules: Module 1 uses non-tumor normal diploid samples to capture and model inherent noise in WES data likely arising from technical variability in the DNA capture, hybridization, and/or amplification steps, in addition to variability in sequencing platforms. This is followed by Module 2. which utilizes the learned model parameters to reliably detect somatic copy-number alterations in tumors (Fig.
1
).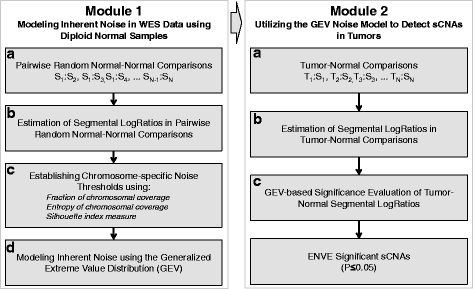 Evaluation of ENVE performance in detecting sCNAs in tumor samples
We next proceeded to systematically evaluate the performance of ENVE by assessing its sensitivity and specificity on individual tumor samples. Although there exists no gold-standard technique for use as a comparator in formal evaluation of sensitivity and specificity of sCNA calls in stromal-admixed clinical tumor samples, we nevertheless proceeded to evaluate ENVE's performance by comparing against widely used SNP arrays.
Accordingly, we performed SNP array-based sCNA detection in both the AA CRC and TCGA CRC datasets. For the TCGA CRC dataset, we obtained SNP array-based sCNA calls for all of the 77 tumors included in our WES study from the TCGA portal (see "Methods"). Similarly, for the AA CRC dataset, we obtained SNP array sCNA calls in 12 of the 30 AA CRC samples used in our WES study (see "Methods"). As an additional key comparator, we evaluated another algorithm, Control-FREEC [12], which has been reported to outperform published WES-based sCNA detection algorithms in a comprehensive review [19]. We performed sCNA detection on the two WES datasets using Control-FREEC's recommended parameters (see "Methods"), and subsequently compared the ENVE-based and Control-FREEC-based sCNA calls in each of the AA CRC and TCGA CRC samples, individually, with those detected by the SNP arrays. We anchored the comparison to only within gene-coding regions because SNP arrays also span substantial non-coding regions that are not interrogated by the WES platform. Because SNP arrays are also not a gold-standard technique for evaluating sensitivity and specificity, we instead assessed the concordance between the SNP arrays and the respective ENVE and Control-FREEC algorithms. Specifically, as shown in Additional file 2: Figure S3, the percent concordance between SNP arrays and ENVE/Control-FREEC was calculated as the ratio of the total length of all concordant exonic sCNA regions called by the WES algorithm to the total length of the exonic SNP array sCNA regions.
Figure
5a
shows the median number of genes associated with sCNA regions in AA and TCGA CRC WES datasets, as detected by ENVE and Control-FREEC, along with their concordance with SNP array-based estimates. For regions with copy-number amplifications, ENVE achieved a higher concordance with SNP arrays than Control-FREEC both in the AA CRC (97.32 % vs. 87.26 %) and TCGA CRC (97.68 % vs. 89.27 %) datasets, despite Control-FREEC calling on average 30 % more amplification events than ENVE in both WES datasets (Fig.
5b
). This strongly implies that ENVE has higher sensitivity and specificity in calling copy-number amplifications than Control-FREEC. Similarly, for regions with copy-number deletions, ENVE achieved a higher concordance rate with SNP arrays (Fig.
5a
) than Control-FREEC both in the AA CRC (90.6 % vs. 47.68 %) and TCGA CRC datasets (78.22 % vs. 67.03 %), with Control-FREEC calling on average 16 % more deletion events than ENVE across samples in the TCGA CRC dataset (Fig.
5b
). Noting the extremely poor performance of Control-FREEC in identifying deletion events, especially in the AA CRC WES dataset, we proceeded to evaluate whether its performance could be improved by enabling Control-FREEC to infer and adjust for potential stromal admixture and tumor content in the two WES datasets. In this mode, we found Control-FREEC called on average 55 % more copy-number altered events than ENVE, but did not match ENVE's sensitivity in detecting sCNAs in three of the four comparisons across the AA and TCGA WES datasets (Additional file
2
: Figure S4A,B). Moreover, ENVE consistently showed better performance than Control-FREEC when tested across different Segment-Mean cutoff values that were used for classifying sCNAs in the TCGA SNP array dataset (Additional file
2
: Figure S5), or at low overall read depth simulated scenarios (Additional file
2
: Figure S6). Taken together, these results strongly point to the potentially high sensitivity and specificity of the ENVE framework in detecting sCNAs in WES data.

In addition to the above SNP array-based comparative analysis, we also evaluated ENVE's performance by using a second orthogonal platform, qPCR. Accordingly, we designed a custom qPCR copy-number array containing a set of 11 genes, each representing a distinct genomic locus that showed recurrent sCNAs (frequency ≥ 30 %) among the 30 AA CRC cases in the WES dataset, as detected by ENVE (Additional file
1
: Table S2). Using this qPCR array, we estimated sCNAs in a subset of AA CRC cases (N = 6), where each of the cancers showed copy-number alteration in at least one of the 11 genes (Fig.
6a
). Of note, these six cases were not represented in the 12 samples used for the SNP array analysis, thus allowing for an independent evaluation of ENVE's performance. Respective matched normal samples from these six cancers, along with an additional six AA normal samples, were used as diploid genome controls in the qPCR analysis. We again used the WES-based sCNA calls from Control-FREEC for these six CRC cases as an additional key comparator in this analysis. Comparison of amplifications, deletions, and copy-neutral calls between qPCR and ENVE showed a significantly higher overall concordance of 72.72 % (Chi-square
P
= 0.049, Fig.
6b
) compared to the 59 % concordance observed between qPCR and Control-FREEC (Additional file
2
: Figure S7). Notably, 54 % of the qPCR and ENVE concordant alterations exhibited low tumor/normal LogRatios ranging between −1 and 0.7 in the WES data (Fig.
6a
), likely suggesting that the higher performance of ENVE compared to Control-FREEC results from ENVE's ability to detect sCNAs even at low tumor/normal read depth ratios in these stromal-admixed tumor samples. It is important to note that although the genes and samples selected for this comparison were chosen based on ENVE's output, we had no a priori expectation of the qPCR results, thus allowing for a fair comparison with Control-FREEC.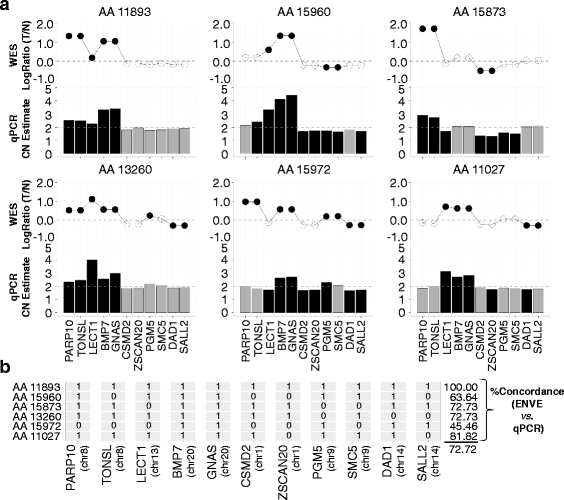 Taken together, although neither qPCR nor SNP arrays are gold-standard techniques for a formal evaluation of the sensitivity and specificity of ENVE and Control-FREEC, our comparative analyses based on these commonly used techniques underscore the ability of the ENVE methodology to reliably detect sCNAs in variable stromal admixture tumor tissues, without having to resort to complex and unstable estimations of tumor content or ploidy.
Characterization of sCNA landscapes in AA CRCs
Using the ENVE-significant alterations as input (Additional file
1
: Table S2), we next identified chromosomal regions showing significant (q-value ≤ 0.25) recurrent focal and arm-level alterations in AA CRCs using the GISTIC tool [
27
] (see "
Methods
"; Additional file
1
: Tables S4–S6, Fig.
7
). While focal sCNAs occurred throughout the length of respective chromosomes (Additional file
1
: Tables S4 and S5), GISTIC's broad-level analysis showed significant (q-value ≤ 0.25) chromosomal arm-level deletions specifically in 1p, 8p, 14q, 15q, 18p, and 18q, and amplifications in 1q, 7p, 8q, 13q, 19q, 20p, and 20q in AA CRCs (Additional file
1
: Table S6). Furthermore, chromosomal regions containing well-known CRC tumor suppressor genes (
TP53
,
DCC
,
SMAD4
,
SMAD2
) [
9
,
35
,
36
] showed recurrent copy-number deletions in ≥25 % of AA CRC cases. Conversely, copy-number amplifications in 13q and 20q loci, regions known to harbor candidate oncogenes [
37
–
39
], were observed in ≥27 % of AA CRC cases.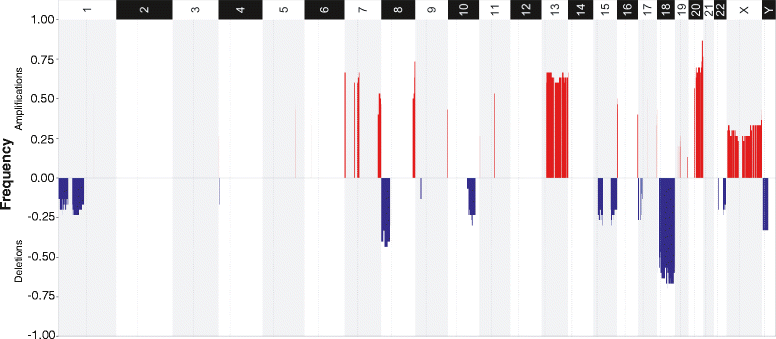 We next asked if there were any recurrent sCNA signatures identified in AA CRCs (Fig. 7) that were significantly different from Caucasian CRCs. Accordingly, we identified a set of 30 predominantly late-stage MSS Caucasian CRC cases from the TCGA WES cohort (Additional file 1: Table S1), and evaluated for significant sCNAs (ENVE P ≤ 0.05; Additional file 1: Table S3) followed by GISTIC analysis to identify recurrent chromosomal arm-level alterations (q ≤ 0.25; Additional file 1: Table S6). Assessing for significant chromosomal arm-level alterations in these two cohorts, however, showed no marked differences in their frequencies between the AA and TCGA CRC WES datasets, and/or between the AA CRC WES and the TCGA CRC SNP array datasets (Additional file 1: Table S6).
While the majority of the recurrent sCNAs observed in AA CRCs (Fig. 7) were consistent with those previously reported for colon cancers [9], there is a likelihood that ethnicity-associated differences exist in both the location and frequency of focal sCNAs in CRCs. Although we identified a significant number of focal copy-number alterations in AA CRCs (Additional file 1: Table S5), a larger platform-matched and algorithm-matched sCNA analysis is necessary to systematically characterize ethnicity-specific differences in focal sCNAs in CRCs. Nonetheless, our prior study detailing the gene-mutational landscapes in AA CRCs [20], together with our current comprehensive characterization of sCNA landscapes in AA CRCs, uncovers recurrent genetic aberrations that are potentially associated with CRC development in the AA population.
Discussion
We have developed a robust and unbiased method for detecting somatic copy-number alterations using WES data. Performance evaluation of ENVE in two independent WES tumor tissue datasets showed a high concordance between ENVE and SNP array and qPCR-based sCNA estimates (Figs. 5 and 6). In addition, we found ENVE significantly and consistently outperformed the best-in-class published WES-based sCNA detection algorithm [19], Control-FREEC [12] (Figs. 5 and 6, Additional file 2: Figures S4–S7). More importantly, our performance evaluations strongly indicate that ENVE has high sensitivity and specificity in detecting sCNAs from WES data derived from stromal-admixed tumor samples. In particular, our comparative analyses reveal the effectiveness of ENVE in detecting genuine sCNAs even at low tumor/normal segmental LogRatios (−1 to 0.7) (Fig. 6a), strongly underscoring the drawbacks with using pre-defined LogRatio value cutoffs to identify sCNAs in tumors. In fact, examination of the relationship between the LogRatios of individual segments and ENVE-based P-values (Additional file 2: Figure S8) shows that no single segmental LogRatio-cutoff value would have captured all recurrent copy-number amplifications or deletions in either the AA or TCGA CRC WES datasets. Besides, the commonly observed variability in cancer cell content among clinical specimens would preclude the use of a single LogRatio-cutoff value for determining recurrent sCNAs. Although some published copy-number algorithms have attempted to overcome the challenge of defining LogRatio-cutoffs by inferring the tumor content and ploidy of each sample to estimate the absolute tumor copy-number [16, 18, 40, 41], these estimates are often unstable, with these algorithms differing in their underlying assumptions, which may not always correspond to the complex chromosomal architecture in tumors [42]. Our approach, in contrast, does not infer tumor content or ploidy, but provides a probabilistic estimate of the presence of sCNAs in tumors given the inherent noise in WES measurements as estimated from non-malignant normal diploid samples, and therefore offers a simpler and robust alternative.
Because one of the key characteristics of ENVE is the use of normal diploid samples for capturing inherent noise associated with WES data, we used DNA samples derived from 54 immortalized lymphoblastoid cell lines established from patients' peripheral blood lymphocytes to determine whether noise threshold estimates are sensitive to the number of normal diploid samples used for noise assessment. We estimated chromosome-specific noise thresholds using normal–normal comparisons derived from random groups of 16–54 samples in increments of 2, repeated ten times. We found the ENVE estimates of noise thresholds across chromosomes to be nearly all stable with respect to the number of diploid samples used for the estimation (Additional file 2: Figure S9). Although the chromosome-specific noise thresholds are not sensitive to the number of diploid samples being used, reliable estimation of the parameters of the GEV distribution requires 100–150 extreme values [43], corresponding to a lower acceptable limit of 15–20 normal diploid samples. Therefore, we suggest that using 15–20 normal samples is sufficient to model the inherent noise in WES data, and as such is computationally efficient. We therefore anticipate that ENVE's key feature involving modeling of inherent noise in WES data will enable its broad application across studies, where population-matched and platform-matched normal diploid DNA samples are frequently available.
Foreseeing a likely practical situation where a normal sample matching the tumor may not be available from the patient, we further evaluated the performance of ENVE in a simulated circumstance where each of the tumor samples was compared to a pooled set of normal samples derived from the WES data. This analysis was performed using computationally derived pooled normal samples for both the AA CRC WES and SNP array datasets (see "Methods"). Next, we compared the ENVE sCNA calls with SNP array-based sCNA calls in the same 12 AA CRC cases from above (Fig. 5). Notably, in this pooled analysis (Additional file 2: Figure S10), ENVE exhibited high concordance rates with the SNP array calls for both amplifications (97.72 %) and deletions (92.86 %), as compared to the matched normal analysis, further suggesting that ENVE remains a viable methodology for reliably detecting sCNAs in tumors even in the absence of a matched normal sample.
We note that one of the limitations of published algorithms [12–18] is their exclusive applicability to deep-sequencing data derived from fresh-frozen material but not archived formalin-fixed paraffin-embedded (FFPE) biospecimens. While sequencing of archived FFPE DNA allows for de novo characterization of gene mutations, as shown by us and others [11, 44], estimation of copy-number alterations using WES of FFPE specimens remains challenging owing to poor DNA quality in archived FFPE tumor samples. This, in turn, may result in enhanced inherent noise, which may also be prevalent in FFPE-derived normal diploid DNA samples. We have not assessed the performance of ENVE in archival FFPE samples, but we anticipate that ENVE's noise-modeling feature may reliably capture the degree of inherent noise in FFPE samples, thus potentially enabling use of the extensive clinically annotated tumor samples held in pathology archives.
One potential limitation of ENVE is that, while it models sources of inherent noise in WES data, it does not explicitly model the likely occurrences of genomic complexities, such as aneuploidy and hyperploidy, in the tumors. This may possibly influence the true positive/negative sCNA detection rates of the current ENVE framework. However, estimating allele frequencies in addition to LogRatios from WES data is a conceivable extension to the current ENVE framework, and may address the influence of such aberrations. Another likely limitation of ENVE is the requirement of at least 15–20 platform-matched normal samples in order to capture and model the inherent noise in WES data. However, because most cancer-profiling studies are designed to include the collection of platform-matched normal samples (matched/unmatched with the tumors), this limitation is likely not burdensome. More importantly, we note that the ENVE's unique noise-modeling feature, not included in any of the other published sCNA detection algorithms, provides detailed and otherwise unavailable comprehension of the inherent noise in any given WES dataset to the user (Figs. 1b,c and 2b,c), thus allowing for reliable interrogation of sCNAs in the tumor samples in a platform-agnostic manner.
Conclusions
We present ENVE as a robust method for detecting sCNAs in WES-based studies using either matched or unmatched tumor/normal samples, without the need for complex parameter choices or extensive user intervention. In particular, ENVE reliably detects sCNAs in stromal-admixed tumor samples and is therefore expected to be broadly applicable across cancer-profiling studies. We believe this user-friendly methodology should be portable to any massively parallel DNA sequencing platform.
Abbreviations
AA:

African American
BAM:

binary sequence alignment/map
CNV:

copy-number variation
CRC:

colorectal cancer
DCC:

DCC netrin 1 receptor
ENVE:

Extreme value distribution based somatic copy-Number Variation Estimation
FFPE:

formalin-fixed paraffin-embedded
GEV:

generalized extreme value distribution
MSS:

microsatellite stable
qPCR:

quantitative real-time polymerase chain reaction
sCNA:

somatic copy-number alteration
SMAD2:

SMAD family member 2
SMAD4:

SMAD family member 4
SNP:

single nucleotide polymorphism
TCGA:

The Cancer Genome Atlas
TP53:

tumor protein p53
WES:

whole-exome sequencing
Declarations
Acknowledgements
We thank Dr. Mark Adams at the J. Craig Venter Institute for his critical review of the manuscript and helpful suggestions. The results published here are in part based upon data generated by The Cancer Genome Atlas (TCGA) project established by the NCI and NHGRI. Information about TCGA and associated investigators and institutions can be found at http://cancergenome.nih.gov/. This research was supported by PHS awards: K08 CA148980 (KG); Career Development Program of Case GI SPORE (P50 CA150964) awards (KG and VV); Case GI SPORE P50 CA150964 (SDM); R21 CA149349 (JEW); P30 CA043703 and U54 CA163060 (KG, VV, SDM, JBS, JEW); Breast Cancer Research Foundation (VV); and the Rosalie and Morton Cohen Family Memorial Genomics Fund of University Hospitals (VV).
Open AccessThis article is distributed under the terms of the Creative Commons Attribution 4.0 International License (http://creativecommons.org/licenses/by/4.0/), which permits unrestricted use, distribution, and reproduction in any medium, provided you give appropriate credit to the original author(s) and the source, provide a link to the Creative Commons license, and indicate if changes were made. The Creative Commons Public Domain Dedication waiver (http://creativecommons.org/publicdomain/zero/1.0/) applies to the data made available in this article, unless otherwise stated.
Authors' Affiliations
(1)
Division of General Medical Sciences-Oncology, Case Western Reserve University, Cleveland, USA
(2)
Case Comprehensive Cancer Center, Case Western Reserve University, Cleveland, USA
(3)
Division of Hematology and Oncology, Case Western Reserve University, Cleveland, USA
(4)
Department of Medicine, Case Western Reserve University, Cleveland, USA
(5)
Case Medical Center, Case Western Reserve University, Cleveland, USA
(6)
Department of Pathology, Case Western Reserve University, Cleveland, USA
(7)
Case Western Reserve University, Cleveland, USA