Inferring pathway dysregulation in cancers from multiple types of omic data
Received: 3 October 2014
Accepted: 16 June 2015
Published: 26 June 2015
Abstract
Although in some cases individual genomic aberrations may drive disease development in isolation, a complex interplay among multiple aberrations is common. Accordingly, we developed Gene Set Omic Analysis (GSOA), a bioinformatics tool that can evaluate multiple types and combinations of omic data at the pathway level. GSOA uses machine learning to identify dysregulated pathways and improves upon other methods because of its ability to decipher complex, multigene patterns. We compare GSOA to alternative methods and demonstrate its ability to identify pathways known to play a role in various cancer phenotypes. Software implementing the GSOA method is freely available from https://bitbucket.org/srp33/gsoa.
Keywords
Matthews Correlation Coefficient
Omic Data
False Discovery Rate Threshold
Uterine Serous Carcinoma
Single Support Vector Machine
Background
A pressing goal within the research community is to further elucidate cellular processes affected by molecular aberrations by better utilizing the wealth of genomic data available. Genomic aberrations that occur within tumors are notoriously heterogeneous - even within a given cancer type, aberrations occur in a wide variety of genes due to different mechanisms, including aberrant gene expression, somatic mutations, epigenetic changes, and DNA copy-number alterations [1]. However, even though the genomic landscapes of individual tumors vary, the same biological pathways are often affected across many tumors of the same type. For example, Wood et al. showed that p110α, the active component of PI3K, was mutated in 11.9 % of breast tumors; however, when other genes in the same biological pathway were considered, 33.3 % of tumors contained a mutation in the PI3K network and thus had potential to increase proliferation and suppress apoptosis [2]. Pathway-level aggregation can place such observations in biological context [2, 3]. In addition, pathway-based, targeted cancer therapies are more specific and can be less toxic than conventional chemotherapies [4]. Therefore, understanding the pathway activity that underlies specific cancers may lead to better treatments. Because one type of data alone may provide an incomplete view of pathway activity - and due to the availability of multi-omic data from projects such as The Cancer Genome Atlas (TCGA) [5] - there is a need to develop methods capable of analyzing multiple types of omic data and thus to provide a more comprehensive view of cancer at the pathway level.
Gene set analysis (GSA) methods are widely used to analyze biological data at the pathway level [6–10]. Gene Set Enrichment Analysis (GSEA) [3] is the most popular such method, and it has been extended and improved by many [11–13]. GSA methods differ in the ways they calculate gene-level statistics, derive null hypotheses, compute gene set statistics, and assess significance [9]. However, the primary goal of each of these methods is to map omic measurements to gene sets that represent logical groupings of genes, including biological processes, molecular functions, and cellular components. The primary output of these methods is a ranked list that indicates which gene sets are considered to be most significantly dysregulated between two conditions. This list may then be used to inform computational and/or bench research, which can then help to uncover the precise mechanisms underlying the biological phenomenon. These methods have been instrumental to important biological discoveries, such as the identification of genes involved in oxidative phosphorylation whose expression is correlated with diabetes [3], establishment of molecular subtypes in prostate cancer [14], and identification of pathways involved in glioblastoma survival [15].
Existing GSA methods have proven useful in analyzing gene expression data but suffer from various limitations. Most methods are designed to evaluate only one type of omic data at a time. Although many GSA methods are designed to analyze microarray data [3, 11, 16–19], relatively few methods are capable of analyzing RNA-Sequencing data [20–23], and even fewer handle single-nucleotide variant data [19, 24, 25] or DNA methylation data [26]. Second, few existing methods account for intervariable dependencies. Taking into account such dependencies is critical because molecular-level interactions occur ubiquitously within cells. In addition, many methods do not consider the directionality of gene changes, even though pathway dysregulation may result from up- and downregulation of genes.
To address these issues, we have developed a novel approach, Gene Set Omic Analysis (GSOA). Under the assumption that aberrant biological activity is reflected in omic measurements from multiple data types, GSOA seeks to identify multi-gene patterns that differ between biological samples representing two conditions. This approach is based on the premise that a given gene typically influences a biological process in conjunction with other gene(s) and that genes affecting the process may differ considerably from sample to sample. Accordingly, individual genes may show no statistical significance in isolation; however, multi-gene patterns may reflect these dynamics. The GSOA method employs the Support Vector Machines algorithm [27], which is designed to account for complex dependencies among variables (in this case, genes). When such patterns can be identified consistently for a given gene set, that gene set is hypothesized to play a role in the condition of interest. GSOA can be applied to any type of omic data for which gene set annotations exist; this includes (but is not limited to) gene-expression microarray data, RNA-Sequencing data, single-nucleotide variant data (SNV), DNA copy-number variation data (CNV), and epigenetic data.
We have validated GSOA using simulated data, gene-expression microarray data, RNA-sequencing data, CNV data, somatic SNV data, and combinations of these data types. Using data from hundreds of tumors in TCGA, we have identified pathways that show patterns of dysregulation between HER2-positive and HER2-negative breast tumors and pathways whose expression differs between individuals who carry a somatic mutation in the RAS subfamily and those who do not. Additionally, we have compared uterine serous carcinomas (USC) against uterine endometrioid carcinomas (UEC) and have identified pathways that may play a role in USC treatment resistance. GSOA suggests that the MYC pathway plays an important role in USC tumors. Further analysis of gene expression levels and somatic mutations in these tumors suggests that key proteins in the MYC pathway are upregulated in USC tumors; this finding has clinical implications and provides motivation for more in-depth biological examination into this mechanism. Our approach serves as a way to extract biologically relevant patterns from large, heterogeneous, omic datasets in support of subsequent, hypothesis-driven experimental studies.
Methods
Software implementation
The GSOA code implementation is freely available at [
28
]. A schematic overview of the GSOA method is shown in Fig.
1
. Required inputs are: (1) a data file containing omic measurements for each sample; (2) a data file indicating the condition or phenotype status for each sample; and (3) a file that indicates which genes map to which gene sets. Data file #1 uses a simple matrix format in which samples represent columns and rows represent genomic features. This file also should contain a header row with an identifier for each sample. Each row should start with a value that indicates the gene name. Multiple rows per gene may be listed - for example, when an omic-profiling technology produces multiple data values per gene. When multiple types of omic data are available for the same samples, multiple data files can be specified using wildcards. Data file #2 contains two columns; the first value in each row should be a sample identifier (and should correspond exactly with the identifiers in data file #1), and the second value should indicate which class (for example, condition or phenotype status) the sample represents. Data file #3 should be in Gene Matrix Transposed (GMT) format as used in the Molecular Signatures Database [
29
]. The first value in each row is the gene set name, the second value is a descriptor, and the remaining, tab-separated values are the genes associated with that gene set. Data files #2 and #3 should contain no header row, and all files should use tab characters as delimiters. Our software implementation of GSOA provides examples of each of these file types.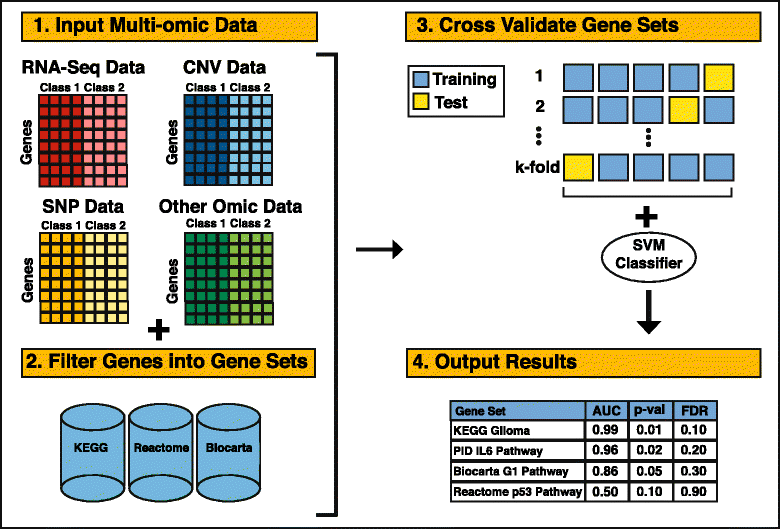 Algorithm
For each gene set, the GSOA algorithm performs the following steps in sequence: (1) the omic data are filtered to include only the genes that belong to that gene set; (2) a classification algorithm predicts the class of each sample via k-fold cross validation; and (3) the area under the receiver operating characteristic curve (AUC) is calculated as a measure of prediction accuracy. Prior to classification, we mean center the data and scale it to unit variance; however, we recommend that omic data also be preprocessed (for example, background corrected) using methodologies appropriate for a given omic-profiling technology. For step #2, we use five cross-validation folds by default; the user can specify alternate values for k. Any classification algorithm could be used for step #2; however, we use the Support Vector Machines (SVM) algorithm because it is designed to account for complex dependencies in high-dimensional data and has been shown to perform consistently well compared to other classification algorithms [30]. We use the radial basis function SVM kernel with default parameters as implemented in the scikit-learn framework [31], which uses LibSVM [32]; it is also possible to specify alternate values for the cost and gamma parameters. In addition, we provide an option for users to auto-tune the SVM parameters via nested cross validation.
When multiple types of omic data are used as input, GSOA merges the data, and the classification algorithm builds a single SVM model that integrates data across the omic types. In deriving these integrated models, GSOA includes whichever genes map to a given pathway for each omic type, even though different omic technologies may profile different genes. However, GSOA only considers samples that contain data for all omic types.
For a given gene set, a relatively high AUC score (maximum of 1.0) indicates that the algorithm accurately predicted the group to which each sample belongs. An AUC value near 0.5 indicates that the predictions performed no better than would be expected if the samples were assigned randomly to either group.
To remove any correlation between gene-set size and AUC values, we incorporated a step into our algorithm that repeats cross-validation for randomly selected gene sets. The number of genes in each random gene set corresponds to the sizes of the actual gene sets; however, to reduce computational burden, we use random gene sets of pre-specified sizes (1, 5, 10, 25, 50, 75, 100, 125, 150, 200, 250, 300, 400, 500+) that correspond to the (rounded up) sizes of the actual gene sets. For example, if the actual gene sets had 8, 47, 99, 232, and 245 genes, respectively, the random gene sets would contain 10, 50, 100, and 250 genes. After performing cross-validation repeatedly (100 times by default) for each random gene set size, the resulting AUC values represent a null distribution. For each actual gene set, we calculate an empirical P value as the fraction of AUC values from the corresponding null distribution that exceed the actual AUC value. This approach generates a P value that is independent of pathway size (see Results). GSOA produces a rank-ordered list that indicates the AUC, P value, and Benjamini-Hochberg false discovery rate (FDR) for each gene set [33].
Results
Researchers often desire to characterize the signaling pathways that play important roles in a particular phenotype. A common approach is to profile biological samples using one or more omic technologies and then to search for differences in measurements between the sample groups. Often these investigations are conducted at the individual gene level; however, such approaches may fail to account for cooperation among genes. We have developed the GSOA method, which seeks to identify multi-gene patterns that differ between biological samples from either of two groups. When such patterns can be identified for a particular gene set - for example, genes that participate in a given biological process - we assume that the genes play a coordinate role in the biomedical phenomenon of interest. We prioritize the gene sets according to how accurately biological samples from the two groups can be distinguished from each other, using only omic data for a given gene set. Unlike many existing approaches that identify gene sets that are either up- or downregulated as a whole, our method assumes that some genes will be upregulated and some will be downregulated and that these responses may vary across the samples. We use a machine-learning algorithm to identify complex, multidirectional patterns that differ between the two conditions. Table
1
lists the various datasets we used in our analyses.
Table 1
Number of samples contributing to each class and omic type for each dataset
Analysis

Class 1

Class 2

Somatic mutation

RNA-Seq

CNV

Microarray

p53 mutation status

17

33

-

-

-

50

Wild-type

p53-mutated

Gender

15

17

-

-

-

32

Male

Female

RAS mutation status (TCGA LUAD)

66

161

-

169

-

-

Wild-type

RAS-mutated

HER2 analysis (TCGA breast)

58

489

506

508

308

519

HER2 +

Other breast

USC analysis (TCGA endometrial)

53 USC

307 UEC

244

323

353

-
In a demonstrative example comparing breast-cancer subtypes, we observed that gene sets containing a relatively large number of genes resulted in higher overall AUC values (Additional file 1: Fig. S1A, Spearman correlation coefficient = 0.764). However our random-selection procedure for generating P values accurately corrects the P values for this bias (see Software implementation). Additional file 1: Fig. S1B shows that the resulting empirical P values - which indicate how likely one would observe a particular AUC value relative to randomly selected gene sets of similar size - show no bias toward larger gene sets.
Discussion
Pathway-based analyses have become popular for providing insight into difficult-to-interpret omic data [6]. GSOA is a novel bioinformatics tool that can integrate data from multiple omic platforms at the pathway level to generate hypotheses about pathways that behave differently between biological conditions. Pathway-based approaches are particularly important for cancer interrogation because treatment modalities are moving towards targeting specific pathways. Therefore, an understanding of pathway dysregulation is a key step in developing personalized cancer care.
Our method builds upon a method developed by Pang et al. [67], which applied machine learning algorithms to gene-expression data to model dependencies among genes and ranked the results by prediction accuracy. Unlike their method, our approach can process multiple types of omic data, integrate data across multiple omic types, account for gene set size, and correct for class imbalances.
The ability to analyze omic data from various omic-profiling platforms is important when analyzing cancer data due to the compound effects of many types of alteration, including gene expression changes, copy-number variation, and single-nucleotide variants. This approach can also be applied to DNA methylation data, miRNA data, and proteomic data, as long as the features can be mapped to gene sets. Our analysis of HER2 pathway activity in HER2-positive breast tumors illustrates how integration of multi-omic data can identify gene sets that may be missed if analyzed separately. For example, a particular gene set may be borderline significant for individual types of omic data and thus go unnoticed; however, when the data are integrated, the gene set may reach significance.
One alternative approach that has been used commonly is over-representation analysis [6]. Such methods require a list of genes that are differentially expressed between two conditions and then prioritize gene sets in which these genes are enriched [68–70]. The simplicity of this approach could be seen as an advantage. However, over-representation methods treat each gene equally and independently, even though the magnitude of expression may differ considerably among the genes and dependencies may exist between genes. In contrast, an advantage of GSOA is that it examines omic data directly; thus it can account for (potentially) subtle differences in omic measurements that may span multiple genes.
We note that the biological relevance of GSOA results depends on the validity and relevance of the gene set annotations used as input. Although curated gene sets provide great breadth, they may be less precise than gene sets based on experimental observation. In addition, there is considerable overlap among gene sets described in multiple pathway resources. This redundancy complicates interpretation of results; however, when multiple pathways related to a given biological process are consistently prioritized by GSOA, this is an indication that the results are robust. In this paper, we have focused on pathways that show consistent significance in our analyses. It is also important to note that GSOA does not infer whether a given pathway is up- or downregulated as a whole; rather it assumes that when a pathway is dysregulated, some genes within the pathway may be upregulated while others are downregulated. Pathways that GSOA identifies as being dysregulated may serve as candidates for future mechanistic and functional studies, which can better dissect the contributions of individual genes.
Conclusion
In summary, we have used our novel computational approach, GSOA, to identify signaling events with a known association among tumor subtypes to test the validity of our method. Results from these analyses highlight the power of our approach to accurately identify biological signal within omic data. Importantly, we have also used this approach to propose alternative pathways that influence development of specific cancer subtypes. For example, we propose that dysregulation of the critical master regulator MYC in uterine serous carcinomas may lead to treatment resistance. Such approaches are invaluable in our quest to distill large, heterogeneous, multi-omic data down to a form that leads to a better understanding of how disease develops and how it might be treated more effectively.
Declarations
Acknowledgements
We thank Laurie Jackson for critical interpretation of gene expression data, Nadar El-Chaar and Samuel W. Brady for feedback on the methods, and Mumtahena Rahman for help with troubleshooting.
Authors' Affiliations
(1)
Department of Oncological Sciences, University of Utah, Salt Lake City, USA
(2)
Department of Pharmacology and Toxicology, University of Utah, Salt Lake City, USA
(3)
Division of Computational Biomedicine, Boston University School of Medicine, Boston, USA
(4)
Department of Medicine, University of Utah, Salt Lake City, USA
(5)
Department of Human Genetics, University of Utah, Salt Lake City, USA
(6)
Department of Biology, Brigham Young University, Provo, USA
Copyright
© MacNeil et al. 2015
This is an Open Access article distributed under the terms of the Creative Commons Attribution License (http://creativecommons.org/licenses/by/4.0), which permits unrestricted use, distribution, and reproduction in any medium, provided the original work is properly credited. The Creative Commons Public Domain Dedication waiver (http://creativecommons.org/publicdomain/zero/1.0/) applies to the data made available in this article, unless otherwise stated.