Expression quantitative trait locus analysis for translational medicine
Abstract
Expression quantitative trait locus analysis has emerged as an important component of efforts to understand how genetic polymorphisms influence disease risk and is poised to make contributions to translational medicine. Here we review how expression quantitative trait locus analysis is aiding the identification of which gene(s) within regions of association are causal for a disease or phenotypic trait; the narrowing down of the cell types or regulators involved in the etiology of disease; the characterization of drivers and modifiers of cancer; and our understanding of how different environments and cellular contexts can modify gene expression. We also introduce the concept of transcriptional risk scores as a means of refining estimates of individual liability to disease based on targeted profiling of the transcripts that are regulated by polymorphisms jointly associated with disease and gene expression.
Keywords
Transcript Abundance
Translational Medicine
Expression Quantitative Trait Locus
eQTL Analysis
Lymphoblast Cell Line
The importance of expression quantitative trait loci
The recognition that the majority of genotypes associated with diseases localize to regulatory regions [1, 2] rather than to protein-coding regions has increased interest in the effect of polymorphisms on gene expression. Although it may have started as something of a high-profile academic curiosity 10 years ago [3, 4], expression quantitative trait locus (eQTL) analysis has become a key tool for the functional understanding of the results of genome-wide association studies (GWASs) [5]. Several thousand papers now refer to human eQTLs, loci that associate with transcript abundance at genome-wide significance levels. They help to explain risk for diseases as diverse as autoimmune, cardiovascular and metabolic diseases, as well as cancer, by focusing attention on causal genes within a defined interval. eQTLs suggest mechanisms by which polymorphisms may influence gene function as it relates to disease, particularly where they alter experimentally or bioinformatically defined sequence elements. In addition, they may have a role in the prediction of the onset or course of a disease.
Recent trends in the field include meta-analysis of ever-larger sample sizes to increase power, investigation of more and more tissues, and incorporation of chromatin measures to explore the mechanisms by which eQTLs act. In addition, analytical algorithm development has progressed as RNA-sequencing (RNA-seq) has displaced microarrays as the primary means of measurement of transcript abundance. We start this review by explaining some of the key concepts and resources for exploring eQTLs, but the major purpose is to highlight the implications of eQTL analysis for genomic medicine. To this end, we survey six areas where eQTL analyses can provide insight into genetic regulation relevant to health and disease, then conclude with a discussion of the prospects for incorporation of eQTL analysis into translational personalized medicine.
Definitions and key concepts
In humans, most eQTLs are mapped by GWASs using genotyping arrays to measure the genotypes of up to several million single nucleotide polymorphisms (SNPs), and either microarrays or RNA-seq [
6
] to measure transcript abundance [
7
]. Statistical association between each SNP and each transcript is computed, revealing places in the genome where there is a linear change in average transcript abundance with each copy of one of the alleles (Fig.
1a
). Imputation can be used to increase the search space for possible causal variants, sometimes identifying more statistically significant associations, but more importantly expanding the list of possible causal variants in the vicinity of the initial tagging SNP [
8
]. If the eQTL polymorphism is located within the vicinity of the transcript, it is called a local eQTL, and the straightforward interpretation is that it (or one or more other variants in linkage disequilibrium with it) directly regulates expression of the gene. As discussed by Albert and Kruglyak in their recent review [
5
], if the effect is mediated by influencing the binding of a transcription factor, which in turn affects the activity of the RNA polymerase complex on the same physical chromosome, formally the local eQTL effect acts in
cis
[
9
]. Consequently, the abundance of the transcript derived from that chromosome is altered, which gives rise also to a difference in the overall expression level of the gene. By contrast, distal eQTLs act at a distance through an intermediary, presumably affecting both chromosomes equivalently, and hence are also called
trans-
eQTLs (Fig.
1b
). For practical purposes, whether or not an eQTL acts in
cis
or in
trans
is usually defined simply by a distance metric — perhaps the requirement that the polymorphism lies within say 250 kb of the transcription start site of the affected transcript, although local regulation can also extend over 1 Mb [
10
] and some authors adopt this longer criterion. Conversely, some local eQTLs may influence transcription from both chromosomes to the same degree, effectively acting in
trans
, so a more accurate definition of
cis
and
trans
effects depends on the mechanism of action.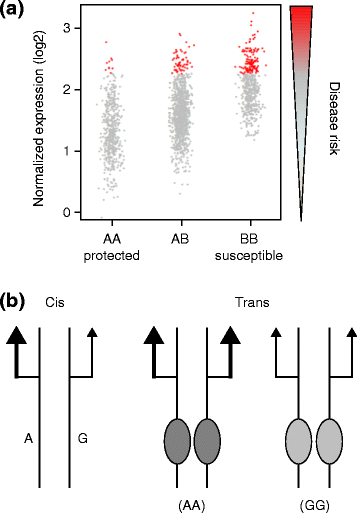 The adoption of RNA-seq has led to the ability to discriminate between variants that influence overall transcript abundance, transcript isoform abundance, allele-specific expression, and novel transcripts including long noncoding RNAs (lncRNAs) [11, 12]. Although the default assumption is that eQTLs regulate the initiation of transcription, variants in the 3' untranslated region may also regulate steady-state abundance at the level of transcript stability [13]. Others, termed protein abundance QTLs, generally located toward the 5' end of the transcript, may regulate ribosome binding and hence translation and protein levels without necessarily affecting transcript abundance [14]. Alternative splicing can lead to altered isoform abundance that may not be apparent from microarray analyses that rely on probing of common exons, or RNA-seq analysis pipelines that only survey gene-level transcription. Results from a recent large study of lymphoblast cell lines from the HapMap collection [11] actually indicated that there is considerably more variability at the levels of splicing and usage of alternative transcription start or termination sites than overall abundance. Since many of these differences may be due to relatively rare variants that affect just a few percent of individuals, it is difficult to quantify relative impacts. An important question requiring more focused analysis is to what extent ethnic differences in overall and isoform-specific transcription are due to local eQTLs [15].
Whereas GWASs of disease or clinical phenotypes generally require samples from thousands, if not tens of thousands, of individuals to explain just a minority of the genetic variance seen in a population [16], eQTL analysis has the distinct advantage that significant results can be obtained with as few as 100 samples. Obviously power increases with sample size, and accordingly the number of genes with identified local eQTLs rose from around 5 % for 100 peripheral blood samples to approaching 50 % after meta-analysis of several thousand samples [17]. This reflects increased resolution from variants explaining at least 10 % of the transcript variance, to associations explaining less than 1 %. These effect sizes are large relative to clinical traits, presumably because the effect on binding of transcription or splicing factors is direct. It is worth keeping in mind that the relevant expression may be in a tissue other than the one being profiled, so many associations will be missed because the correct cell type has not been profiled. Trans-eQTLs typically explain an order of magnitude less variance than cis-eQTLs, and the vast majority of trans effects remain unmapped, even though it is estimated that between two thirds and three quarters of the genetic component of gene expression in blood [18] and adipose tissue [19] is due to trans-acting factors. Several hundred trans-eQTLs have now been identified from meta-analyses [17, 20]; most influence just a handful of transcripts, and collectively they barely make a dent in explaining the overall heritability of gene expression. That is to say, if the average transcript has a heritability of between 20 % and 50 %, and one quarter of this is explained by one or two common local eQTLs, most of the genetic variance remains unexplained.
Furthermore, a hallmark of transcriptomes is a high degree of transcriptional covariance — rather than 10,000 independently transcribed genes per cell type, modules of co-expression exist that influence hundreds or even thousands of transcripts [21, 22]. In peripheral blood, for example, seven major conserved variance components explain well over half the variance of all transcripts [23], reflecting coordinated regulation of genes in the predominate cell types as well as the strength of immune signaling activity, although we do not yet know the genetic basis for this.
Resources
One of the most important aspects of eQTL analyses for clinical studies is that the data and results are very often made available in an easily accessible format. Although the underlying gene expression data are almost always deposited in one of the major public databases (Gene Expression Omnibus (GEO) or ArrayExpress) [24, 25], there is no such convention for the genotypes or the eQTL results. However, these can generally be accessed either from the journal or individual investigators' websites, or by request. As the field transitions to whole-genome sequencing in place of genotyping, in an effort to identify rare-variant eQTLs, data access issues may become more problematic, necessitating a reliance on repositories that provide summary statistics [26].
Happily, there are several existing resources (highlighted in Table
1
) that facilitate browsing by any investigators whether or not they have expertise in the underlying statistical methods. The GeneVar database [
27
] at the Sanger Institute, for example, presents results from 726 HapMap lymphocyte cell lines and three different tissues (lymphocyte cell line (LCL), adipose, and skin) from 856 healthy female twins enrolled in the MuTHER study, in each case searchable either by transcript or eQTL SNP. Manhattan plots visualize the significance of all of the associations across a locus, while scatter plots visualize the variance in transcript abundance for each genotype at a single SNP. More recent HapMap Project [
28
] results generated from whole-genome sequencing and comprehensive RNA-seq are presented in a bespoke genome browser at the Geuvadis resource [
11
]. For investigators interested in peripheral blood eQTLs, the Blood eQTL browser [
17
] provides a meta-analysis of
cis
- and
trans
-eQTL results from dozens of international studies in table format, searchable by gene or SNP. Approximately half of all genes return no results, while a handful return hundreds of results at extremely small false discovery rate levels, reflecting high linkage disequilibrium (but note that the database does not yet include imputed SNPs). An emerging critical resource is the genotype tissue expression (GTEx) Portal [
29
,
30
], which will allow users to query a database of eQTLs detected in multiple tissues — initially 13 tissues from at least 60 postmortem donors but it is expected to include more than 20 tissues in 900 donors by the end of 2015. The NCBI is developing a searchable browser for this project that allows users to select a tissue, apply filters, and download reported eQTLs. Two other very useful resources that integrate eQTLs with other types of genomic and clinical association data are the Gilad and Pritchard laboratory resources hosted by the University of Chicago, and the Pickrell laboratory GWAS browser hosted by the New York Genome Center [
31
].
Table 1
Some prominent eQTL resources
Once eQTLs are recognized to fall into extended haplotype blocks in which hundreds of SNPs may be responsible for the associations detected by GWASs, the issue of fine-mapping the causal variant arises. For many clinical purposes, this may not be important, but it is also becoming clear that local eQTLs can operate over hundreds of kilobases, affecting a gene or genes that are not the most proximal to the causal SNP [9, 11]. In addition, statistical arguments strongly support the inference that in many cases there may be multiple independently acting SNPs responsible for the eQTL effect at each locus [32–34]. Although there is no consistency yet to the usage of the term eSNP (which is commonly used interchangeably with eQTL), we suggest that fine-mapped variants that are candidate causal mediators of the eQTL observation should be called eSNPs.
Unfortunately, there is as yet no database for such eSNPs, perhaps because there is only good functional evidence for a small number of individual sites. In the meantime, there are several resources that can help investigators narrow down the pool of candidate eSNPs within an eQTL region. RegulomeDB [
35
], for example (
http://regulomedb.org/
), ranks SNPs according to whether there are functional data from a variety of ENCODE assays. Type 1 SNPs have a known eQTL association as well as evidence from DNase I hypersensitive sites (DHSs), chromatin immunoprecipitation, predicted transcription factor binding, or reporter gene assays. HaploReg [
36
] serves a similar purpose. Several related measures exist, including ones such as CADD that integrate sequence conservation into the functional inference [
37
,
38
], and these have been shown to provide useful prioritization of candidate variants for disease [
39
]. There is as yet little consistency to the use of these scores. Another immediate need is high-throughput functional assays to experimentally validate that individual sites do impact gene expression [
40
], and eventually to establish whether and how multiple variants at a single locus function together. Table
2
provides a list of some prominent recent eQTL studies in four domains: interaction effects, integration with epigenetics, technical advances, and eQTLs for response to perturbation.
Table 2
Some prominent recent eQTL publications
Reference

Topic

Interaction effects

[108]

Comprehensive two-locus interaction screen for epistatic eQTL effects

[109]

Debate surrounding epistatic interactions described in [108]

[110]

Interaction effects influencing allele-specific gene expression

[111]

QTLs influencing the variance of gene expression

[49]

Estimation of architecture of variance from pedigree studies

Chromatin and epigenetics

[112]

Genetic and epigenetic regulation of lncRNA expression

[113]

Role of histone modification and transcription factor binding on eQTL effects

[114]

Identification of genetic variants influencing histone modification

[115]

Role of methylation QTLs in modifying eQTL effects

[116]

Contributions of methylation and expression QTLs in fibroblasts

Technical advances

[11]

eQTL identification through RNA-seq plus whole-genome sequencing

[117]

Joint eQTL and protein expression analysis

[118]

eQTLs in ten regions of the human brain

Disease studies

[93]

eQTLs for the immune response to tuberculosis

[94]

eQTLs in childhood malaria and parasitemia

[95]

Changes in blood eQTL profile associated with myocardial infarction

[119]

eQTLs in COPD

[80]

Cis-regulatory influences on gene expression in colorectal cancer

Perturbation studies and response eQTLs

[84]

Conditional dependence of eQTLs in monocytes

[85]

Conditional dependence of eQTLs in lymphocytes

[86]

Conditional dependence of eQTLs in dendritic cells

[15]

Monocyte- and lymphocyte-specific eQTLs across ethnicities
Six uses for eQTL analysis in genome medicine
We turn now to the question of how eQTLs can be used in the service of genomic medicine. As with other measures derived from GWASs, the primary utility is indirect, namely improved understanding of disease mechanisms. Applications in personalized medicine, whether diagnostic, predictive, or therapeutic, lie in the future, but we conclude the review with a discussion of the notion of transcriptional risk scores.
eQTLs in translational medicine
In this review, we have discussed various ways in which eQTL analysis is impacting genome medicine from the perspective of understanding mechanisms of disease. We conclude with some thoughts on whether eQTLs may also be of more translational importance. As with findings derived from GWASs and whole-exome sequencing, there are at least three opportunities for translation: precision medicine, prediction, and nosology.
Precision medicine refers to efforts to identify the proximate genetic cause of a disease or condition in an individual patient [99, 100]. It has quickly gained attention through the rapid introduction of next-generation sequencing approaches in the domains of cancer and pediatric congenital abnormalities, where the objective is to identify one or a few rare mutations that may explain the pathology. Even though it is doubtful that most variants are fully penetrant and thus sufficient to explain causality completely, the overwhelming evidence is that in more than a quarter of cases, whole-exome sequencing can identify necessary deleterious variants [101, 102]. Many believe that rare regulatory 'causal' variants will also be identified once the switch to whole-genome sequencing is made and algorithmic detection of regulatory defects improves. Such variants will by definition be rare local eQTLs. Their definitive identification will be aided by high-throughput methods for establishing a functional impact on transcript abundance.
Genetic prediction refers to efforts to establish relative risks for individuals based on the sum of their genotypic risks [103]. Most often it assumes a GRS, but here we introduce the concept of a transcriptional risk score (TRS). This is the sum of standardized gene expression measures for transcripts influenced by eQTLs for a disease, measured where possible in the relevant tissue. It is not the same as a predictor based on quantitative trait transcripts [104, 105], which are simply transcripts found to be associated with a trait. Rather, it is asking whether a joint measure of transcript abundance due to GWAS associations is a better predictor of the trait or disease than an allelic sum. For inflammatory or autoimmune disorders, for example, GWASs have identified upwards of 100 risk loci, the majority of which are eQTLs [63]. We can polarize gene expression relative to risk by assessing whether the high-risk genotype is associated with increased or decreased transcript abundance, and then sum the polarized z-scores to generate a TRS, which will be correlated with the GRS.
To illustrate this concept, we performed a simulation study assuming that disease incidence is affected by the expression of 100 genes, each regulated by a single eQTL that explains 25 % of its variance yet is associated with a less than 1.2-fold increase in disease susceptibility. Collectively these eQTL explain one half of the risk. Figure
2a
illustrates how different individuals will be inferred to be in the highest risk category for the allelic sum GRS and the TRS estimated in 100,000 people with a disease prevalence of 10 %. Since the eQTL genotypes act through transcript abundance, we might expect the TRS to be a better predictor than the GRS, at least under conditions in which the transcriptional effects are additive. This is indeed the case, as the area under the receiver operating curve for the TRS is significantly greater than the corresponding GRS (Fig.
2c
shows a typical iteration). There are many different classes of model that can explain the relationship between gene expression and disease, leading to different types of TRS, including weighting of the eQTL effect size, only considering extreme expression values, and incorporating the structure of the affected pathway into the analysis. Unfortunately, we were not able to identify sufficiently large eQTL disease studies to test the proposition that TRSs have greater predictive utility than GRSs.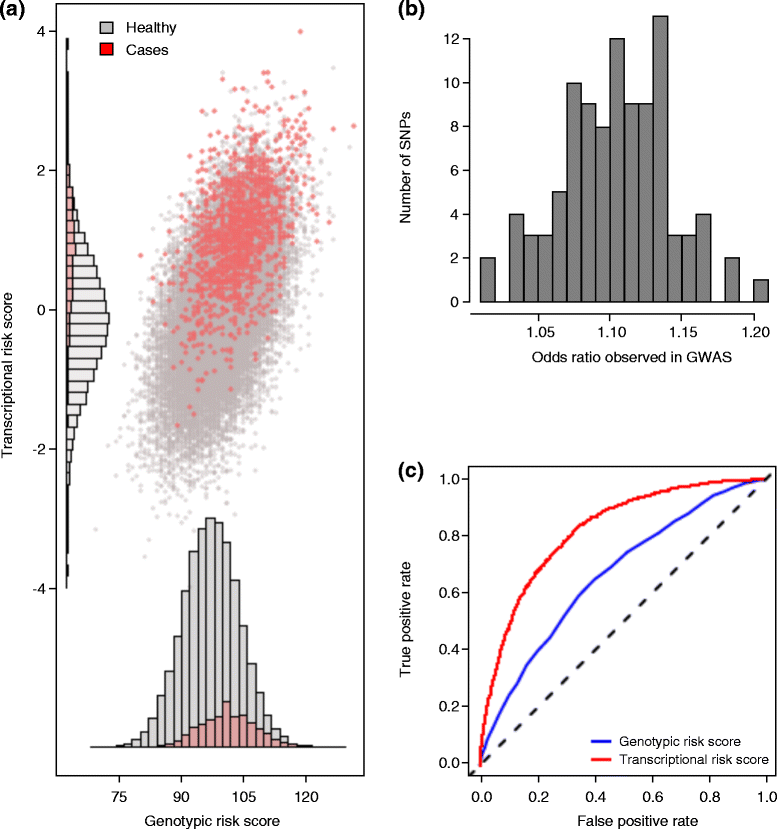 Finally, eQTLs have considerable potential for nosology. Whereas GWASs typically make no attempt to sub-classify individuals with respect to genotypic risk, there are signs that once large numbers of loci have been identified it may be fruitful to consider the nature of the risk variants that each individual possesses in order to better understand individualized sources of risk. For example, type 2 diabetes risk alleles can be divided into those that more strongly affect insulin production (homeostatic model assessment (HOMA)-B) or insulin resistance (HOMA-IR), and it follows that individuals with SNP profiles biased in either direction may have different subtypes of diabetes [106]. Similarly, rheumatoid arthritis variants affect genes that can be placed in pathways that respond differently to various drugs, and it is plausible that treatment might be targeted in an individualized manner on the basis of enrichment of variants linked to specific drugs [107]. This notion is readily generalized to the supposition that individuals who share combinations of eQTLs may exhibit particular symptomology and/or respond to specific treatments. Ideally, it would not be necessary to actually measure gene expression in the patient if eQTLs defined in an independent disease cohort prove to be strongly predictive enough to classify individuals by genotype alone.
Conclusion
These considerations lead us toward a model for personalized medicine in which genotype and transcript abundance are utilized in an integrative manner. In some cases, a single eQTL may be sufficient to highlight a critical risk factor or pharmacogenetic target, in others it may be a cumulative eQTL risk score, and of course in others gene expression may prove to be either unnecessary or uninformative. The field is currently benefiting from the incorporation of ENCODE data for the purposes of refining eQTLs to causal eSNPs, and from the development of tools for meta-analysis that are greatly increasing resolution. Open source databases are ensuring that the results of studies are widely accessible, and we expect that pooling of resources will also facilitate mega-analyses that provide opportunities for deeper statistical inference. Once these approaches are extended to diverse tissues through projects such as GTEx, and eventually to comparisons of diseased and normal tissues, eQTLs are set to become a core component of personalized medicine.
Abbreviations
CNV:

Copy number variation
COPD:

Chronic obstructive pulmonary disease
DHS:

DNase I hypersensitive site
eQTL:

Expression quantitative trait locus
G × E:

Genotype-by-environment interaction
GRS:

Genotypic risk score
GTEx:

Genotype tissue expression
GWA:

Genome-wide association
GWAS:

Genome-wide association study
HOMA:

Homeostatic model assessment
lncRNA:

Long noncoding RNA
RNA-seq:

RNA-sequencing
SNPs:

Single nucleotide polymorphisms
TRS:

Transcriptional risk score
Authors' Affiliations
(1)
Center for Integrative Genomics, School of Biology, Georgia Institute of Technology, Atlanta, USA
(2)
Centre for Neurogenetics and Statistical Genomics, Queensland Brain Institute, University of Queensland, Brisbane, Australia
(3)
The Institute for Molecular Bioscience, University of Queensland, Brisbane, Australia
Copyright
© Gibson et al. 2015
This is an Open Access article distributed under the terms of the Creative Commons Attribution License (http://creativecommons.org/licenses/by/4.0), which permits unrestricted use, distribution, and reproduction in any medium, provided the original work is properly credited. The Creative Commons Public Domain Dedication waiver (http://creativecommons.org/publicdomain/zero/1.0/) applies to the data made available in this article, unless otherwise stated.