Ultradeep analysis of tumor heterogeneity in regions of somatic hypermutation
Received: 9 October 2014
Accepted: 26 February 2015
Published: 12 March 2015
Abstract
Tumor heterogeneity is of growing importance in the treatment of cancers. Mutational hot spots are prime locations for determining number and proportions of low variant allele frequency (VAF) tumor subclones by next generation sequencing. Low VAF detection is complicated by poor mapping efficiency in regions with high mutation density. Our Deep-Drilling with iterative Mapping (DDiMAP) method retains variant allele patterns to aid in single nucleotide variation detection and generation of additional reference alleles, with remapping increasing coverage of highly mutated regions to capture data critical to heterogeneity analysis and enhancing sensitivity. DDiMAP outputs variant patterns with frequencies, enabling rapid phylogenetic analysis of ongoing mutation.
Keywords
Follicular Lymphoma
Tumor Heterogeneity
Variant Allele Frequency
Activation Induce Cytidine Deaminase
IGHV Gene
Background
Next generation sequencing (NGS) techniques are widely used to explore diverse areas in the study of cancer, including identification of driver mutations, measurement of tumor heterogeneity, investigation of genetic susceptibility, and characterization of mutational motifs to better understand underlying mutational processes. Though cancer has long been considered a monoclonal process, recent studies show that ongoing mutagenesis generates subclonal populations whose numbers wax and wane depending on the variant's relative evolutionary fitness [1-5]. Tumor subpopulations possessing driver mutations conferring a selective advantage are the proposed source of tumor progression and acquired chemo-resistance [4,6-11]. In addition to rare driver mutations of obvious importance, there are numerous passenger mutations found at low allelic frequency within the tumor population, presumably due to ongoing genetic stress within the tumor that results in tumor heterogeneity [5,7,12,13]. Several studies have suggested that the level of tumor heterogeneity itself may serve as a prognostic indicator [14-16]. Thus, sequencing and analysis methods designed to identify and characterize tumor diversity and evidence of ongoing mutation may provide a relative measure of the mutagenic stress and/or inadequacy of the DNA repair systems within a given tumor with the potential to inform clinical care.
Follicular lymphoma (FL), a B-cell lymphocytic cancer, is particularly well-suited for development of an approach to measure tumor heterogeneity. First, it provides a positive control for genetic heterogeneity in the form of the uniquely rearranged IGH loci which encodes for immunoglobulins, a tumor-specific marker known to be subjected to ongoing somatic hypermutation (SHM) [17-20]. Second, the activation induced cytidine deaminase (AID)-mediated mutagenic process responsible for SHM is well characterized with regard to sequence motif and substrate specificity [21-23], providing a mechanism to evaluate the validity of SNV calls, especially those at low frequencies. Third, there are reported genes outside the IGH loci that may be subjected to AID-mediated aberrant somatic hypermutation (aSHM) in B-cell lymphomas [24-30], providing selected regions with a high likelihood of significant mutational events for our targeted re-sequencing approach.
The most productive regions to look for signs of ongoing mutagenesis are mutagenic hot spots. Close linkage to tumor specific mutation patterns is necessary to unambiguously identify low frequency passenger mutations as evidence of ongoing mutation within shifting dominant tumor subclones. The specific challenge here is accurate identification and quantification of mutations with low variant allele frequency (VAF <1%) in genomic regions with high density of variation from reference [
31
]. We found this is a two-part problem: the well described issue of distinguishing true single nucleotide variations (SNVs) at low frequencies that represent ongoing mutagenesis from process errors and the less well publicized problem of accurately mapping reads from highly divergent genomic regions representative of aSHM/kataegis, compounding the problem of identifying additional low frequency events in these regions. Our solution, which we call Deep Drilling with iterative Mapping (DDiMAP), is a multi-pronged approach that includes the use of sufficient numbers of tumor cells to adequately sample rare events, ultra-deep sequencing (>10,000×) of regions of aSHM/kataegis, and maintaining subclonal specific sequences throughout the entire process for multiple uses. The core of DDiMAP takes mapped reads and analyzes them in groups (regions of analysis (ROA)) to detect patterns in the read data ('words') arising from allelic variants in the presence of instrumental noise. It maintains these word patterns to assist in both iterative remapping and low frequency variant calling (Figure
1
). Other programs, such as SRMA [
32
], IMR [
33
], and iCORN [
34
], use data-driven alternate reference sequences followed by remapping to identify a consensus genomic sequence. In contrast, DDiMAP specifically maintains ROA-based collections of these diverse sequence patterns in 'dictionaries' to identify and quantify subclones within a tumor population, polyploidal organisms, or other mixed populations. We developed this approach with empirical data from a PCR-based targeted re-sequencing study of follicular lymphoma (FL) using SOLiDv4, and also applied it to a PCR-based
IGH
sequencing study from Hodgkin lymphoma (HL) using Illumina MiSeq data. We evaluated its technical performance using synthetic combinations of empirical data as well as simulation data of ongoing mutation in a genetic region with high density of mutation incorporating simulated Illumina HiSeq process errors.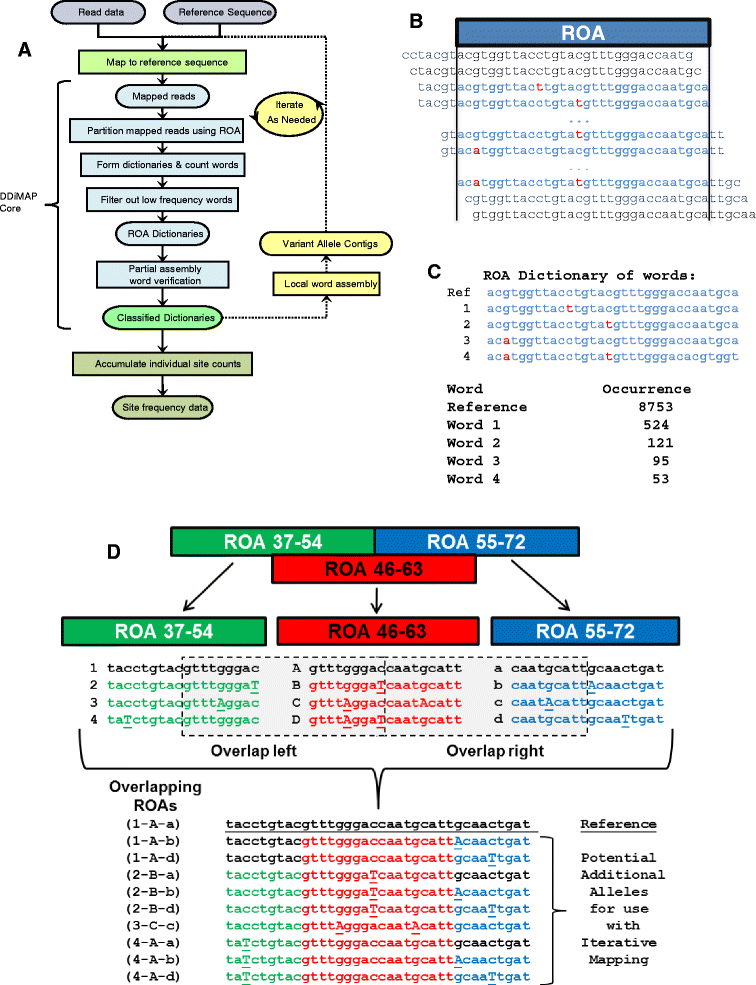 Methods
DDiMAP is designed to search through relatively small regions of the genome at a very high level of sequencing coverage to identify and quantify genetic subpopulations. The software developed for the analysis step of this process (Figure 1A) can accept output from any aligner that generates bam files, even allowing use of different aligners for each iterative run. Primary components of DDiMAP analysis include: (1) dividing the reference sequence into computational units (ROAs) and uniquely assigning mapped reads to these ROAs (Figure 1B); (2) for each ROA, generating the collection (dictionary) of unique read sequences (words) along with associated frequency statistics for both threshold and cross-verification filtering to remove false variant calls (Figure 1C); (3) using partial assembly of high confidence words to generate additional alternate reference sequence fragments for iterative remapping, typically repeating the process until no novel high confidence variants are found (Figure 1D); and (4) compiling dictionaries containing verified words for identification of variants with associated frequencies at individual reference locations. In this way, thousands of reads that are assigned to any given ROA are reduced to a dictionary of words and their associated strand tallies.
Results and discussion
DDiMAP increases the sensitivity of SNV calls while maintaining precision through two synergistic processes of filtering and remapping. The filtering phase uses sequence frequency thresholding and a cross-verification procedure to eliminate signal noise inherent in massively parallel sequencing. The iterative remapping stage uses successively identified high confidence variant sequences as additional reference allele fragments to enhance alignment of reads to highly mutated regions of the genome. Key to both processes is maintaining variant data information within word sequence patterns.
Conclusions
The design goal for DDiMAP is to evaluate tumor heterogeneity in follicular lymphoma, a cancer of B-lymphocytes that is well characterized with regard to ongoing AID-mediated somatic hypermutation of IGH, with the long-term objective of classifying FL based on their mutational patterns. We found that BCL2, followed by BCL6, showed the most consistent and differential aSHM signal in FL specimens, with SNVs in 12/12 FL cases and 0/3 in the reactive LN controls. The range of SNVs in BCL2 varied widely, from 2 to 101 per patient; raising the possibility that overall BCL2 aSHM rate might be clinically informative through risk stratification [54]. BCL6 shows a similar pattern, but with a much lower overall aSHM rate, in the range of 2 to 39 SNV per patient. No other genetic regions evaluated had either the consistency or differentiation potential of these two gene regions (see Additional file 4: Table AF1). We evaluated the SNV patterns in BCL2 to investigate the distribution of SNV frequencies relative to the MFC. The frequencies associated with MFC varied from 10% to 45% (median of 20%) and in all but one case (FL-134) the majority of SNVs in any given tumor had frequencies consistent with their current MFC. Several FL specimens (5/12) had no SNVs outside the MFC; three with a low overall mutation rate (<0.7%) and two with a different type of FL (Grade 3 vs. Grades 1 and 2), suggestive of a possible biological aspect to this finding [54]. Of the remaining FL specimens, the vast majority (over 80%) of the SNVs outside the MFC were found at ≤3%, while over half were ≤1% (see Additional file 4: Table AF1). This emphasizes the need for robust identification of SNVs at these levels to detect tumor heterogeneity, and that previous estimations of diversity may be artificially low due to technical limitations [48].
Maintaining the variant calls as words is the key component enabling many aspects of DDiMAP. First, it can be used as an alternate approach to model-free filtering of instrumental noise by taking advantage of the correlation of true mutations along an allele while eliminating the high level of uncorrelated noise typical of massively parallel sequence data. Second, these regional allele specific words can be used to objectively identify and quantify tumor subpopulations, enabling regional genetic sequence assembly to describe the development of tumor subpopulations on a fine scale, an illuminating view of subpopulation dynamics. Additionally, assembled overlapping words can be used to augment reference sequence files for iterative remapping.
While iterative remapping is not an essential component of DDiMAP, it is critical to achieve adequate mapping of reads from regions with dense mutation loads. A major concern with iteration was the possibility of generating false SNV calls, especially at low frequencies. We have several lines of evidence this did not occur, including multiple genetic regions from all patient samples that were found to be free of SNV calls following multiple rounds of iteration and a consistent bias in both high and low frequency SNVs to occur at an AID motif, indicating that both represent a biological process. Additionally, in the vast majority of cases, the SNV calls made within a ROA were internally consistent with an evolutionary progression of mutations, allowing the development of dendrograms utilizing all verified reads. This would not be the case if low level mutations were randomly generated false calls.
Mutational hot spots, due to aSHM or other causes of katageis, are prime regions for analysis of tumor heterogeneity and determination of ongoing mutation. We identified problems with aligning reads to these regions as a significant limiting factor in SNV analysis of these areas and that mapping failure was found in both SOLiD and Illumina platforms using multiple aligners. Additionally, the majority of subpopulations are defined by SNVs present at low frequencies (<3% in FL) requiring highly sensitive variant detection in these problematic areas. DDiMAP, based on analysis of variant sequence patterns, provides the necessary tools overcome both these problems: partial sequence assembly for both noise reduction and SNV calling, and generation of additional allele fragments for iterative remapping. While we have evaluated this approach for its utility in cancer research, it readily applicable in any mixed population analysis distinguished by clustered changes in genomes.
Abbreviations
(a)SHM:

(aberrant) Somatic hypermutation
AID:

Activation induced cytidine deaminase
CDR1-3:

Complementarity determining regions within IGHV
DDiMAP:

Deep-drilling with iterative mapping
FL:

Follicular lymphoma
FPR:

False positive rate
FR1-3:

Framework regions within IGHV
IGH :

Immunoglobulin heavy chain
Indel:

Insertion/deletion
IGHV :

IGH Variable region
MFC:

Most frequent clone
NGS:

Next generation sequencing
PCR:

Polymerase chain reaction
PPV:

Positive predictive value
ROA:

Region of analysis
SNV:

Single nucleotide variation
VAF:

Variant allele frequency
Declarations
Acknowledgements
We would like to thank both past and present members of the Functional Genomics Center/Genomics Research Center at URMC for their technical support and informative discussions. The Center for Integrated Research Computing provided support in the form of a user-friendly Python interface to the DDiMAP program. We would also like to thank the Novocraft Technologies Company for granting use of a free version of Novoalign software. This work was supported in part by a pilot grant to WRB, administered through the University of Rochester CTSA under award number UL1 RR024160 from the National Center for Research Resources and the National Center for Advancing Translational Sciences of the National Institutes of Health, and by P50 CA130805.
Authors' Affiliations
(1)
Department of Pathology and Laboratory Medicine, University of Rochester Medical Center, Rochester, USA
(2)
NGS Tech, Webster, USA
(3)
Department of Computer Science, University of Rochester, Rochester, USA
Copyright
© Spence et al.; licensee BioMed Central. 2015
This is an Open Access article distributed under the terms of the Creative Commons Attribution License (http://creativecommons.org/licenses/by/4.0), which permits unrestricted use, distribution, and reproduction in any medium, provided the original work is properly credited. The Creative Commons Public Domain Dedication waiver (http://creativecommons.org/publicdomain/zero/1.0/) applies to the data made available in this article, unless otherwise stated.