Characterizing the genetic basis of bacterial phenotypes using genome-wide association studies: a new direction for bacteriology
Published: 22 November 2014
Abstract
Genome-wide association studies (GWASs) have become an increasingly important approach for eukaryotic geneticists, facilitating the identification of hundreds of genetic polymorphisms that are responsible for inherited diseases. Despite the relative simplicity of bacterial genomes, the application of GWASs to identify polymorphisms responsible for important bacterial phenotypes has only recently been made possible through advances in genome sequencing technologies. Bacterial GWASs are now about to come of age thanks to the availability of massive datasets, and because of the potential to bridge genomics and traditional genetic approaches that is provided by improving validation strategies. A small number of pioneering GWASs in bacteria have been published in the past 2 years, examining from 75 to more than 3,000 strains. The experimental designs have been diverse, taking advantage of different processes in bacteria for generating variation. Analysis of data from bacterial GWASs can, to some extent, be performed using software developed for eukaryotic systems, but there are important differences in genome evolution that must be considered. The greatest experimental advantage of bacterial GWASs is the potential to perform downstream validation of causality and dissection of mechanism. We review the recent advances and remaining challenges in this field and propose strategies to improve the validation of bacterial GWASs.
Keywords
Horizontal Gene Transfer
Gene Conversion
Neisseria Gonorrhoeae
Core Genome
Accessory Gene
Introduction
Genome-wide association studies (GWASs) involve testing large numbers of genetic variants, usually single nucleotide polymorphisms (SNPs) or insertions and deletions (indels), within a population of individual organisms for statistically significant associations with a given phenotype [1]. The first successful GWAS in humans, published in 2005, examined a set of 96 patients with age-related macular degeneration, a condition that leads to loss of vision in older adults, and 50 matched controls [2]. Out of 116,204 SNPs tested, two were statistically significantly associated with the condition. One of the SNPs was found in the complement factor H gene, encoding a protein integral to host immunity, and the condition has since then been linked to autoimmunity [3]. Although there is some controversy about specific aspects of the approach [4], many GWASs have now been published, making hundreds of associations between SNPs and important human diseases [5].
GWASs are clearly an important tool for genetic analysis but their use in microbiological research has been relatively slow to emerge [
6
]. Smaller-scale genetic association studies in bacteria have been performed for a number of years. Early research used PCR and limited sequence data (for example, data from multi-locus sequence typing [
7
]) or comparative genome hybridization [
8
] to link bacterial phenotypes with the presence or absence of specific genes or with the clonal background of an isolate [
9
]-[
14
]. In human genetics, high-throughput genotyping of panels of common SNPs using microarrays and bead-based assays have been a mainstay for GWASs for the past 10 years [
15
]. The creation of SNP-typing panels is, however, generally associated with high fixed costs and so few platforms were custom-designed for bacterial species. Those that were designed for bacteria were practically limited to species with low nucleotide diversity (such as
Bacillus anthracis
[
16
]). This reality began to change in 2010 with the advent of large-scale genome sequencing using affordable and accurate data produced by Illumina HiSeq and MiSeq instruments. These instruments made generation of the whole genome sequence of 50 or more bacterial strains a routine experiment and opened the door for bacterial GWASs (Figure
1
).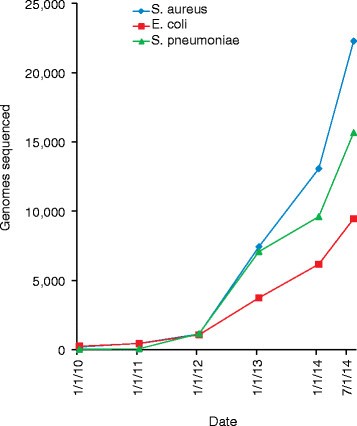 The first successful application of a GWAS to bacteria using shotgun sequence data was published in 2013 [
17
] (see Table
1
). Sheppard
et al.
[
17
] used a novel association approach to probe the genetic factors responsible for host adaptation in 192 shotgun-sequenced
Campylobacter jejuni
and
C. coli
strains. In another publication in the same year, mutations in
Mycobacterium tuberculosis
genes responsible for resistance to anti-tuberculosis drugs were detected on the basis of their recurrent appearance in resistant lineages of a whole-genome phylogenetic tree [
18
]. Three studies published in 2014 have extended the use of GWASs on bacterial shotgun data. Laabei
et al
. [
19
] studied a collection of 90 methicillin-resistant
Staphylococcus aureus
clinical isolates and identified more than 100 polymorphisms that associated with the ability of the bacteria to lyse human cells. Alam
et al
. [
20
], also studying
S. aureus
, used a GWAS to determine mutations in the RNA polymerase
rpoB
gene that are significantly associated with the clinically important vancomycin-intermediate-resistant phenotype. The first GWAS to use a number of cases and controls on the scale commonly seen in human genetic research was recently published by Chewapreecha
et al
. [
21
]; these researchers sequenced 3,701
Streptococcus pneumoniae
isolates to identify polymorphisms associated with beta-lactam resistance.
Table 1
Early bacterial genome-wide association studies based on whole-genome shotgun data
Organism

Sample size

Phenotype

Finding

Genome-wide association study program used

Reference

(isolates)

Campylobacter jejuni and C. coli

192

Host adaptation

Vitamin B5 biosynthesis is important

30 bp `word' searching [17]

[17]

Mycobacterium tuberculosis

123

Antibiotic resistance

39 novel resistance-associated loci

PhyC [18]

[18]

Staphylococcus aureus

75

Antibiotic resistance

Novel associated single nucleotide polymorphism in rpoB gene

ROADTRIPS [50]

[20]

S. aureus

90

Virulence

121 novel associated loci

PLINK [49]

[19]

Streptococcus pneumoniae

3,701

Antibiotic resistance

Multiple novel associated loci

PLINK [49]

[21]
What is made clear by even these few early studies is that a GWAS is a powerful first step towards characterizing a phenotype at a population level. It is an unbiased screening approach to discover new loci that correlate with a specific phenotype. GWASs can form the basis of studies of the functionality of regulatory pathways and expression mechanisms and, when performed robustly, can be used to build predictive tools for the translation of genomic data into the clinical microbiology setting. Bridging the gap between genomics and traditional molecular genetics has the potential to uncover untapped levels of detail on how bacteria survive and cause disease. Discoveries could be used to personalize medicine so that treatments can be tailored for individual patients on the basis of the genome sequence of the infecting microbe. In this review, we discuss what should be taken into account when planning a bacterial GWAS, how to improve the validation of GWASs, how these studies are likely to impact on clinical microbiology in the future and what challenges remain.
Design considerations for bacterial GWASs
Bacterial GWAS is a brand new field. It is increasingly easy to generate genomic data, but there are challenges in identifying optimum GWASs strategies. Some of these challenges are also shared with eukaryotic GWASs, and, although there are many experiences and tools that can be drawn from eukaryotic studies (Table
2
), caution should be used when translating approaches developed for different domains of life.
Table 2
Similarities and differences between bacterial and eukaryotic genome-wide association study approaches
| Feature | Bacteria | Eukaryote |
| --- | --- | --- |
| Ploidy | Haploid | Diploid |
| Genetic re-assortment | Infrequent short gene conversion and horizontal gene transfer events | Homologous recombination and chromosome segregation linked to reproduction |
| Accessory (non-core) genes | Variable numbers in different species | Rare |
| Linkage disequilibrium | Variable across the genome and between species | Variable across the genome |
| Population structure | Asexual, generally highly structured, except for relatively rare homologous recombination events | Sexual, variable allele frequencies in subpopulations owing to non-random mating, ancestral divergence, drift |
| Confounders in genome-wide association studies | Population structure | Population structure |
| How to move from association to causality | Genetic reconstruction of mutations in laboratory strains, transposon mutant screens | Forward genetics in animal models or cultured tissue systems; linkage to known genetic diseases; large monogenic association studies |
| Current burden of proof for causality | Molecular Koch's Postulates | Combined genetic and experimental evidence |
There are several prerequisites for a successful bacterial GWAS. There must be a testable phenotype and a set of bacterial strains with whole-genome sequences. Experimenters need to choose a statistical analysis strategy and perform power calculations to ensure that there are enough strains in their study to have a reasonable chance of successful association. None of these prerequisites are truly independent of one another.
Validating the results of GWASs: bridging the gap between genomics and traditional microbial molecular genetics
GWASs on bacteria has already yielded interesting new loci that are associated with clinically important phenotypes, but how can we be confident that these associations are causative or functionally linked? This question has been examined in depth in human studies (Table
2
). Significance tests implemented in GWAS software necessarily rely on assumptions, such as a lack of cryptic population structure and consistent rates of mutation across evolutionary history, that may produce higher error rates than the
P
-values suggest [
41
]. Experimental errors in base-calling and phenotyping could also contribute to spurious results. We know from the experience of human GWASs that some loci found to be associated with a trait can turn out to have little or no functional significance [
58
]. Therefore, unless the associated locus has been previously shown to affect the phenotype, functional validation is desirable [
19
]. The questions that surround the strategy for functional validation are part of an ongoing dialog between two apparently diametrically opposed experimental philosophies in modern microbiology: the `top down' unbiased, genomics-based approaches (which include GWASs and other experimental strategies [
59
]-[
62
]), and the `bottom-up', gene-by-gene approach of classical molecular genetics (Figure
3
) [
6
]. The disconnect is that, on the one hand, we will eventually have thousands of genome sequences of every bacterial pathogen, whereas on the other hand, the current
modus operandi
of molecular genetics is focused on fine-scale analysis of individual proteins in a very small number of isolates. The coming of GWASs will hopefully speed the genesis of a powerful synthesis between these two approaches.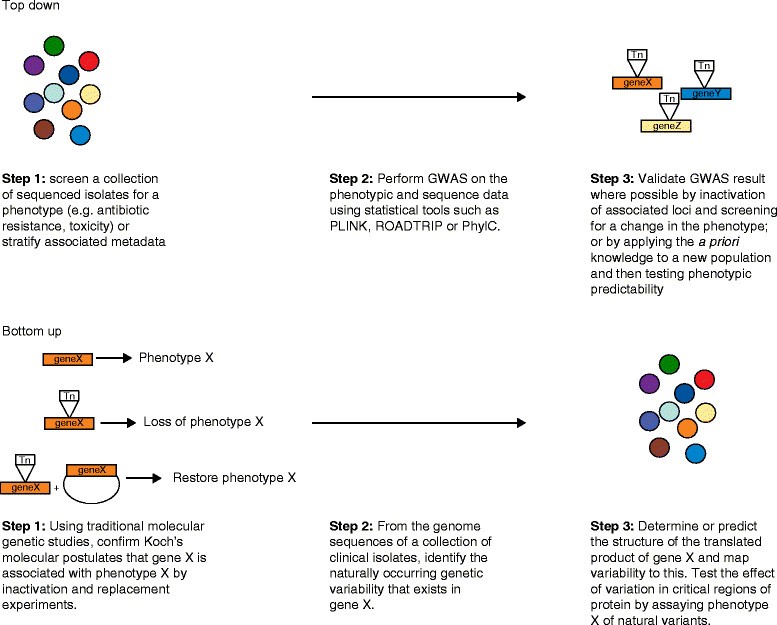 Traditional molecular genetic approaches have been instrumental in carefully dissecting the functions of thousands of bacterial genes, sometimes down to the level of highly complex interactions between host cells and pathogens that lead to disease (such as Type III secretion or superantigens [63],[64]). Typically, researchers seek to design systems to examine discrete phenotypes, where upon mutation (directed or random), the loss or gain of a specific phenotype can be efficiently screened or selected. Depending on the activity of the gene in question, further specific molecular or cellular experiments follow to characterize the mechanisms in detail. This approach is tremendously powerful in manipulating the microorganism and the environment to test precise hypotheses within the artificial confines of the laboratory. Since the 1980s, the dominant paradigm for linking genes to phenotype in microbiology has been based on the Molecular Koch's Postulates, outlined by Falkow [65]. These state that disruption and reconstruction of the gene under investigation coupled with loss and regain of the phenotype is needed for firm proof of a functional role. Molecular Koch's Postulates are often used as a stringent standard for validation, although the original article offered a nuanced discussion of some of the difficulties in their application to all situations [65].
Validation by genetic disruption and reconstruction can be applied to GWASs results, especially for microorganisms for which genome-wide transposon mutant libraries are available, such as S. aureus, Escherichia coli, Streptococcus pneumoniae, Pseudomonas aeruginosa, Yersinia pseudotuberculosis and Salmonella enterica [60],[66],[67]. Nevertheless, there can be situations in which laboratory genetics are more challenging or even impossible, for example when the identified polymorphism is in an essential gene, or when the species being studied is not amenable to genetic manipulation. We are also increasingly sampling beyond where the traditional microbiology laboratory can venture, sequencing single cells [68], and reconstructing genomes directly from environmental DNA [69],[70]. In these circumstances, it may be possible to use a model genetic organism such as E. coli to test for the phenotypic effect of a mutation, but any result may not be considered a direct validation under the Molecular Koch's Postulates rules.
There is also the problem of potential epistatic interactions between genes and the contribution of non-core, accessory genes to the phenotype. If a reconstructed mutant strain does not have the expected phenotype, this could result from the lack of a specific interacting allele in the host strain, or possibly a missing non-core gene. No single strain can ever represent a species, but the strains commonly used for genetic reconstruction may be especially poor choices because of their long history of laboratory adaptation [71]. Laboratory strains are chosen because they are locally available and have familiar, useful properties: generally fast growth and easy genetic manipulation. As a consequence, laboratory strain phenotypes often do not represent the majority of the species. The quixotic properties of certain laboratory strains have misled generations of scientists about the true nature of their subject organisms. For example, the ubiquitous genetic workhorse, Bacillus subtilis 168 is a very rare naturally transformable strain within its species (it is also a non-swarming tryptophan auxotroph, amongst other unusual features [72]), and the S. aureus genetic strain 8325-4 has a mutation in the sigB locus that causes an enhanced toxic profile [73].
If the one-at-a-time genetic reconstruction method is unlikely to work for all variants discovered through GWASs, and in some cases may produce misleading results because of complex gene interactions, statistical modeling may also be able to provide an alternative type of validation. Commonly, machine-learning techniques such as support vector machines and random forests [74] can be trained on a reserved portion of the dataset and then tested on the remainder. Random forests were used to make reliable predictions of an individual isolates' level of toxicity and vancomycin-intermediate phenotype [19],[20]. Although a successful model would not be able to explain the mechanistic contribution of the loci, it would inform that sufficient information on the genetic basis of the phenotype for sensitive prediction had been learned.
Ultimately, it is likely that combining molecular genetic and statistical modeling approaches will be fruitful. In a hypothetical situation in which GWASs results in more than 200 loci that are significantly associated with a complex phenotype, validating the effect of the top 20 most important mutations might allow the statistical model to predict the phenotype accurately in more than 95% of unknown strains. There has been interest in developing methods to prioritize variants discovered in human GWASs [75], and potentially some of these approaches can be applied to the bacterial realm. Further on in the future, systems biology and systems genetics approaches to high dimensional data integration may offer an alternative to `one gene at a time' genetic validation [76],[77].
How will GWASs affect clinical microbial diagnostics?
Bacterial GWASs have the potential to deepen our understanding of phenotypic variation across pathogenic species. This information will be particularly useful in the future as we attempt to interpret genome sequences that are routinely produced by clinical microbiology laboratories. There is great interest in the development of whole-genome sequencing for clinical diagnostics of pathogens [78]-[81] because it is possible to envisage genomics technology maturing to the extent that de novo sequencing becomes a relatively cheap and rapid assay. Whole-genome sequence data have numerous advantages over the directed PCR-based tests that currently dominate this arena. Unlike shotgun genomics, PCR relies on the presence of highly conserved DNA sequences for primer binding and yields false-negative results when these are mutated, as happened, for example, with a plasmid-borne marker for C. trachomatis [82]. Importantly, the whole-genome sequence also allows unbiased discovery of other information about the strains that the clinician may not have considered, such as the unexpected presence of antibiotic-resistance genes.
To take advantage of our ability to acquire the genome sequence of a pathogen rapidly ahead of the results of a laboratory-based phenotypic test, such as an antibiotic minimal inhibitory concentration (MIC) test, we must be able to not only call drug sensitivity on the basis of the genome sequence alone but also know the reliability of the assignment. Several schemes for predicting drug resistance have already been developed, based on knowledge obtained from early comparative genomics and genetic knockout studies [83],[84]. Further development of these diagnostic tests will necessitate understanding how the activities of well known genes are influenced by epistatic interactions within the pathogen species. For the reasons we have outlined earlier, GWASs provide the natural training set data to build statistical models that predict phenotypes by integrating genetic variation across the entire genome. Another advantage of a test that is based on trained genomic data is that variability in how the phenotype is measured is no longer a problem. Many clinically relevant phenotypes are ascertained using a plethora of different technologies and are variable across different conditions. MIC, for example, can be determined by disk diffusion, test strips, spiral plating, or several other methods. GWASs performed on a genetically diverse set of strains measured using gold-standard phenotypic assays could be used to train models that effectively replace much routine clinical antimicrobial-resistance testing.
Large-scale clinical sequencing could provide a pool of thousands of new genomes for GWASs that could discover variants that have ever-smaller effect. Existing statistical models could also be tested and refined with the new clinical data. For this feedback cycle to occur, we will need to improve and make more efficient our collection of metadata (time and place of isolation, clinical manifestations, phenotype tests and so on). Several schema for organizing bacterial strain metadata have been proposed [85],[86]. Even today, when it is possible to sequence 96 or more strains each day on a bench-top instrument, it is a feat of organization to manually gather metadata retrospectively for submission with the genomes to public databases. For us to keep up with future throughput, we need systems that facilitate information storage at the time of isolation and phenotypic testing. This will be a challenge, particularly in the high-throughput, time-pressured environment of the clinical microbiology laboratory. There is also an issue with access to collections of sequenced isolates. Many organizations make sequence data available in public databases, but either do not maintain the bacterial collections from which the sequenced DNA was extracted or are unable to bear the costs of making large sets of strains available to the research community. The solution is to have regular accession of large numbers of sequenced isolates with high-quality metadata from clinical and academic laboratories into public strain collections, but this will need new organization and funding.
Conclusions and perspectives
GWAS in bacteria is a new research opportunity that is being driven forward by advances in genome-sequencing technology. Although in its infancy, the early studies have shown it to be not only a reliable method to identify loci that affect a phenotype but also a powerful tool to uncover new levels of complexity in the expression of clinically important bacterial traits. The approaches and tools used to do this are likely to adapt and develop as we sample ever-greater numbers of bacterial genomes that are associated with high-quality metadata. What is clear is that GWASs represent a versatile and highly productive approach to maximizing the usefulness of the genomic data available to us from both laboratory and clinical settings.
Abbreviations
GWASs:

Genome-wide association studies
HGT:

Horizontal gene transfer
indel:

Insertion and deletion
LD:

Linkage disequilibrium
MIC:

Minimal inhibitory concentration
PCR:

Polymerase chain reaction
SNP:

Single nucleotide polymorphism
Declarations
Acknowledgements
The manuscript resulted from a visit by TDR to RCM's laboratory that was funded by the Raymond Schinazi International Scientific Exchange Program (SIEP). The SIEP had no role in writing or editing this manuscript. Thanks to Jesse Shapiro and Sandeep Joseph for reading and commenting on draft versions.
Authors' Affiliations
(1)
Department of Medicine, Division of Infectious Diseases, Emory University School of Medicine, Atlanta, USA
(2)
Department of Human Genetics, Emory University School of Medicine, Atlanta, USA
(3)
Department of Biology and Biochemistry, University of Bath, Bath, UK
Copyright
© Read and Massey; licensee BioMed Central Ltd. 2014
This article is published under license to BioMed Central Ltd. The licensee has exclusive rights to distribute this article, in any medium, for 12 months following its publication. After this time, the article is available under the terms of the Creative Commons Attribution License (http://creativecommons.org/licenses/by/4.0), which permits unrestricted use, distribution, and reproduction in any medium, provided the original work is properly credited. The Creative Commons Public Domain Dedication waiver (http://creativecommons.org/publicdomain/zero/1.0/) applies to the data made available in this article, unless otherwise stated.