DOTS-Finder: a comprehensive tool for assessing driver genes in cancer genomes
Received: 14 February 2014
Accepted: 3 June 2014
Published: 10 June 2014
Abstract
A key challenge in the analysis of cancer genomes is the identification of driver genes from the vast number of mutations present in a cohort of patients. DOTS-Finder is a new tool that allows the detection of driver genes through the sequential application of functional and frequentist approaches, and is specifically tailored to the analysis of few tumor samples. We have identified driver genes in the genomic data of 34 tumor types derived from existing exploratory projects such as The Cancer Genome Atlas and from studies investigating the usefulness of genomic information in the clinical settings. DOTS-Finder is available athttps://cgsb.genomics.iit.it/wiki/projects/DOTS-Finder/.
Keywords
Acute Myeloid Leukemia
Truncate Mutation
Driver Gene
Functional Step
Cancer Gene Census
Background
The amount of data regarding somatic mutations in various cancer types has increased enormously in the past few years, thanks to technological advancements and reduction of sequencing costs. The massive sequencing of several cancer genomes has led to the identification of thousands of mutated genes. However, only a minority of the identified mutations has a true impact on the fitness of the cancer cells, in terms of conferring a selective growth advantage and leading to clonal expansion (drivers), while the others are simply passengers, namely, mutations that occur by genetic hitchhiking in an unstable environment and have no role in tumor progression.
Several statistical strategies have been developed to properly identify driver mutations and driver genes. These strategies can be roughly classified into four main categories: 'protein function' , 'frequentist' , 'pathway-oriented' and 'pattern-based' approaches. The 'protein function' approaches are based on the prediction of the functional impact of a specific mutation in the coding sequence of a protein[1–3]. Although they do not permit the identification of driver genes, they can predict the effect of the mutation on the protein product. The 'frequentist' approaches evaluate the frequency of mutations in a gene compared with the background mutation rate (BMR), a measure of baseline probability of mutation for a given region of DNA[4–6]. The 'pathway-oriented' approaches are based on the analysis of the co-occurrence of mutations in a pathway-centered view[7–10] and are usually focused on searching for driver genes belonging to the most significant mutated pathways. Lastly, the 'pattern-based' approaches identify driver genes by assessing the type of mutations (for example, missense/truncating/silent) and their relative positions on an amino acid map across many cancer samples[11–14]. They exploit the known structural properties of mutations in tumor suppressor genes (TSGs) and oncogenes (OGs). Nevertheless, the identification of driver mutations in cancer remains a major challenge in computational biology and cancer genomics. Indeed, discovering driver mutations is one of the main goals of genome re-sequencing efforts, as the knowledge generated by exome-sequencing will translate from research to the clinic. The results of some of the cited tools are summarized in a recent database called DriverDB[15] and also aggregated in one of the Pan- Cancer analysis publications[16]. From their comparison, it is clear that all these approaches are complementary and only the integration of many of these strategies can improve the identification of driver genes.
Here, we present an innovative tool called DOTS-Finder (Driver Oncogene and Tumor Suppressor Finder) that integrates a novel pattern-based method with a protein function approach (functional step) and a frequentist method (frequentist step) to identify driver genes. In addition, it allows the classification of driver genes as TSGs or OGs. The software is freely available and has been designed to return robust results even with few tumor samples.
Implementation
Overview of DOTS-Finder
The DOTS-Finder pipeline is illustrated in Figure
1
. Our method can be applied to genes that are targeted by single nucleotide variants (SNVs) and small insertions and/or deletions (indels). Given a set of mutations in an exome/genome sequence dataset, the output is a ranked list of genes that prioritizes the best candidate driver genes and classifies them as TSGs or OGs. The user can submit an input Mutation Annotation Format (MAF) file for a set of patients that can be grouped by different criteria. In the preliminary step, the MAF file is reannotated and several descriptive statistics are calculated. This produces a gene-based table with aggregated mutational measures. The next two main steps, a functional assessing procedure and a statistical confirming procedure, constitute the core of DOTS-Finder. In the former, putative candidate OGs and TSGs are identified by calculating a Tumor Suppressor Gene Score (TSG-S) and an OncoGene Score (OG-S), based on the type and location of the mutations occurring in each gene. These scores are inspired by the concepts expressed in a recent study by Vogelstein
et al.
[
12
]
.
The TSG-S is based on the ratio between truncating (that is, inactivating) mutations and total number of mutations found in each gene, under the null hypothesis that this value is equal to the average truncating/total ratio of patients' exomes. The OG-S is based on the entropy of the pattern of missense SNVs and inframe insertions/deletions calculated using a Gaussian density model on the protein product. In the latter step, the statistical confirming procedure, the two lists of possible OGs and TSGs undergo four tests to assess whether the mutational pattern in each gene shows statistically defined evidence of positive selection based on the mutation rate and the number of non-silent mutations, calculating their statistical probability of being true driver mutations. After correction for false discovery rate, all the genes with a q-value ≤ 0.1 are identified as candidate driver OGs or TSGs. The user is free to modify this threshold.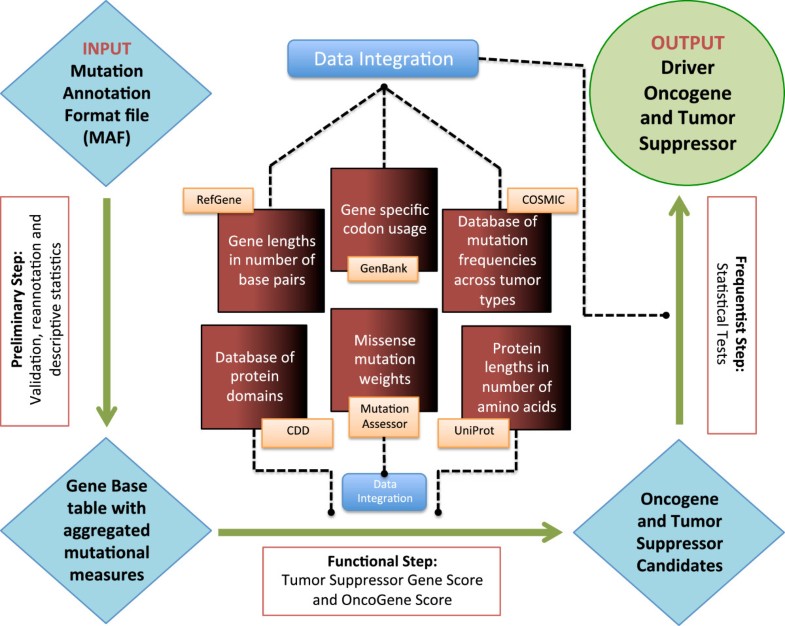 DOTS-Finder is a comprehensive method that considers three main aspects of a mutated gene: it takes into consideration where the mutations are collectively found (pattern-based approach), what is the effect of mutations on protein products (protein-change approach), and what is the frequency of these mutations in the sample (frequentist approach). Our method is able to overcome many of the problems derived from the application of each individual approach. First of all, the prediction ability of frequentist approaches such as MutSigCV[5] relies on the estimation of the BMR. Nevertheless, a precise map of the BMR in the whole genome is still unavailable and constitutes one of the unresolved challenges of cancer genomics. A plethora of genomic events, such as transcription and replication timing, are associated with the fact that part of the genome is more prone or less prone to mutation. In particular, experimental data of these two events showed a significant correlation with the probability of a mutational event[5]. However, while these experiments should be context specific (tissue/patient specific), data on replication timing are hard to obtain for every patient and/or tissue. Finally, pure frequentist methods do not allow any classification of the type of aberrations in terms of gain or loss of function. A pattern-based approach can bypass the problem of achieving a correct BMR estimation by focusing on the position of the observed mutations and not on their frequency. Thus, the frequency simply becomes a statistical power boost and not the point of investigation. Vogelstein et al.[12] provide a scheme to assess whether a gene can be considered an OG or a TSG, but a large amounts of data are needed in order to evaluate rarely mutated genes. The approach of Vogelstein et al., as well as the method developed in TUSON Explorer[13], has been used to collectively evaluate general cancer genes across tumor types; however, when applied to single tumor type, they were found to lack the statistical power to recapitulate the overall results. In particular, with these methods, the discrete calculation of an OG test requires many mutations in the exact same hotspots to reach statistical significance. On the contrary, our approach, which takes into consideration the proximity of mutations by using the Gaussian smoothing, is able to identify also small deviations from a uniform distribution.
The main problem in assessing the value of our method is the absence of a gold standard in the identification of driver genes and the lack of benchmark studies. Indeed, the objects of our investigation are the driver genes of the different cancer types, which are still mostly unknown. However, to have an estimate of the prediction ability of DOTS-Finder, we decided to compare the aggregated predictions for 12 cancer types with the results of a well-documented Pan-Cancer 12 global analysis[16] (Text S1a and Figure S1B in Additional file1). In this analysis, the authors combined the outputs of several approaches and we were able to compare our tool with the single output from MutSig, MuSiC, ActiveDriver[17], OncodriveFM[18] and OncodriveClust[14] (Text S1a and Figure S1 in Additional file1). We also related the predictions of each method with the Cancer Gene Census (CGC) database[19], a manually curated collection of driver genes (all the results are available in Table S1 in Additional file2). Notably, DOTS-Finder emerged as the best available tool in terms of precision-recall balance.
Moreover, we have applied DOTS-Finder to 34 tumor types and compared its output with the results of other approaches. Our approach shows results that are consistent with the literature for both high and low mutation rate cancers; DOTS-Finder allows detection of new plausible driver candidates while excluding highly mutated genes not associated with cancer, the so-called 'fishy genes', such as those encoding the mucins, titin and most of the olfactory receptors.
DOTS-Finder requires minimal input files, it is easy to use, and does not necessitate any programming skill or statistical knowledge. Indeed, we created a tool accessible to researchers in a wide range of fields. Compared with popular tools like MuSiC[6] and MutSigCV[5], we only require the availability of easily accessible MAF files. Users do not need to have bam files as in MuSiC, which are not publicly available or easily accessible. In addition, the users do not need any proprietary software, as the source code is written in Python and contains some embedded R codes, which are two freely available languages. Since DOTS-Finder is released under the GNU GPLv3+ license, users are also free to modify the code and implement new features.
DOTS-Finder is an easy solution for investigating genomic information from existing exploratory projects like The Cancer Genome Atlas (TCGA), but it is especially useful to identify reliable driver candidates in small studies assessing the value of genomic information for clinical purposes, such as understanding and predicting chemoresistance or metastatic spread. Indeed, we performed a saturation analysis on the mutational data present in 238 bladder cancer patients using 9 subsampling fractions, and, as shown in Text S1b in Additional file1, DOTS-Finder can perform statistically better than our best competitor, MutSigCV (Text S1a and Figure S1 in Additional file1), in terms of number of drivers found and precision-recall balance in small sample datasets (Figure S2A,B in Additional file1). Our tool could recapitulate up to 40% of the results of the entire dataset with just 5% (that is, 12 patients) of the dataset (Figure S2C in Additional file1). Thus, it can be used in the clinical research setting to help identify driver genes that can assist patient stratification for prognosis and choice of treatment. We envisage that DOTS-Finder might facilitate the identification of candidate targets, which could be used to develop diagnostic, prognostic or therapeutic strategies, even in situations where the available data are scarce (for example, rare tumors).
The functional step: finding the best tumor suppressor gene and oncogene candidates
On the basis of previous proposals[
11
,
12
], we developed scores to assess if a gene in a given tumor could be considered either a TSG or an OG candidate. A TSG is characterized by loss of function mutations. Typically, these mutations are truncating and tend to destroy the protein product or make it non-functional. Frame shift mutations, SNVs creating a stop codon, non-synonymous mutations on the stop codon, translations in the start site, and splice site mutations are all considered of the truncating type. Ultimately, a TSG is characterized by truncating mutations in a non-specific pattern (Figure
2
A).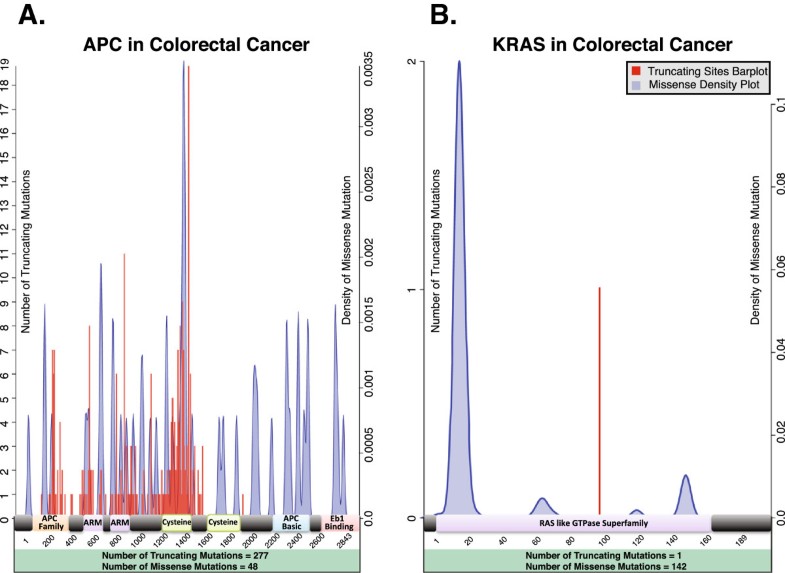 An OG, on the other hand, is characterized by gain or switch of function mutations that confer new properties on the protein product or simply enhance the existing ones. Hence, the typical mutations affecting an OG are missense mutations on key amino acids or on specific domains. We consider as missense type mutations all the non-synonymous SNVs that do not create a stop codon and occur outside start codons or stop codons, and all the insertions and deletions not altering the reading frame (inframe indels). These mutations have a particular pattern, as they are generally clustered in one or more regions along the protein (Figure 2B). For example, in leukemias, IDH1 can bear different kinds of mutations, but almost always at amino acid position 132 (Figure S3 in Additional file1).
The TSG-S evaluates whether a gene harbors an elevated number of truncating mutations compared with the total number of mutations present on that gene. Given 64 codons in the DNA and 9 possible SNVs per codon (3 nucleic acids × 3 possible changes) we have a total of 576 possible base changes. Only 23 of them can be considered truncating (approximately 3.9% of all the SNVs, weighted for the actual human codon usage) against the 415 non-synonymous single base changes that lead to missense variations and 138 silent mutations. If we take into account all the indels that corrupt the reading frame of a gene, we can estimate, based on our sample data, that the ratio between truncating mutations and total number of mutations in cancer is approximately 14%, with a standard deviation of 4. This ranges from a minimum of 9% in glioblastoma to a maximum of 25% in pancreatic adenocarcinoma, with high intra-tumor variability among patients. This discrepancy indicates that some tumors are more prone than others to acquire and maintain truncating mutations (Figure S4 in Additional file1).
The TSG-S is calculated using a binomial distribution under the null hypothesis that the ratio between truncating mutations and total number of mutations found in each gene is equal to the average truncating/total ratio in patients' exomes (Figure S5 in Additional file1). The calculation of this score is set in the specific cancer-patient environment where the gene is found mutated, following the idea that a truncating mutation in a sample with few other alterations weights more than a mutation in a hypermutated sample.
The OG-S indicates whether a gene harbors an elevated number of missense mutations in certain regions of the gene. The score is based on the Shannon's entropy of the pattern of missense SNVs and inframe indels, calculated using a Gaussian density model on the protein product. Every mutation is weighted for the actual Functional Impact provided by Mutation Assessor (a 'protein function' method)[3] and compared with a random model estimated by a bootstrapping procedure. The score is able to catch the clusterization of mutations around significant hot spots in a gene.
We set a threshold for the two scores based on the analysis of the Catalogue Of Somatic Mutations In Cancer (COSMIC)[20], using as positive control the CGC genes that encompass somatic point mutations. To evaluate the quality of our scores with regard to classification as driver and non-driver, and avoid making assumptions on the behavior of driver genes, we adopted two strategies. First, we did not consider any a priori set of true non-driver genes (negative control) and, second, we did not divide the CGC into OGs and TSGs. As mentioned before, the OG-S and TSG-S work on different levels and different mutation types, so we do not exclude the possibility that the same gene might show oncogenic and tumor suppressor features at the same time in different tumors, or even in the same cohort of patients (see the 'Atypical tumor suppressor genes and oncogenes' section below).
Since the number of mutated genes reported in COSMIC is greater than 18,000, the known drivers in CGC accounts for less than 1% of all the mutated genes. These numbers indicate that the two classes are extremely unbalanced, and that a common 'receiving operator characteristic' analysis is not appropriate to address the goodness of our scores. We therefore calculated the Matthews correlation coefficient curves for the two scores and maximize their values to obtain our thresholds (Figure S6 in Additional file1). Compared with other common measures like accuracy, the Matthews correlation coefficient is much more informative for strongly unbalanced classes[21]. Our thresholds were also rescaled for every tumor type in order to take into account the setting-specific mutation rate and the number of samples at our disposal.
The frequentist step: assessing the possible drivers
Genes that exceed at least one of the thresholds of the two scores are classified as OGs or TSGs and four tests are then performed to assess if the mutational pattern in each gene shows a statistically defined 'driver behavior'. This analysis is complex, as it requires the proper estimation of the BMR, which is specific for each gene in each tumor type and patient. Indeed, we foresee at least seven sources of BMR heterogeneity: i) the specific mutation-rate of each tumor type; ii) the specific number of mutations in each patient; iii) the GC content, as most of the mutations found in cancer are point mutations occurring in GC spots; iv) the gene size; v) the gene-specific single nucleotide polymorphism frequency; vi) the replication time; vii) the levels of gene expression. However, other unknown parameters could also influence the BMR of a gene. Our method does not need to take into consideration either replication timing or gene expression levels, since they both require a great amount of new experimental data.
The four tests used by DOTS-Finder are the higher frequency test, the non-synonymous versus synonymous ratio test, the tumor-specificity test and the functional impact test (see Text S3 in Additional file1 for a full explanation of these). In the higher frequency test, the rate of non-synonymous mutations per megabase in a gene is compared with the rate of mutations in the patients carrying mutations in that gene. Given the total number of mutations found in a specific gene, the non-synonymous versus synonymous ratio test assesses whether the number of non-synonymous mutations is higher than the expected number of non-synonymous mutations. The expected value is calculated on the probabilistic ratio obtained by randomly placing the same number and type of mutations on the specific codon usage structure of the gene. The tumor-specificity test prioritizes the driver genes in the different tumors, although it is not fundamental for the driver assessment. The frequency of non-synonymous mutations in the samples is compared with the frequency found in the COSMIC database across tumor types. The test verifies whether the frequency of non-synonymous mutations in a particular tumor or situation is higher than the general frequency found in COSMIC. The idea is that some mutations are tissue-specific and might be drivers only in certain kinds of cancers. For example, NPM1 is a clear driver gene specific for leukemias; similarly, VHL is specific for renal cancer. The functional impact test is used to verify whether the functional impact score of the gene mutations, calculated by Mutation Assessor, is higher than the average score in the patients affected by a mutation in that gene. The four P-values obtained from these tests are combined using the Stouffer's method with specific weights, in order to take into account both the dependencies between tests and their relative importance in the driver definition (Text S3 in Additional file1). The resulting P-value is then adjusted to correct for false discovery rate.
Conclusions
DOTS-Finder is the first published software that can identify driver genes and classify them as TSGs and/or OGs and it can also be used to identify driver genes with atypical patterns of mutations (Figure 4). In addition, it is the first software that can be used by a vast and diverse scientific community as it is easy to install and use, does not require proprietary software, and does not require the use of low-level and hard to access files (for example, bam files, coverage files).
We have applied DOTS-Finder on publicly available datasets containing the mutation profile of 34 cancer types. We have obtained plausible driver genes for many low mutation rate cancers like gliomas, acute myeloid leukemia and prostate cancer. Notably, we have obtained results that are consistent with the literature even with some high mutation rate tumor types, like head and neck squamous cell carcinoma and bladder cancer, where the risk of falling into the 'fishy genes' trap is higher.
Our tool outperforms other available methods in terms of precision-recall, considering CGC as a gold standard. Importantly, DOTS-Finder has confirmed the predictions made by other methods and discovered novel driver candidates never identified before.
Using DOTS-Finder, researchers can identify driver genes in large public databases and also in user-defined samples stratified for a given characteristic, as the software is specifically designed to identify driver genes even in small datasets (for example, obese/normal weight, male/female, and so on). The use of few samples in cancer is justified by the high molecular heterogeneity present in tumors. Indeed, we believe that the results produced by DOTS-Finder could be very useful for researchers who want to identify driver genes in user-defined datasets, in order to investigate the significance or relevance of particular somatic mutations in relation to specific clinical questions.
Availability and requirements
Project name: DOTS-Finder.

Project home page: see[56].

Operating system(s): Unix based (MacOS, Linux).

Programming language: Python/R.

Other requirements: python 2.7, R > 2.

License: GNU GPLv3 +.

Any restrictions to use by non-academics: license needed.
Abbreviations
AML:

acute myeloid leukemia
BLCA:

bladder carcinoma
BMR:

background mutation rate
BRCA:

breast carcinoma
CGC:

Cancer Gene Census
COSMIC:

Catalogue Of Somatic Mutations In Cancer
DOTS-Finder:

Driver Oncogene and Tumor Suppressor Finder
indel:

small insertion-deletion
KICH:

kidney chromophobe
KIRC:

kidney renal clear cell carcinoma
KIRP:

kidney renal papillary cell carcinoma
LUAD:

lung adenocarcinoma
MAF:

Mutation Annotation Format
OG:

oncogene
OG-S:

OncoGene Score
SNV:

single nucleotide variant
TCGA:

The Cancer Genome Atlas
THCA:

thyroid carcinoma
TSG:

tumor suppressor gene
TSG-S:

Tumor Suppressor Gene Score.
Declarations
Acknowledgments
LR was supported by a Reintegration AIRC/Marie Curie International Fellowship in Cancer Research. This work was supported by a grant from Fondazione Cariplo to LR. SdP acknowledges funding from the European Community's Seventh Framework Programme (FP7/2007-2013), project RADIANT (grant agreement no. 305626). We thank Marco J Morelli for the useful discussion on statistical analysis and critical review of the manuscript. We thank Lucilla Luzi for the useful discussion on the biological interpretation of the results and Luciano Giacò, Margherita Bodini, Anna Russo, Francesco Santaniello and Marzia Cremona for testing and debugging the beta version of the software. We thank Paola Dalton and Roberta Aina for critical review of the manuscript.
Authors' Affiliations
(1)
Center for Genomic Science of IIT@SEMM, Istituto Italiano di Tecnologia, Milan, Italy
(2)
Department of Experimental Oncology, European Institute of Oncology, Milan, Italy
(3)
Dipartimento di Scienze della Salute, Università degli Studi di Milano, Milan, Italy
Copyright
© Melloni et al.; licensee BioMed Central Ltd. 2014
This article is published under license to BioMed Central Ltd. This is an Open Access article distributed under the terms of the Creative Commons Attribution License (http://creativecommons.org/licenses/by/4.0), which permits unrestricted use, distribution, and reproduction in any medium, provided the original work is properly credited. The Creative Commons Public Domain Dedication waiver (http://creativecommons.org/publicdomain/zero/1.0/) applies to the data made available in this article, unless otherwise stated.