Preimplantation genetic diagnosis guided by single-cell genomics
Published: 19 August 2013
Abstract
Preimplantation genetic diagnosis (PGD) aims to help couples with heritable genetic disorders to avoid the birth of diseased offspring or the recurrence of loss of conception. Following in vitro fertilization, one or a few cells are biopsied from each human preimplantation embryo for genetic testing, allowing diagnosis and selection of healthy embryos for uterine transfer. Although classical methods, including single-cell PCR and fluorescent in situ hybridization, enable PGD for many genetic disorders, they have limitations. They often require family-specific designs and can be labor intensive, resulting in long waiting lists. Furthermore, certain types of genetic anomalies are not easy to diagnose using these classical approaches, and healthy offspring carrying the parental mutant allele(s) can result. Recently, state-of-the-art methods for single-cell genomics have flourished, which may overcome the limitations associated with classical PGD, and these underpin the development of generic assays for PGD that enable selection of embryos not only for the familial genetic disorder in question, but also for various other genetic aberrations and traits at once. Here, we discuss the latest single-cell genomics methodologies based on DNA microarrays, single-nucleotide polymorphism arrays or next-generation sequence analysis. We focus on their strengths, their validation status, their weaknesses and the challenges for implementing them in PGD.
Keywords
Preimplantation Genetic Diagnosis
Multiple Displacement Amplification
Trophectoderm Biopsy
Interchromosomal Rearrangement
Preimplantation Genetic Diagnosis Cycle
Preimplantation genetic diagnosis
Preimplantation genetic diagnosis (PGD), based on testing of oocytes or preimplantation stage embryos for genetic abnormalities following
in vitro
fertilization (IVF), was introduced over two decades ago by pioneering groups like the ones of Yury Verlinsky [
1
,
2
] and Alan Handyside [
3
]. Driven by technology, the use of PGD has grown immensely and increases annually, with more than 50,000 cycles performed worldwide, and more than 10,000 babies born thus far [
4
]. Specifically, PGD is offered to couples to avoid the transmission of heritable genetic disorders to their offspring or to increase their chances of a successful pregnancy. The main indications for PGD are Mendelian disorders, such as highly penetrant, often life-threatening autosomal dominant or recessive diseases; X-linked recessive diseases; and chromosomal copy-number aberrations that result from meiotic missegregation of a balanced chromosomal rearrangement present in a parent. The latter may in turn lead to recurrent miscarriage or severely disabled offspring resulting from segmental aneusomies [
5
,
6
]. A distinctive form of PGD, commonly referred to as preimplantation genetic diagnosis for aneuploidy screening (PGD-AS) or PGS, was tailored to help couples who have normal karyotypes but are burdened with fertility problems due to advanced maternal age, recurrent miscarriage, recurrent implantation failure or severe male factor infertility. PGS aims to detect
de novo
meiotic aneuploidies in IVF conceptions to increase the rate of successful pregnancy. Figure
1
summarizes the contribution of each of these indications to the number of PGD cycles over the past 10 years, as reported by the European Society of Human Reproduction and Embryology PGD consortium [
6
].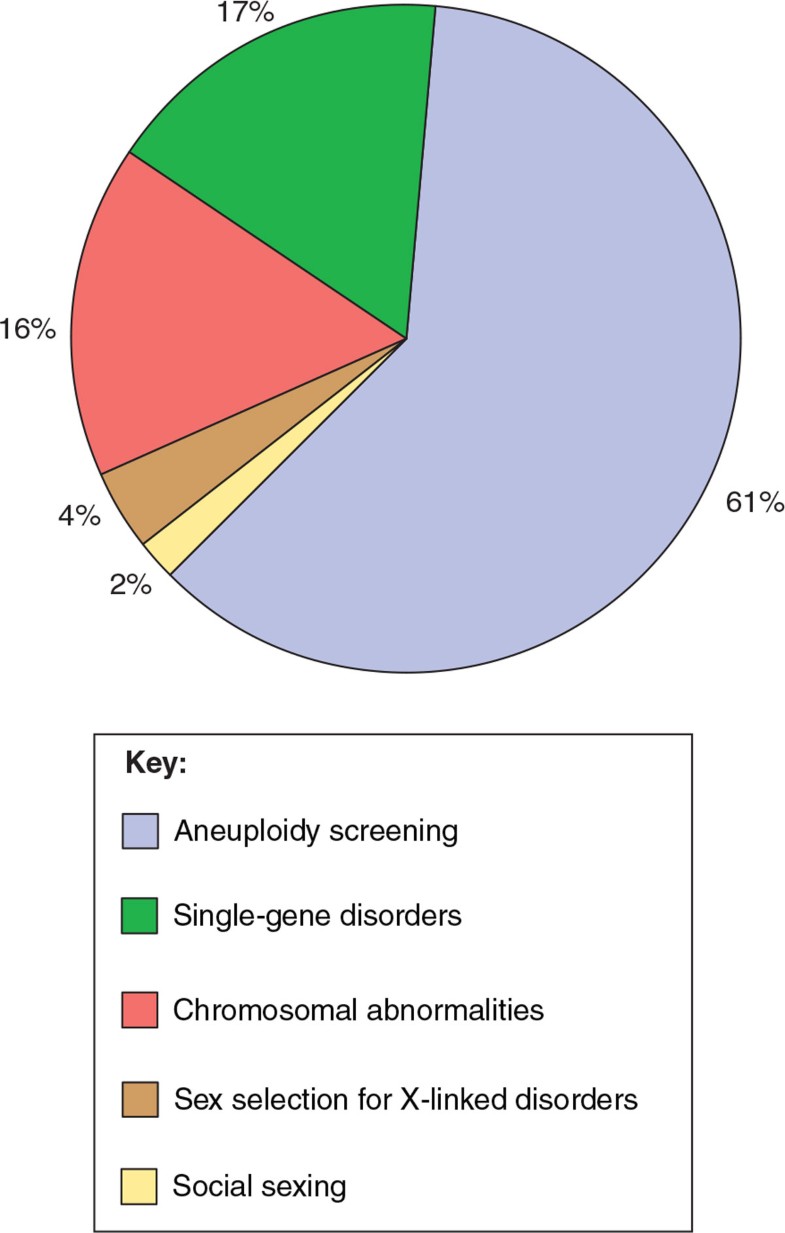 In brief, each PGD cycle starts with a hormonal ovarian stimulation followed by ultrasound-guided oocyte aspiration and IVF. Because embryos in the preimplantation stage consist of a very limited number of cells, diagnosis has to be performed by genetic testing of just a single or a few biopsied embryonic cells (Figure
2
). The major approach for PGD today involves biopsy of one or two blastomeres from a 6- to 8-cell human cleavage-stage embryo on day 3 after IVF. The biopsied embryos are further cultured
in vitro
, and the biopsied cell is diagnosed by single-cell PCR or single-nucleus fluorescent
in situ
hybridization (FISH)-based assays targeted at the genetic risk alleles [
5
]. Table
1
gives an overview of established and imminent methodologies (see below) and their capacity to detect various genetic anomalies.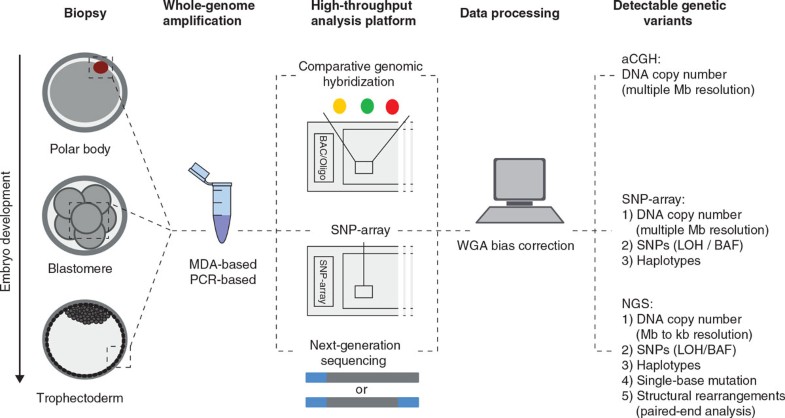 Table 1
Current and imminent technologies for preimplantation genetic diagnosis
| Indications | PCR | FISH | aCGH | SNP array | NGS |
| --- | --- | --- | --- | --- | --- |
| Sex selection (social or X-linked disease) | Yes | Yes* | Yes | Yes | Yes |
| Aneuploidy screening | Yes | Yes*; locus specific | Yes*; generic | Yes; generic | Yes; generic |
| DNA copy-number aberrations | Yes | Yes*; locus specific | Yes; generic | Yes; generic | Yes; generic |
| Carriership of balanced chromosome rearrangements | No | No | No | Yes | Yes |
| Single-gene disorder | Yes*; family specific | No | No | Yes; generic | Yes; generic |
| De novo segmental copy-number aberrations | No | No | Yes; generic | Yes; generic | Yes; generic |
| De novo base mutations | No | No | No | No | Yes; generic |
| Mitochondrial mutations | Yes*; family specific | No | No | No | Yes; generic |
Following diagnosis, one or more healthy embryos are selected for transfer to the uterus on day 4 or 5 of the same IVF-PGD cycle, before the embryo would naturally implant into the uterine wall. Hence, only a narrow, approximately 48 hour time frame is available for diagnosis after blastomere biopsy. The average successful pregnancy rate per embryo transferred following diagnosis reaches 30% [5]. Alternative time points for cell biopsy include the aspiration of the first and second polar body on day 0 (mature oocyte) or day 1 (zygote) after fertilization, and the biopsy of trophectoderm cells at the blastocyst stage, which requires embryo freezing and thawing following diagnosis (see below).
Here, we discuss the limitations of the classical approaches for PGD and how recent genome-wide methods for single-cell genomics can revolutionize PGD. Imminent methods will allow PGD to go far beyond what is currently feasible (Table 1, Figure 2).
Classical techniques for PGD and their limitations
Although established methods for PGD, including single-cell PCR and single-nucleus FISH, are very effective for diagnosis, these classical approaches do have limitations.
Single-cell PCR assays, performed either directly on the cell's DNA or after single-cell whole-genome amplification (WGA), are generally used to diagnose heritable single-gene disorders. In these assays, preferably the causal genetic mutation, along with a minimum of two linked polymorphic markers, are genotyped and phased [7]. This is needed to control for putative drop out of the mutant allele, which represents allele drop out (ADO) or the random failure of amplification of one allele at a locus. Consequently, these assays have to cope with several issues: identifying informative markers near the mutation; optimizing the multiplex format of the single-cell PCRs to minimize ADO; and avoiding misdiagnosis resulting from a possible disconnection of linkage between the mutation and a linked polymorphic marker allele caused by an intervening homologous recombination. Hence, these PCR methods require family-specific designs, resulting in time-consuming preparations, and can be performed only in specialized centers that have accumulated the staff required to design and pilot the diagnostic single-cell PCR tests. Recent state-of-the-art (single-cell) PCR designs also enable PGD for mitochondrial diseases [8–10], aneusomies [11] and aneuploidies [12] (Table 1).
FISH on single nuclei is mainly used to diagnose either heritable DNA copy-number aberrations or sex in cases of X-linked recessive Mendelian disorders with unknown causal mutation (Table 1). As with PCR, a major limitation is that FISH assays are also locus specific, often requiring a labor-intensive and family-specific design. Furthermore, not all couples are easily helped using the current FISH strategies. For instance, couples burdened with a complex chromosomal rearrangement in one of the partners are subfertile or are at risk of having disabled offspring because a high fraction of the gametes will be chromosomally unbalanced. Given the limited amount of differentially colored probes that can be applied in a single FISH round, the inherent degradation of DNA in subsequent FISH rounds and the limited time frame available for diagnosis (less than 48 hours after blastomere biopsy in cleavage stage), current FISH-based PGD protocols are often inadequate for supporting these couples. Furthermore, because current FISH-based PGD protocols only detect locus-specific copy-number states and do not analyze the breakpoints of the chromosomes involved in the rearrangement, the presence of a balanced configuration of the rearranged chromosomes cannot be discriminated from the presence of a balanced set of normal chromosomes by ordinary FISH analysis of the blastomere's nucleus. Hence, current routine FISH methods can result in offspring that carries the same risk alleles as their parents. Last but not least, neither FISH nor PCR strategies are capable of detecting de novo abnormalities genome-wide.
Besides screening for heritable genetic aberrations, FISH-based PGS has been widely applied to increase the live birth rate for couples with normal karyotypes but infertility problems. The decreasing fecundity of older women associated with age-dependent aneuploidy in the oocyte, as well as the knowledge that the majority of chromosomal errors cause embryonic lethality, led to the hypothesis that selecting chromosomally normal embryos for uterine transfer would increase the live birth rate per embryo transferred. Although the hypothesis was conceptually sound, it is now apparent that there is no clinical benefit of applying FISH-based PGS to individual blastomeres biopsied from human embryos on day 3 following IVF [13–15]. This is because many human cleavage-stage embryos acquire de novo numerical chromosomal alterations during the first mitotic cell divisions following fertilization, implying that the DNA copy number of a chromosome assessed in the biopsied blastomere is not simply a reflection of the copy-number state of the same chromosome in all blastomeres remaining in the embryo [13]. It remains to be thoroughly investigated whether PGS using non-FISH genome-wide approaches might improve live birth rates per embryo transferred when the test is performed at another developmental stage, either earlier following polar body biopsy or later following trophectoderm biopsy [16].
High-resolution genome-wide approaches for genome analysis
Recently, state-of-the-art single-cell whole-genome approaches have been developed that could revolutionize PGD practice. Below we discuss these technologies and their potential application for PGD (Table 1 gives an overview). Following cell isolation, the genomes of the biopsied cells are commonly amplified to enable the genome-wide genetic test (Figure 2).
Conclusions and future perspectives
Single-cell genomics is remodeling PGD. Rapid single-cell aCGH- and SNP-array protocols enable the detection of inherited or even de novo DNA copy-number aberrations encompassing a few megabases simultaneously across all 24 chromosomes. These genome-wide methods are likely to gradually replace locus- and family-specific FISH-based PGD approaches [36, 44, 50, 62], offering a generic and standard approach for couples burdened with a balanced (complex) translocation or other type of intra- or interchromosomal rearrangement. Furthermore, single-cell SNP genotypes can be phased using the genotypes of the parents and a close relative, and thus allow genome-wide tracing of the inheritance of parental haplotypes that bear a disease-causing non-mitochondrial genetic variant [53, 63]. Here, a mutation - such as a point mutation, indel, microdeletion or microduplication - inherited by an embryo is not genotyped directly in a blastomere of that embryo, but is rather imputed from linked SNPs embedded in the same inferred nuclear haplotype block. Additionally, in cases in which PGD is performed for balanced chromosomal rearrangements present in one of the parents, single-cell haplotyping can discriminate the inheritance of a balanced rearrangement from a balanced normal chromosome configuration. Last but not least, it may allow the discovery of the presence and parental origin of copy-neutral uniparental disomies, as well as of, for example, meiotic trisomies. Although single-cell genome-wide haplotyping technology is not routine in PGD practice yet, large-scale validation studies are ongoing.
In the near future, genome sequencing of single blastomeres biopsied from cleavage-stage embryos or trophectoderm biopsies from human blastocysts may become routine practice in PGD [60, 61]. Currently, single-cell genome sequencing already allows detection of inherited and de novo copy-number aberrations at a resolution and accuracy far beyond that attainable with microarray analyses. In addition, genotypes computed from single-cell sequences may allow not only the imputation of inherited risk variants by inferring SNP haplotypes, as for single-cell SNP-array data, but also genotyping of the inherited causal mutation directly. Single-cell genome sequencing furthermore holds the potential to detect mitochondrial DNA mutations and in fact any type of de novo mutation genome-wide.
Challenges such as the cost and duration of high-resolution genome-wide analyses will soon be overcome. From various ongoing large-scale human genome sequencing projects, our knowledge will increase to sift deleterious de novo mutations from neutral ones, and thus the interpretation of detected (de novo) genetic variants in the context of PGD will become clearer. Hence, time is pressing to define pertinent ethical guidelines for human embryo selection following genome-wide analysis as the technology will allow selection of embryos not only for highly penetrant Mendelian diseases, but also for various Mendelian traits at once, as well as for a combination of susceptibility factors for complex diseases.
Abbreviations
aCGH:

array comparative genomic hybridization
ADO:

allele drop out
FISH:

fluorescent in situ hybridization
IVF:

in vitro fertilization
LOH:

loss of heterozygosity
MALBAC:

multiple annealing and looping based amplification cycles
MDA:

multiple displacement amplification
NGS:

next-generation sequencing
PCR:

polymerase chain reaction
PGD:

preimplantation genetic diagnosis
PGS:

preimplantation genetic diagnosis for aneuploidy screening
SNP:

single-nucleotide polymorphism
WGA:

whole genome amplification.
Declarations
Acknowledgements
This work was supported by the EU FP7-PEOPLE-2012-IAPP grant SARM [No. 324509]; Research Foundation Flanders (FWO) [FWO-G.A093.11]; KU Leuven SymBioSys [PFV/10/016]. NVdA is a PhD student supported by the Research Foundation Flanders (FWO [1.1.H.28.12]).
Authors' Affiliations
(1)
Laboratory of Reproductive Genomics, Department of Human Genetics, KU Leuven, Leuven, Belgium
(2)
Laboratory of Cytogenetics and Genome Research, Department of Human Genetics, KU Leuven, Leuven, Belgium
(3)
Single-cell Genomics Centre, Wellcome Trust Sanger Institute, Hinxton, UK
Copyright
© BioMed Central Ltd 2013