Clinical proteomics of myeloid leukemia
Abstract
Myeloid leukemias are a heterogeneous group of diseases originating from bone marrow myeloid progenitor cells. Patients with myeloid leukemias can achieve long-term survival through targeted therapy, cure after intensive chemotherapy or short-term survival because of highly chemoresistant disease. Therefore, despite the development of advanced molecular diagnostics, there is an unmet need for efficient therapy that reflects the advanced diagnostics. Although the molecular design of therapeutic agents is aimed at interacting with specific proteins identified through molecular diagnostics, the majority of therapeutic agents act on multiple protein targets. Ongoing studies on the leukemic cell proteome will probably identify a large number of new biomarkers, and the prediction of response to therapy through these markers is an interesting avenue for future personalized medicine. Mass spectrometric protein detection is a fundamental technique in clinical proteomics, and selected tools are presented, including stable isotope labeling with amino acids in cell culture (SILAC), isobaric tags for relative and absolute quantification (iTRAQ) and multiple reaction monitoring (MRM), as well as single cell determination. We suggest that protein analysis will play not only a supplementary, but also a prominent role in future molecular diagnostics, and we outline how accurate knowledge of the molecular therapeutic targets can be used to monitor therapy response.
Keywords
Acute Myeloid Leukemia
Imatinib
Chronic Myeloid Leukemia
Acute Myeloid Leukemia Patient
Acute Myeloid Leukemia Cell
Introduction
Myeloid leukemia is the result of uncontrolled clonal proliferation in the erythroid, monocytic and granulocyte lineages and their precursors, originating from hematopoietic stem cells of the bone marrow (Figure
1
). It can be roughly divided into acute and chronic disease, reflecting disease development and survival if untreated (Table
1
), but the World Health Organization classification of the various subsets of acute and chronic leukemia is increasingly dependent on molecular diagnostics because of the wider use of targeted therapy.
Table 1
The main morphological, clinical, cytogenetic and molecular genetic characteristics, and treatment options, in the major myeloid malignancies
| Characteristics/treatment options | CML | CMML | APL | AML |
| --- | --- | --- | --- | --- |
| Morphological characteristics | Proliferation of mature granulocytes and precursors | Proliferation of monocytes, also dysplasia in other cell lineages | Accumulation of promyelocytes | Accumulation of immature myeloid cells |
| Clinical characteristics | Mild symptoms (malaise, low fever), often asymptomatic; slow progression of disease | Bone marrow failure; often general symptoms: weight loss, night sweats | Often severe bone marrow failure (anemia, infection, bleeding) often coagulopathy; aggressive disease | Often severe bone marrow failure (anemia, infection, bleeding); aggressive disease |
| Cytogenetic characteristics | Reciprocal translocation between chromosomes 9 and 22 t(9;22) | Several described; could also be normal (60% to 70%) | Balances reciprocal translocation between chromosomes 15 and 17 t(15;17) | Several described; could also be normal (45%) |
| Molecular genetic characteristics | Probably important in disease development and resistance to TKIs | Several described; RAS family (N-RAS/K-RAS) seems of special interest | None recognized | Several discovered (Table 2), important in risk stratification |
| Main treatment options | First- and second-generation TKIs, allo-SCT | Chemotherapeutics, 5-azacitidine, allo-SCT | ATRA, arsenic trioxide, chemotherapeutics, allo-SCT | Chemotherapeutics, allo-SCT |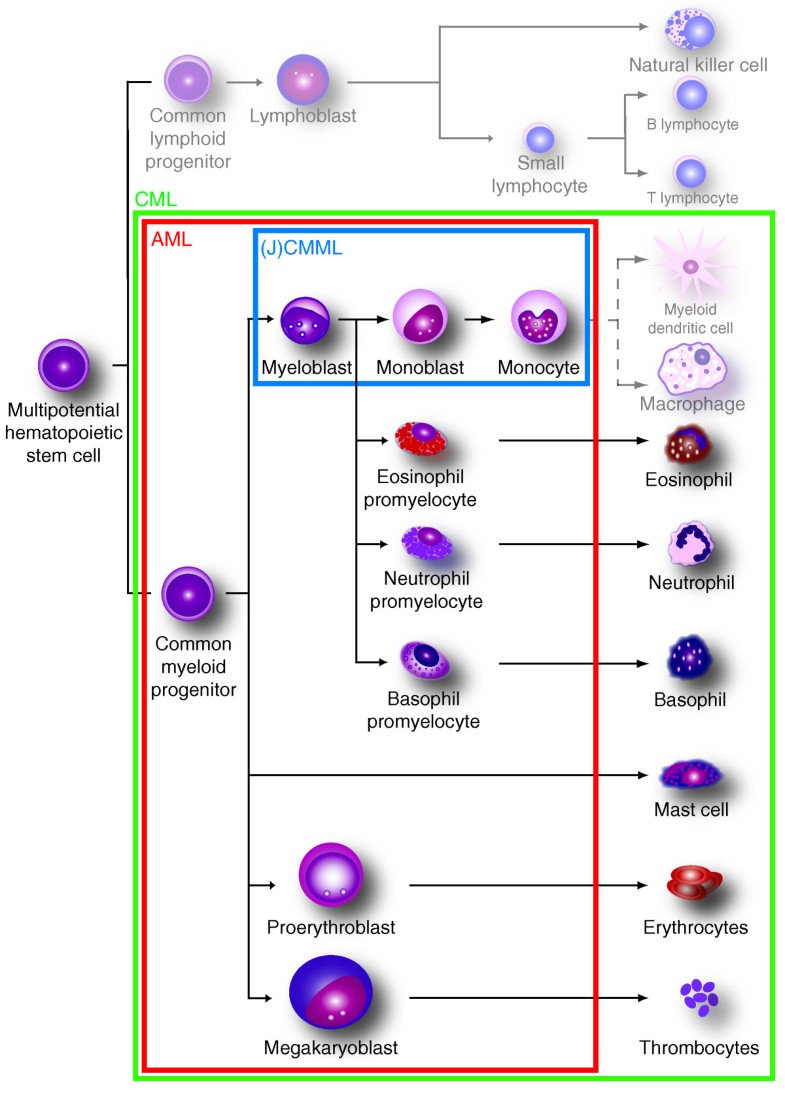 Myeloid leukemia frequently involves mutations of signal transduction pathways, including mutations of the tyrosine-specific protein kinase Janus kinase 2 (JAK2) in erythroid neoplasia, the pathognomonic BCR-ABL (breakpoint cluster region-Abelson) kinase gene translocation in chronic myeloid leukemia (CML), and FMS-like tyrosine kinase 3 (FLT3) gene mutation in acute myeloid leukemia (AML) [1, 2]. All of these mutations are proposed to activate signal transduction pathways, which either belong to the wild-type kinase counterpart or, in the case of FLT3 mutation of the juxta membranous region, activate parallel signal transduction pathways that are not activated by ligand-stimulated wild-type FLT3. In AML, the FLT3 gene is mutated in more than 25% of patients, but inhibitors of FLT3 have so far not been proven to enhance overall survival.
The fact that the BCR-ABL gene chimera in CML is drug-able has revolutionized the treatment of this serious disease. Overall 5-year survival in the pre-tyrosine kinase inhibitor (TKI) era was approximately 50%, compared with over 80% survival at 6 years in patients treated with imatinib [3]. Patients usually experience tolerable side-effects that predominantly reflect the off-targets of imatinib, for example, platelet-derived growth factor receptor inhibition leading to edema. A chemical proteomic approach [4] has identified new protein targets for imatinib, and a similar strategy has recently been used for target validation of the broader TKI dasatinib [5]. JAK2 is currently being explored as a therapeutic target with novel TKIs in phase II and III trials of polycythemia vera, an erythroid neoplasia [6].
The common genetic and mutational features of myeloid leukemic cells usually imply a profound effect on protein networks of the leukemic cell. Proteomics include a collection of techniques that ideally allow the analysis of all proteins in a defined protein network within a cell, in a certain subcellular compartment or a functional part of a cell, and in a specific type of cell, organ, tissue, or extracellular fluid. Therefore, proteomics should be the ideal tool for the prediction of response to targeted therapy, as well as for monitoring targeted therapy.
In this review we will focus on proteomic analysis of the leukemic cells in CML, juvenile chronic myelomonocytic leukemia (JCMML), adult chronic myelomonocytic leukemia (CMML), and AML (Figure
1
), and illustrate how proteomics may create new diagnostics and molecular classifications for the disease. Current proteomic studies are clearly technology driven and research is influenced by the recent technological advances of the field. We will discuss selected methodologies that are particularly powerful for biomarker screening or the analysis of limited clinical material. The methodological pipeline to identify promising biomarkers for disease and therapy response will be discussed, as well as how recognized and verified biomarkers may be transferred into an assay format that fits the routine laboratory (Figure
2
).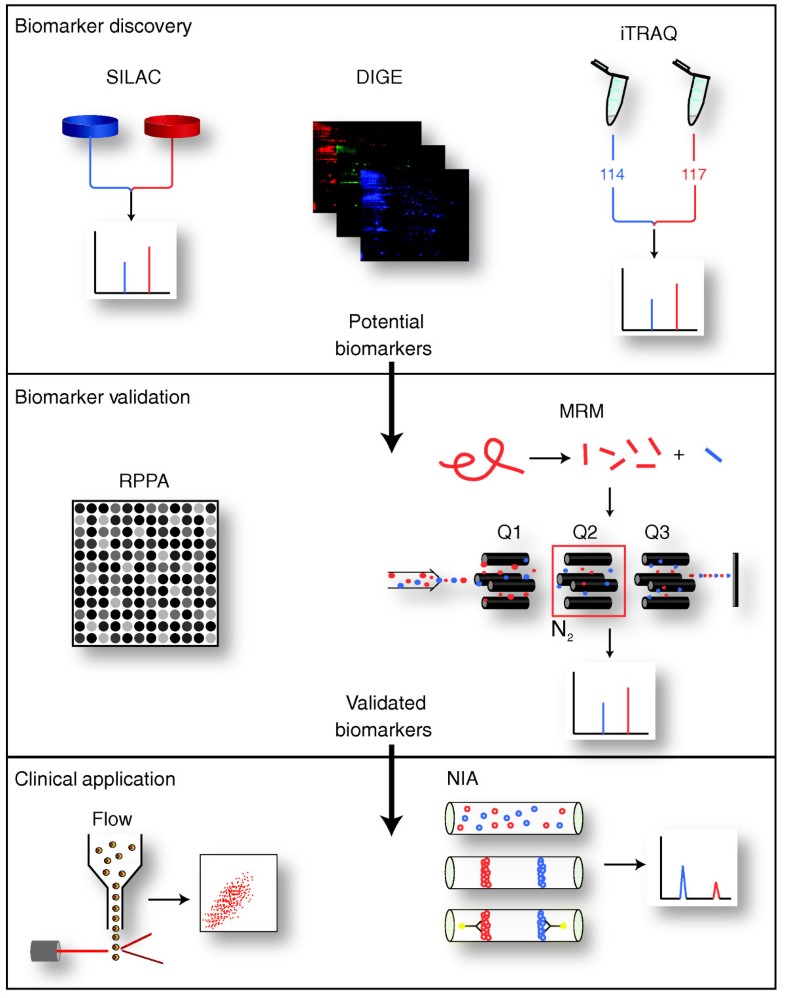 Leukemia derived from the myeloid lineage of hematopoietic stem cells
Myeloid leukemia includes some of the most well understood malignancies in humans, but also rare and less definable diseases. CML is characterized by a massive clonal expansion of mature granulocytes and precursors. The disease progresses through three distinct phases - chronic phase, accelerated phase, and blast crisis - during which the leukemic clone progressively loses its ability to differentiate. CML has been considered to be a unique model to understand the molecular mechanisms underlying the onset and progression of a leukemic process since it was the first recognized form of cancer to have a strong association with a recurrent chromosomal abnormality. This abnormality is a reciprocal translocation between the long arms of chromosomes 9 and 22 (t(9;22)), which generates the so-called Philadelphia chromosome [7] (Table 1). This abnormality was later discovered to be a specific molecular defect, a hybrid BCR-ABL gene, coding for a tyrosine-specific protein kinase. The introduction into clinical practice of the first-generation TKIs - for example, imatinib - represented a major breakthrough in the era of molecular targeted therapy [8, 9].
In contrast to the relative homogeneity of CML, AML is a clinically and genetically heterogeneous disease that results from the transformation and proliferation of immature myeloid cells that suppress normal bone marrow function [10–12]. Untreated patients have a median survival of only 2 to 4 months, and intensive chemotherapy, eventually in combination with allogeneic hematopoietic stem cell transplantation, is the only possibility for cure [10]. The first subclassification in AML was based on leukemic cell morphology and histochemistry [10], and was named the French-American-British system [13], but this classification has proved to be of limited predictive value in determining prognosis and guidance for therapy. Acute promyelocyte leukemia (APL) is an important exception, since this morphological AML variant comprises a balanced reciprocal translocation between chromosomes 15 and 17 (t(15;17)) [14] (Table 1). Patients with APL have a particularly good prognosis after the introduction of vitamin A in the treatment [14] since the chimeric retinoid receptor in t(15;17) makes the leukemic cells sensitive for undergoing maturation and early cell death when treated with vitamin A. However, AML represents a heterogeneous condition, reflecting the fact that leukemic transformation can occur at different steps along the differentiation pathway. Large clinical studies have proposed cytogenetic risk systems categorizing patients with AML into three groups: favorable, intermediate, and adverse (Table 2). Nevertheless, approximately 50% of AML patients lack cytogenetic aberrations; because of this, gene expression profiles, DNA methylation patterns, microRNA expression, protein production, chemokine production, and signal transduction responses have been used in subclassification [11, 12, 15, 16]. Consequently, the treatment principle of 'one size fits all' has been challenged considerably over the past decades, even if molecular classification has been translated into highly individualized chemotherapy in clinical trials [11].
An interesting third group of myeloid leukemia, which is difficult to fit into either the chronic or acute categories, is CMML and its pediatric variant JCMML [17]. By definition, CMML excludes the presence of the Philadelphia chromosome, but as many as 30% to 40% of cases show different cytogenetic abnormalities. In most cases of CMML, the critical genetic lesions remain unidentified. However, the proto-oncogene family RAS seems to be of special interest. N-RAS and K-RAS are highly mutated in CMML, and recent research indicates that RAS is particularly important in the development and progression of the disease [18, 19].
Proteomic technologies for analysis of leukemia
The identification of proteins in cancer is predominantly performed by mass spectrometry (MS) analysis of fractionated proteins, or indirectly through probing with well-characterized antibodies. The strength of antibody-based techniques lies in their signal amplification steps, which allow the detection of protein concentrations in the femtomolar range. The combination of antibodies and isoelectric protein focusing in a capillary tube format [20, 21] allows the detection of specified proteins and their modifications with sensitivity down to 25 cells, depending on protein abundance. Certain MS methods, such as multiple reaction monitoring (MRM), are able to detect and quantify single proteins in the attomolar range [22, 23], with a dynamic range extending over three orders of magnitude [24, 25]. However, the fact that leukocytes include multiple cellular subsets requires a different technique able to distinguish between various cell types. Flow cytometric determination of blood cells using antibodies against extra- and intracellular targets provides the user with information about such cellular subsets, and represents a fundamental test in leukemia diagnostics. How can we extend the repertoire of antibodies recognizing relevant proteins in leukemia diagnostics? MS techniques such as stable isotope labeling with amino acids in cell culture (SILAC) can be used to identify new protein markers that can be developed for platforms such as flow cytometry.
Prospects for protein-based diagnostics and monitoring of response to therapy
Lessons from recent achievements in CML research may illustrate the future of protein-based diagnostics. CML is the single malady with apparently perfect correlation between the pathognomonic gene aberration BCR-ABL and a therapeutic kinase inhibitor that effectively inhibits ABL tyrosine kinase activity. A protein-based immunoassay for detection of the gene product BCR-ABL is in development, and will allow diagnostics of ABL-BCR-positive leukemia using cellular protein extracts or single cell flow cytometry [63]. Future diagnosis of CML could thereby be based on protein diagnostics, using PCR-based DNA diagnostics only as confirmatory analysis.
Proteomic analysis of CML cell lines treated with imatinib has revealed the modulation of several phosphoprotein targets [30]. SILAC analysis of imatinib-treated CML cells has demonstrated a 90% reduction in phosphorylation of BCR-ABL kinase, SHIP2 and Dok-2, and other modulated proteins, including SHIP1, SH2-containing protein and Casitas B-lineage lymphoma proto-oncogene. Imatinib-treated CML cells show an attenuated activation of ERK1 and ERK2, mitogen-activated kinase-1, STAT3 and STAT5, and c-Jun N-terminal kinase [20]. Phospho-CRKL has been proposed as a marker for monitoring patients with CML treated with imatinib and nilotinib [64], and may be a pseudomarker for detecting resistance against TKI treatment. Direct and indirect detection of resistance in BCR-ABL-positive CML is underscored by reports of significantly lower levels of BCR-ABL, CRKL (Tyr207) and AKT (Ser473) in resistant patients. CML may be the first disease where we achieve fully protein-based diagnostics and therapy response monitoring.
Conclusions
Future use of protein-based diagnostics in cancer may reflect clearer the epigenetics and genome alterations in leukemia, and represent a test more directly related to the cellular protein targets of therapeutics. It is still unclear which technology platform will be the dominating workhorse in clinical proteomics, but a technology that is 'open' in terms of target selection seems to hold the strongest appeal. Maybe the lessons from modern vitamin and hormone analysis indicate a promising path [65, 66], as a high number of molecules can be identified and quantified in minute clinical samples. In diagnostics of leukemia, validated MS analysis of peptides, with high flexibility and high sensitivity, may allow determination of classification and therapeutic targets [67]. Cell-type-specific analysis is necessary for diagnostic information in leukemia and other hematological malignancies; this analytic quality is currently provided by flow cytometry only. Detection of modified proteins in intracellular signal transduction pathways may represent a novel diagnostic tool, as exemplified in JCMML, where phospho-specific flow cytometry may replace cumbersome and time-consuming growth assays [60]. Furthermore, protein analyses may play a role in future monitoring of therapy response evaluation, but carefully designed clinical trials will be needed to determine the role of proteomics in therapy guidance.
Abbreviations
AML:

acute myeloid leukemia
APL:

acute promyelocytic leukemia
AQUA:

absolute quantification
Bax:

Bcl-2 associated × protein
BCR-ABL:

breakpoint cluster region-Abelson
CML:

chronic myeloid leukemia
CMML:

chronic myelomonocytic leukemia
CREB:

cAMP response element-binding
CRKL:

CRK-like protein
DEAD:

Asp-Glu-Ala-Asp
ERK:

extracellular signal-related kinase
FLT3:

FMS-like tyrosine kinase 3
ICAT:

isotope-coded affinity tag
ICPTOF-MS:

mass spectrometry detection after flow cytometry selection
iTRAQ:

isobaric tags for relative and absolute quantification
JAK2:

Janus kinase 2
JCMML:

juvenile myelomonocytic leukemia
MRM:

multiple reaction monitoring
MS:

mass spectrometry
MS/MS:

tandem mass spectrometry
RPPA:

reverse-phase protein array
SHP1:

SH2-containing protein phosphate
SILAC:

stable isotope labeling with amino acids in cell culture
STAT:

signal transducer and activator of transcription protein
TKI:

tyrosine kinase inhibitors
2D-DIGE:

two-dimensional difference gel electrophoresis.
Declarations
Acknowledgements
This study was supported by grants from The Research Council of Norway National Program for Research in Functional Genomics, Helse Vest, and the Norwegian Cancer Society.
Authors' Affiliations
(1)
Institute of Medicine, Hematology Section, University of Bergen, Haukeland University Hospital, Bergen, Norway
(2)
Department of Medicine, Hematology Section, Haukeland University Hospital, Bergen, Norway
(3)
Department of Aquaculture, Chemistry and Bioengineering, Bergen University College, Bergen, Norway
Copyright
© BioMed Central Ltd. 2010