Systems pharmacology and genome medicine: a future perspective
Published: 22 January 2009
Abstract
Genome medicine uses genomic information in the diagnosis of disease and in prescribing treatment. This transdisciplinary field brings together knowledge on the relationships between genetics, pathophysiology and pharmacology. Systems pharmacology aims to understand the actions and adverse effects of drugs by considering targets in the context of the biological networks in which they exist. Genome medicine forms the base on which systems pharmacology can develop. Experimental and computational approaches enable systems pharmacology to obtain holistic, mechanistic information on disease networks and drug responses, and to identify new drug targets and specific drug combinations. Network analyses of interactions involved in pathophysiology and drug response across various scales of organization, from molecular to organismal, will allow the integration of the systems-level understanding of drug action with genome medicine. The interface of the two fields will enable drug discovery for personalized medicine. Here we provide a perspective on the questions and approaches that drive the development of these new interrelated fields.
Keywords
Personalized Medicine
Epithelial Growth Factor Receptor
Genome Medicine
Disease Network
Zoom Level
Introduction
Our knowledge of the mechanisms by which drugs act physiologically advanced radically during the twentieth century. With the advent of biochemistry and molecular biology, the targets of drugs became increasingly well characterized. The development of receptor theory by Clark [
1
] and Black [
2
,
3
], followed by analyses that distinguished between competitive and non-competitive inhibition, began to shed light on the mechanisms by which drugs worked at the molecular level [
4
]. The influence and relevance of receptor theory in modern pharmacology is derived from the large number of drugs that target membrane receptors, the majority of which are G protein-coupled receptors (GPCRs). The theory of enzyme kinetics led to substrate-based inhibitor design of drugs. These theoretical underpinnings, the size of the market for specific classes of drugs and the ease of drug design for a proven target have resulted in many similar drugs that can target a single protein. ACE inhibitors that are used to treat hypertension are good examples of this approach. The drug pipeline has evolved, with the appearance of targeted therapies and biological therapeutics, such as monoclonal antibody therapies. Many diseases, such as hypertension, ulcers and several types of cancer, that could not be treated two generations ago, can now successfully be managed, if not cured. Yet the 'drugome' (the proteins and genes that are targeted by drugs approved by national regulators such as the US Food and Drug Administration, FDA) covers only a small fraction of the proteome or the 'diseaseome' (genes that have been linked with disease), and many drugs are focused in just a few areas (Figure
1
) [
5
,
6
]. This disparity reflects the current relationship between basic biological science and its use for therapeutic purposes. There are substantial opportunities to use the accumulated knowledge of biological processes for drug discovery and clinical applications. If we are to take advantage of such opportunities, genome medicine and systems pharmacology need to be well integrated.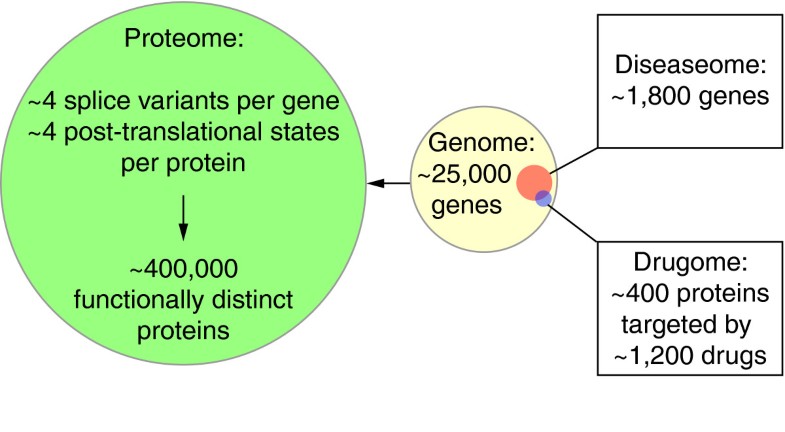 As the systems-level understanding of biological processes expands, it is becoming a crucial driver of pharmacology that is anchored in the human genome and personalized medicine. The path from laboratory research to clinical application is becoming short as translational research grows, facilitating collaborations between basic researchers and clinicians. Genomic and proteomic technologies drive discovery of biomarker sets for the classification of diseases and the stages of their progression, as exemplified by microarray-based marker sets that have been developed to identify stages of cancer progression [7, 8]. Although more of these approaches need to be discovered and then standardized before they are routinely used in clinical practice, the importance of using systems-type methodologies to characterize therapeutic interventions, to delineate the pathways (or more often networks) involved in disease, and to identify the mechanisms of action and off-target effects of current drugs is becoming clearer. A multi-faceted understanding of therapeutic intervention is necessary, given the complexity of human physiology and the increasing availability of numerous clinical parameters and analyses.
Here, we explain the reasoning underlying the assertion that systems-level knowledge of pharmacology and pathophysiology, rooted in genomic information, will increase the efficacy of existing drugs by aiding in the development of personalized medicine and will facilitate the rational discovery of new drugs using a much wider target base. For pharmacology to be understood at a systems level, it is necessary to use a genome-based approach to systems-level studies of physiology and pathophysiology.
Genome medicine
An operational definition of genome medicine is the way in which genomic information from a patient helps in the diagnosis or treatment of disease. This includes areas such as the genetics-based diagnosis of the origin of diseases, their progression and the response to drugs. In the area of drug response, genome medicine overlaps with pharmacogenomics, a field that studies how genome variation affects drug response. It is well established that some diseases arise from mutations in single genes and can be treated using the wild-type product from that particular gene. Fabry's disease is an example of such a monogenic disease [9, 10]. However, it is now known that many complex diseases arise from interactions and changes in multiple genes. The two-hit model for cancer [11] was an early example of this recognition. Mapping of genetic variations, such as single-nucleotide polymorphisms (SNPs), in the human genome has given rise to the idea that combinations of variant genes can alter susceptibility to various diseases. Genome-wide association studies have become popular over the past few years [12], although their ability to predict disease susceptibility is only beginning to be determined. Nevertheless, it is clear there is sufficient genomic variation between individuals to affect the origin and progression of diseases, as well as drug response. For example, genetic testing for cancer drugs, such as imatinib [13, 14], trastuzumab [15], gefitinib [16] and bucindolol [17], provides information about whether the form of the protein target that is expressed in each individual will be responsive to the drug. Testing for the gene BRCA1 is used to determine the feasibility of preventative measures for breast cancer [18]. Other types of genetic testing are more pharmacogenomic in nature, such as those for warfarin [19, 20] or tamoxifen [21]. These tests screen for polymorphisms in distinct cytochrome P450 isoforms, which are responsible for differences in how the drug is metabolized and thus affect the therapeutic index, the ratio between the toxicity and effectiveness of the drug. Pharmacogenomics can thus be considered to be a very important part of genome medicine. Recent views on pharmacogenomics describe in greater depth the relationship between genomics and drug response [22, 23].
Our understanding of a patient's genome will increasingly drive medical practice in the 21st century. The development of technologies for rapid sequencing of whole genomes is an important factor in this changing approach to medical practice. The growing number of treatment options for pathophysiology, and the accumulation of knowledge about the risk-to-benefit ratio of prescribing one therapy over another when anchored in individual genomic information, should allow the individualized tailoring of therapies. Such tailoring would be based on an individual definition of the therapeutic index of a drug for a specific individual. Currently, many clinical practices are based on empirical trial-and-error approaches, and drug usage typically follows a 'one size fits all' approach.
Even for diseases for which therapies have been very successful, we generally do not understand why one type of therapy works for one individual and not for another. For example, there are four general types of therapy to treat hypertension (thiazide-based diuretics, angiotension converting enzyme inhibitors or angiotension II receptor blockers, calcium channel blockers and β-adrenergic receptor blockers or beta-blockers) [24]. There is relatively little predictability as to which hypertension treatment will be more effective for any given patient, and there is a large patient-to-patient variability in response to each therapy and required dosage. Current data suggest that 50% of patients who do not respond to one type of therapy will respond to another and that 70-80% of patients will respond if switched for a second time to yet another type of antihypertensive drug [25]. The characterization of all of the hypertension-related genes in the patient's genome may facilitate the construction and systems-level analyses of the regulatory networks, using those hypertension-related genes as seed nodes. From the physiological functions of these networks, we may be able to identify the pathways involved in disease of an individual to predict the action of a drug. Such personalized disease networks for patients would allow clinical practice to move away from a trial-and-error approach to prescribing drugs and to advance to a more genome-informed disease management. This type of clinical practice could easily be called 'genome medicine'.
Although the state of the genome will be a major determinant of how diseases originate and progress, it is unlikely to be the only cause in many cases. Environmental factors also have an important role. In many cases these two factors are related, whereby a particular genotype changes the risk of an environmentally induced disease. This relationship can be understood by considering the biochemistry and physiology of the system. Genes are most often transcribed and translated into components of biochemical networks that underlie cellular processes. Often there is more than one type of change in a particular gene; some of these types of change lead to a change in the function of a key cellular component and ultimately to a disease state, whereas others are inconsequential. Sometimes, even if a mutant gene product behaves aberrantly at a biochemical level, this behavior can be compensated for and the physiology remains normal. Alternatively, the aberrant behavior of diseased cells might not be only genetic in origin but also a result of changes in normal cell signaling processes that regulate transcription, translation and effector protein function. The hypothesis that inflammation underlies the origins of several diseases, for example, is based on the assumption that the normal process has gone awry because of environmental signals, resulting in sustained activation of intracellular signaling networks that results in pathophysiologies. There is accumulating evidence to support this hypothesis [26, 27].
The effects of post-transcriptional and translational regulation of signaling can increase the difficulty of developing methods for individualized mechanism-based therapeutic interventions. A systems understanding of disease and drug action at the level of cellular biochemical reactions and physiological function would be useful in framing the effect of genomic variations in the context of environmental cues. This is where systems pharmacology comes in.
Adverse events and drug resistance: relationship to genome characteristics and systems pathophysiology
Most studies that focus on understanding resistance to therapies are in oncology. Many cancer therapies, such as microtubule stabilizers [61], tamoxifen or endocrine therapy [62] and drugs targeted at epithelial growth factor receptors (EGFRs) [63], are effective for a limited period and/or in a limited population and then resistance develops. Screens using RNAi or with genomics and proteomics identify proteins that are up- or down-regulated or are necessary for drug action in resistant cell populations. The receptor tyrosine kinase c-MET has recently been implicated in resistance to EGFR-targeted therapies and, on the basis of these discoveries, therapies directed against c-MET are in development [64]. In order to understand better the convergence of signals from these two receptors, the tyrosine signaling networks of several cancer cell lines that overexpress c-MET or EGFR or express a mutant form of EGFR were examined to identify a core network of 50 proteins mediating drug response [65]. This type of network analysis can form the basis for the selection of drugs that target the proteins common to both pathways and thus overcome drug-induced resistance.
Genome medicine and systems pharmacology need to be integrated for defining the genes and proteins involved in drug treatment or drug resistance. Such integrated analyses can lead to identification of targets that are likely to synergize with or add to the effect of the drug or therapy. For example, studies focused on defining the genes involved in radiation therapy aim to discover new targets that would increase the effectiveness of radiation therapy [66, 67]. In fact, many drugs are prescribed in combination with other drugs, because the effectiveness of both drugs is increased when they are combined. Predicting which combinations will show this effect, and the doses of such combinations, is not entirely intuitive or simple. Sometimes, serendipitous results from genomic or proteomic screens identify targets that might have synergistic effects in conjunction with commonly used therapies, such as ceramide transport protein in taxane-based therapy [68]. In proactive approaches, network analysis [42] or computational modeling [69] can provide information on the effect of intracellular signaling on inhibition of the two nodes, predicting how dosing with pairs or groups of drugs that target different proteins would work. Such a model was used to predict combination therapies in the EGFR pathway [70]. These types of study can also be used to look for ways to lower dosages while sustaining effectiveness, avoiding unnecessary drug toxicity.
Adverse events from drugs are a major concern in the development and prescription of pharmaceuticals. The susceptibility and severity of adverse events can vary tremendously between patients as a result of, among other confounders, genomic factors. At the simplest level, adverse events can be due to dosage effects of the drug. Pharmacogenomic factors affecting drug metabolism can lead to increased levels of active drug in the body. For drugs such as warfarin, which acts as an anticoagulant, too high a blood level owing to reduced metabolism (resulting from variant CYPs) can lead to uncontrolled bleeding and cerebral hemorrhage [20]. For patients with CYPs that have lower warfarin metabolizing capabilities, the dosage of warfarin needs to be reduced so as to obtain its therapeutic benefits without increasing the risk of adverse events.
Genetic factors can affect how patients respond to therapeutic doses of a drug. Patients with a deficiency in glucose 6-phosphatase dehydrogenase (G6PD) cannot respond sufficiently to multiple forms of oxidative stress and, thus, many drugs, including many anti-malarials, analgesics and antibiotics, can cause these patients to develop hemolytic anemia [71]. Adverse events can also be modulated by the immune system, whereby the patient's immune system responds to the drug, leading to damage of otherwise healthy cells. For example, this can lead to drug-induced neutropenia [72]. Several of this class of adverse event have been associated genetically with specific HLA alleles, the genes that control presentation of immunogenic epitopes [73].
Drug-induced cardiac arrhythmias comprise another important class of side-effects. One example, the long QT syndrome, has been extensively studied because it can in many cases lead to fatal arrhythmias. Increased understanding of a congenital form of the syndrome, the frequency of the side-effect and the variability in its severity has led researchers to suggest that individual variability in cardiac repolarization reserve is among the major risk modifiers [74]. Cardiac repolarization reserve is the capability of cells to compensate for changes in ion channel function that underlie the normal myocyte action potential. Thus, understanding how drugs regulate specific ion channels to modulate electrical interactions between channels to produce a physiological event is critical. This type of adverse event, which reflects an interaction between a drug and a complex biological system, is where systems pharmacology will prove most effective. Systems pharmacology projects have begun to identify targets that are important for causing the side-effect by grouping drugs according to their side-effect profiles [43]. In addition, large-scale studies have begun to identify cellular modules that are important for causing the side-effects. For example, a large-scale study of mitochondrial function identified mitochondrial expression profiles affected by drugs that can cause drug-induced myopathies [75].
Conclusion
Both genome medicine and systems pharmacology, as interdisciplinary research fields, are in their infancy. The convergent goals of both fields are to treat disease in each patient on the basis of the patient's genome and their unique environmental interactions. Thus, they can be considered to be the twin pillars supporting the gateway to personalized medicine. In both fields, there are considerable opportunities for new conceptual and technological developments. Success in personalized medicine will require advances in technology and concepts in both fields to be well integrated. The most influential driver for this integration is a mechanism-based understanding of disease and therapy across scales of biological organization. As a multi-scale understanding of the human body develops, it is likely to influence not only the treatment and prevention of disease, but also the economics and social aspects of health care.
Abbreviations
ACE:

angiotensin converting enzyme
BRCA1:

breast cancer 1, early onset (mutations in this gene greatly increase predisposition to breast cancer)
ChIP:

chromatin immunoprecipitation
CYP:

cytochrome P450 (drug metabolizing enzymes)
EGFR:

epithelial growth factor receptor
FDA:

US Food and Drug Administration
G6PD:

glucose 6-phosphatase dehydrogenase
GPCR:

G-protein coupled receptor
RNAi:

RNA interference
SNP:

single nucleotide polymorphism.
Declarations
Acknowledgements
This work was supported by the NIH grants GM54508 and New York Systems Biology Center grant P50-GM071558. SB is supported by pre-doctoral training grant in Pharmacological Sciences GM-062754. We thank Avi Ma'ayan and Emmanuel Landau for comments.
Authors' Affiliations
(1)
Department of Pharmacology and Systems Therapeutics, Mount Sinai School of Medicine, New York, USA
Copyright
© BioMed Central Ltd 2009